March 31st has come and gone and the Washington DC Cherry Blossoms have missed this date for the average peak bloom. This is defined as 70% of trees in the Tidal Basin There is no questioning the extensive cold winter with numerous records low temperatures and late season snow. In fact a trace of snow fell on March 30th, but it did reach 66F in the afternoon at nearby Reagan National Airport. Their 4.9 inches of snow for the month was above normal and the monthly temperature was 1.7 degrees below normal, which has helped keep the ground cold and delay the growing season. Timing out the burst of flowers is a big deal with millions of tourists (and millions of dollars) that flock to see the nature show as the National Cherry Blossom Festival is ongoing from March 20 to April 12. The end date is when the 10 Miler is scheduled as well, so maybe they planned it just right? See last year's peak bloom photos below.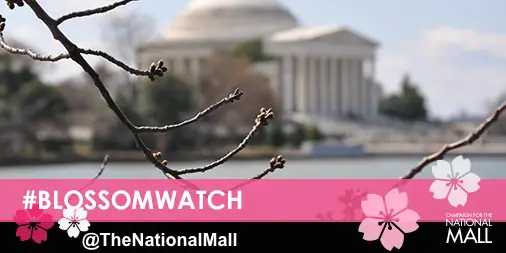 The range of peak blooms has been as early as March 15, 1990 to April 18 in 1958.  The National Park Service attempts to give the expected date for peak bloom, but even they say it is impossible unless within 10 days. But we are in prime time for the average bloom and the buds are all that have been seen on the trees. In fact this photo was tweeted today form National Mall with the forecast from the Park Service for peak bloom between April 11-14. They identify the six main stages of cherry blossom development:
Green Color in Buds: Mid to late February – Early March
Florets Visible: Early to Mid March, Av. 16-21 days to Peak Bloom
Extension of Florets: Av. 12-17 days to Peak Bloom
Peduncle Elongation: Av. 5-10 days to Peak Bloom (Frost Critical)
Puffy White: Av. 4-6 days to Peak Bloom
Peak Bloom!
This year, the Park Service came out with their forecast on March 3rd, and have not revised it yet. They just posted stage 1- Green color in buds as seen on March 18th. This is two days later than last year. But stage 2 'florets visible' was on March 23rd last year. It is now more than a week later and we have not seen that yet. If fact, I am not sure if that stage has ever been delayed to April. So as the new month begins, we are closing in on the April 11-14 dates and I expect there might be a slight adjustment. If, so, that would place the timing close to the latest on record.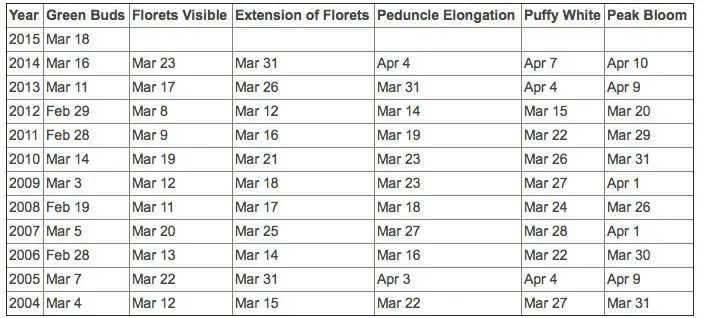 It should be noted that the past three years has seen the extreme on both ends. The winter of 2012 was one of our warmest with among the least snowy. That year the peak bloom was March 20th. But 2013 was on April 9th and last year 2014 was on April 10th. A few warm, sunny days will help the process, but the ground is what needs to warm up. It will be interesting to see the development.
Top 10 Photos From 2014
[metaslider id=25499]
National Park Service's website has more information along with links to the Blossom Cam.

Get the award winning Kid Weather App I made with my oldest son and support our love for science, weather, technology. Our 2 year anniversary of the release was this past November and it has been downloaded in 55 countries. With your support we can expand on the fun introduction to science and real weather.
Keep in touch via social media
[/fusion_builder_column][/fusion_builder_row][/fusion_builder_container]