June 26 – We will finish out the weekend in fine style for our region with sunshine and comfortable temperatures. In fact we do have a little heat on the way but the pattern will continue to keep it brief. We may hit 90°F on Monday, but that should be it for the next two weeks. A cold front will arrive by evening with a line of storms that could be strong overnight, and lasting Tuesday morning at the beaches. The the main theme will be cool… at least by early summer standards.
The average high temperature for Baltimore today is 86°F, and then gradually increase to the hottest average time of the year with an average high temperature of 88°F during the second week of July. So this outlook from NOAA's Climate Prediction Center showing below average temperatures should be considered as at least no major heat waves for the east coast.
First, the next cold front. Here is the timeline showing when we expect it to pass. In short, metro areas should expect the chance of storms Monday night, with rain lingering at the beaches Tuesday morning.
–> slider
[metaslider id=38157]
Severe Storm Risk: Marginal
If you have storm damage such as dents from hail, RPS can help
Temperatures
Temperatures should be below average and perhaps cool by early summer standards. But for the most part, lower 80s and no 90s in sight after Monday.
Limited Edition Flag Inspired Shirts: These Flakes Don't Melt
Click here for our web store to get in on the special. Stars are flakes, and rulers measuring the piles make up the stripes display a few metaphors that might connect with you.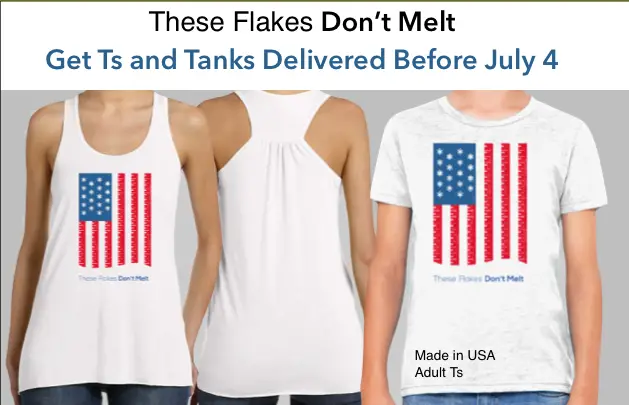 Personal design of our flag with a snow theme to keep you cool in the summer heat. These are available for two weeks, so we can promise delivery by July 4.
I am one flake that will not melt this summer as I train for my Trek Across Maryland Aug 7-13. Proceeds will support the preparation for this event and I thank you ahead of time.
Click on our web store to order yours before June 29. My entire family will be sporting these for the fireworks. Will you join us?
Outlook For Early July
Please share your thoughts, best weather pics/video, or just keep in touch via social media
Get the award winning Kid Weather App I made with my oldest son and support our love for science, weather, and technology. Our 3 year anniversary of the release and our contribution to STEM education is this November. It has been downloaded in 60 countries, and works in both temperature scales. With your support we can expand on the fun introduction to science and real weather.