4 PM Tue June 28 – A Severe Thunderstorm Watch is in effect for much of southern Pennsylvania, central Maryland, and northern Delaware until 10 PM. This means storms have the potential of winds reaching over 60 mph, large hail, and perhaps isolated tornadoes. The warm and humid air is feeding into an approaching cold front.
A line of storms has developed this afternoon that is more distinct that even the short term high resolution models had anticipated. It has prompted the National Weather Service to issue Severe Thunderstorm Warnings for southern PA until 4:45PM. This is worth tracking as it moves to the east and south because central Maryland is under the influence of winds from the Chesapeake Bay. This southeast wind often foretells that storms will hold together as they approach metro Baltimore. In fact, as the radar simulation suggests below, there may be a slowing down or stalling of the movement for a few hours.
Please keep in mind that this simulation is built without the full identification of the line of storms, so what arrives in central Maryland might be more widespread for a few hours into the evening.
Even if storms do not reach severe limits, they can produce gusty winds, dangerous lightning, and hail.
Radar Simulation
[metaslider id=38214]
If you have storm damage such as dents from hail, RPS can help
Severe Storm Risk
Final 24 Hours To Get Your Shirts Before July 4
Limited Edition Flag Inspired Shirts: These Flakes Don't Melt
Click here for our web store to get in on the special. Stars are flakes, and rulers measuring the piles make up the stripes display a few metaphors that might connect with you.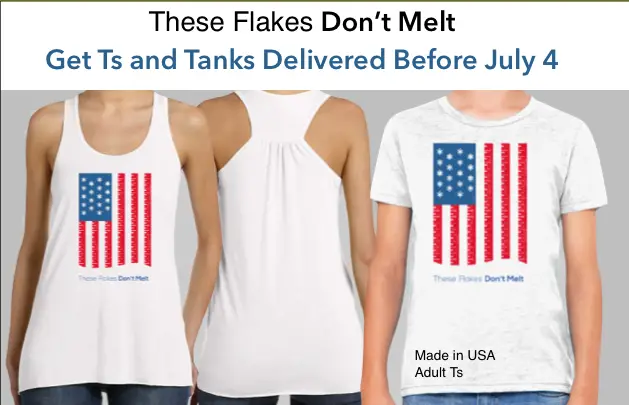 Personal design of our flag with a snow theme to keep you cool in the summer heat. These are available for two weeks, so we can promise delivery by July 4.
I am one flake that will not melt this summer as I train for my Trek Across Maryland Aug 7-13. Proceeds will support the preparation for this event and I thank you ahead of time.
Click on our web store to order yours before June 29. My entire family will be sporting these for the fireworks. Will you join us?
Please share your thoughts, best weather pics/video, or just keep in touch via social media
Get the award winning Kid Weather App I made with my oldest son and support our love for science, weather, and technology. Our 3 year anniversary of the release and our contribution to STEM education is this November. It has been downloaded in 60 countries, and works in both temperature scales. With your support we can expand on the fun introduction to science and real weather.