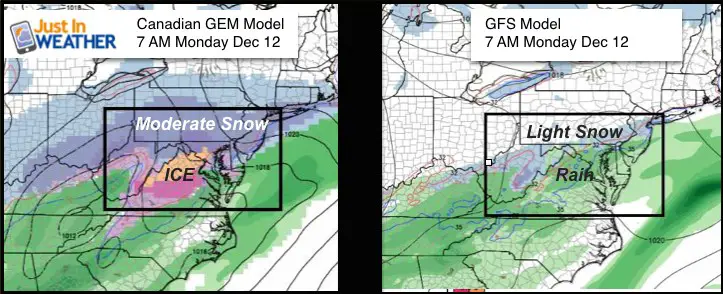 Wednesday December 7 – With snow in this title and leading many newscasts this week, plus the fact that I love snow, I want you to please read this post carefully. It is December, and in most years we get our first snow this month. With that said, despite how much I love snow and talk about Faith in the Flakes daily, I am cautious about putting too much stock in a winter forecast five days away. Especially the first one of the season since it can either get you over excited or nervous. My beloved Canadian GEM Model (I have shown for years) is showing the most aggressive snowy solution. I am not fully buying this at this time, but it looks good. This model does stand alone in contrast to the GFS (and European not shown here).
I hesitate to go all out showing models this early, but you should have an idea of what could be on the way by the end of the weekend.   I want you to have some perspective and take this with a grain of salt for now. I can forecast with confidence that  there will be plenty of social media outlets that will hype this. It is fun to talk about, but let's proceed with caution (for now). FITF
This first image shows the same time frame next Monday morning and a range of a raging storm with snow and ice across The Mid Atlantic, or light snow confined to the colder suburbs of Baltimore. Which is right? That is a great question.  I am going against my own principal and show the snow total forecast maps for each model below… I am only doing this because a man I respect, Meteorologist Tom Tasselmeyer,  tweeted them earlier. I discussed this with Tony Pann and we were going to wait a day or two, but now the cat is out of the bag. So why not show it only to come back and reference this in a few days to see which model is holding up better???
Please Note:
Computer models are guidance not gospel. They have slight variations of mathematical equations that can lead to different forecast solutions/maps.  Even a slight change in timing can dramatically adjust the formation or track of a storm projected many days away.
The GFS Model had a major upgrade this past January. It has been improved. The Canadian operates best when arctic air and the polar jet dominates. So since this is the first 'event' of the season, it will give a lot of insight as to which is behaving better. The well known European Model also had an upgrade, but honestly has not been performing that well. It has a similar output as the GFS shown below.
Model Similarities
Light snow arrives Sunday, especially north of Baltimore
An arctic front will develop a wave of Low Pressure and redevelop off of the coast Monday
Model Differences
The Canadian Model has a stronger more developed storm arriving
The Canadian Model shows a stronger redevelopment, close to the coast on Monday to enhance the snow and ice
The GFS shows a weaker storm, and thus less moisture. Also less force to pull the arctic air farther south.
Snow amounts range from a dusting/1 inch to a moderate storm over 6 inches (I'm not buying this yet)
Canadian Model Forecast Map —> slider
[metaslider id=40961]
Canadian Model Snow 'Potential' – I think this is a little over aggressive
😮  I know, right?!?
GFS Model Forecast Map —> slider
[metaslider id=40970]
GFS Model Snow 'Potential'
Faith in the Flakes Online- Flannel PJs Printed Inside Out
Store Now Open
We've added Flannel PJ Pants that will be printed inside out. They have to be, to make it snow ?
Free Personal Delivery for orders of 20 items or more to schools and businesses.
Click this image for the online store.
Look for more items to be added soon.
Also see the info for the STEM Assembly Spirit Wear program:  Put your school name on the shirts and raise money for you PTO/PTA in the process.
FITF SNOW STICKS
Available in 2 Ft, 30 Inches, and 3 Ft Sizes. Also with Orange/Black or Purple/Black. Click on the image to see the options offered by my friend Thatcher at Signs By Tomorrow in Timonium.
Go to http://www.signsbytomorrow.com/timonium/ to order yours today! Click the 'Request a Quote' button at the top of the page. In comment box include color, size and payment information. Please indicate whether you'd like to have us UPS ship them to you or if you would like to pick up in our store. Snow Sticks will ship or will be ready for pick up in our store 48 hrs after order is placed, Mon-Fri.
Please share your thoughts, best weather pics/video, or just keep in touch via social media
Get the award winning Kid Weather App I made with my oldest son and support our love for science, weather, and technology. Our 3 year anniversary of the release and our contribution to STEM education is this November. It has been downloaded in 60 countries, and works in both temperature scales. With your support we can expand on the fun introduction to science and real weather.
Also See:
My Winter Outlook for 2016-2017: Colder with snow spread out more
NOAA Winter Outlook for 2016 to 2017
La Nina Formed: What it could mean to our winter
Farmers Almanacs Split On Cold And Snow
Extreme Weather of 2015 balanced out on both ends
Low Snow Winters In Baltimore: Records Might Surprise You
NOAA Ranks Blizzard 2016 4th Worst Snowstorm On Record