January 1 2017 – Happy New Year! A the calendar changes so does our hope for real winter to begin in the Mid Atlantic region. If you have Faith in the Flakes, now is the time to revive it as history shows us most of our winter snow begins on January. This past December Baltimore's BWI only had a trace of snow. That actually occurred three times, on the 6th, 17th, and 30th. I was surprised how many people were messaging me saying we were not going to have snow this winter. But how could we forget last year with the blowtorch December followed by our biggest storm on record? That will not always be the case, and the global pattern is different now. What is surprising is that we start this year with 37.7% of the US under snow cover. Last year was 53.7%, and yet look at how that winter turned out.
The history below shows that lack of December snow can be deceiving and does NOT represent the rest of winter. FITF
Compare to last January 1 snow cover
Note this is a snapshot of the day and does not represent all the snow that fell (and some melted) during December 2015
Trace of snow in December and the seasonal total:
Only a trace of snow for the entire month of December has happened 21 times since 1883.  Tow that stand out are 1965 and last year, 2015. Both were strong El Nino years. The 1956 season ended up measuring  32.8 inches at BWI. Last year had the record warmed December and was followed by Baltimore's largest snowfall on record with 29.2″ snow in January and a 35.1″ seasonal total. Both were more than 50% above average!
If we consider the long term average of 21 inches of snow and the bench mark of 18 inches for a season as 'near normal', then 11 out of 20 seasons have ended close to or above average despite a trace of snow in December.
Snow measuring 0.0 inches (none) in December and the seasonal total:
This might surprise you: 40% of the years with absolutely no December snow (2/5) ended up with above average seasonal totals. The other three ended up with less than 10 inches of snow. The long term average rounds to 21 inches f snow in Baltimore for an entire season.
A Typical (Baltimore) Winter
The breakdown of snow for Baltimore does show some in November and December. By January 1, the average seasonal snow count would be 3.5″. Extrapolate that to less than 20% of years have a white Christmas and you get the picture that many years have nothing to balance out the years with decent start to winter.Notice the uptick in January and February.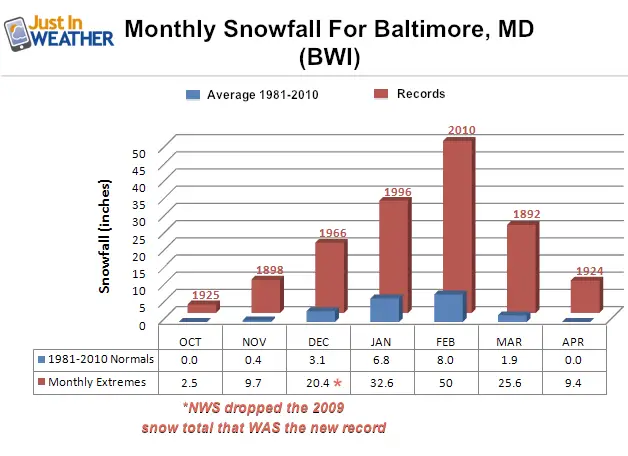 Sign up for email updates on new posts
Since you may miss some posts via social media, click here for email alerts as a way to make sure you don't miss any.  *You may have to refresh that page once for your browser to clear out the images.
Only 3 Of Top 25 Storms Were In December
I do not think we are in for a major storm this winter.
See more of a breakdown in my report on Winters in Maryland
Faith in the Flakes Online- Flannel PJs Printed Inside Out
Store Now Open
We've added Flannel PJ Pants that will be printed inside out. They have to be, to make it snow ?
Free Personal Delivery for orders of 20 items or more to schools and businesses.
Click this image for the online store.
Look for more items to be added soon.
Also see the info for the STEM Assembly Spirit Wear program:  Put your school name on the shirts and raise money for you PTO/PTA in the process.
FITF SNOW STICKS
Available in 2 Ft, 30 Inches, and 3 Ft Sizes. Also with Orange/Black or Purple/Black. Click on the image to see the options offered by my friend Thatcher at Signs By Tomorrow in Timonium.
Go to http://www.signsbytomorrow.com/timonium/ to order yours today! Click the 'Request a Quote' button at the top of the page. In comment box include color, size and payment information. Please indicate whether you'd like to have us UPS ship them to you or if you would like to pick up in our store. Snow Sticks will ship or will be ready for pick up in our store 48 hrs after order is placed, Mon-Fri.
Please share your thoughts, best weather pics/video, or just keep in touch via social media
Get the award winning Kid Weather App I made with my oldest son and support our love for science, weather, and technology. Our 3 year anniversary of the release and our contribution to STEM education is this November. It has been downloaded in 60 countries, and works in both temperature scales. With your support we can expand on the fun introduction to science and real weather.
Also See:
My Winter Outlook for 2016-2017: Colder with snow spread out more
NOAA Winter Outlook for 2016 to 2017
La Nina Formed: What it could mean to our winter
Farmers Almanacs Split On Cold And Snow
Extreme Weather of 2015 balanced out on both ends
Low Snow Winters In Baltimore: Records Might Surprise You
NOAA Ranks Blizzard 2016 4th Worst Snowstorm On Record