Wednesday January 4 – This evening update is to show the development of snow in the Mid Atlantic late Thursday into Friday morning. This will be a light event, but widespread and just enough to have an impact on travel. The NAM/WRF model here shows an aggressive start in the afternoon with a band of sleet or light snow. The main snow will actually be after 10 PM and last into daybreak on Friday.  So while there is a slight chance of some impact Thursday evening, there is a better chance you have to deal with something Friday morning and yes… school delays.  No 'advisory' at this point, but I expect NWS will issue them for much of our region tomorrow.  Another system will follow Saturday. This will be stronger, but farther south. Here are the latest maps and my notes.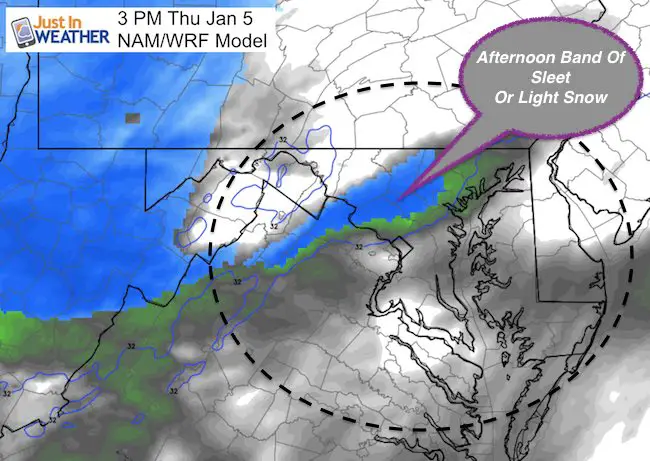 The timing in the afternoon is something my school clients are concerned with. As a dad I know the frantic nature of after school activities all too well. I will update any likelihood with more confidence for you ASAP.  Again, the main event will be overnight and into Friday morning. It will be cold enough (20s) for full stickage. The general total around 1 inch could range up to 2 inches as some strengthening near the coast would enhance snow on Delmarva. I have model snow maps below, but don't see a need to made an additional one myself yet.
GFS Model —> slider
Notice the enhancement with a more pronounced Low Pressure developing off of the coast Friday morning.
[metaslider id=42037]
Snow Potential- GFS
General 1 to 2 inches between metro Baltimore and Washington, Annapolis, then  across the Bay to Delmarva. Slightly less between Frederick and York PA *according to GFS.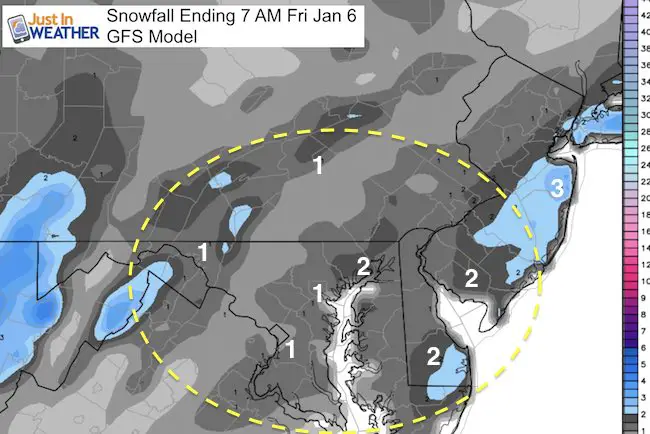 Canadian GEM Model —> slider
[metaslider id=42051]
Snow Potential- Canadian
I shifted this map to the south to compare to the next storm that will follow…. So you can see the amount of snow that will be added Saturday.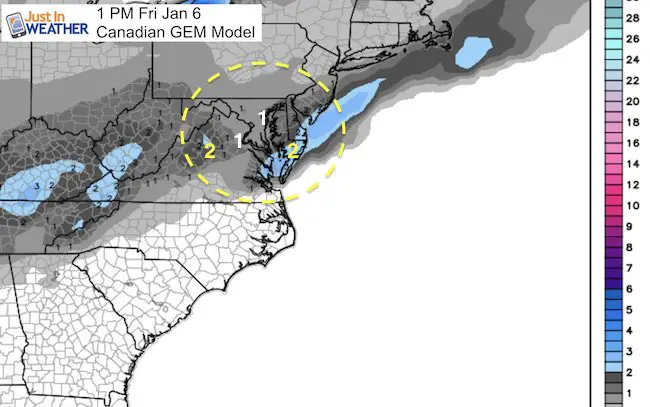 Sign up for email updates on new posts
Since you may miss some posts via social media, click here for email alerts as a way to make sure you don't miss any.  *You may have to refresh that page once for your browser to clear out the images.
Weekend Storm
Tracking the second system has been tough due to the timing with the speed of the jet stream Notice the energy near Denver Friday morning racing to the southeast coast Saturday.
[metaslider id=42044]
Strom Plot
I continue to stick with the Canadian Model for consistency. The famed European Model has the storm farther north clipping Baltimore, but dropped back south…. I think some hybrid is still possible. That upper level energy I showed above may help to pull the storm back west, but not sure it will be enough to hit central Maryland with the good stuff.
Delmarva will get in on the action…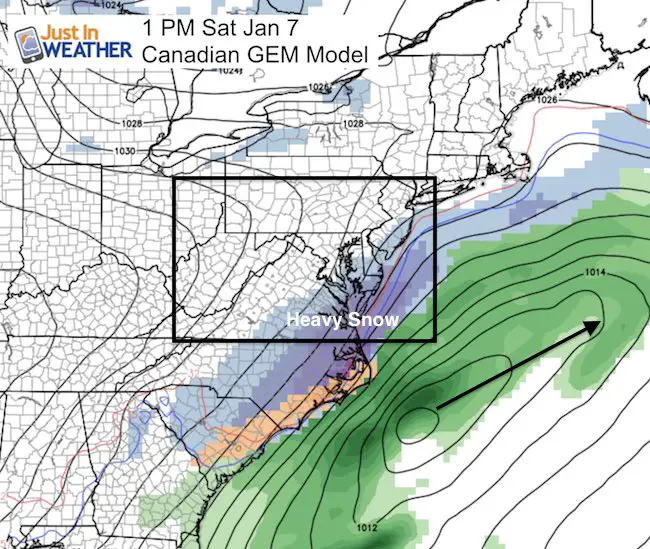 Snowfall Projection – Canadian Model
Notice the heavy snow in eastern North Carolina. Faith-in-the-Tar Heels-Flakes? This bullseye has 10 inches just north of OBX, with 8 inches for Virginia Beach.
Faith in the Flakes Online- Flannel PJs Printed Inside Out
Store Now Open
We've added Flannel PJ Pants that will be printed inside out. They have to be, to make it snow ?
Free Personal Delivery for orders of 20 items or more to schools and businesses.
Click this image for the online store.
Look for more items to be added soon.
Also see the info for the STEM Assembly Spirit Wear program:  Put your school name on the shirts and raise money for you PTO/PTA in the process.
FITF SNOW STICKS
Available in 2 Ft, 30 Inches, and 3 Ft Sizes. Also with Orange/Black or Purple/Black. Click on the image to see the options offered by my friend Thatcher at Signs By Tomorrow in Timonium.
Go to http://www.signsbytomorrow.com/timonium/ to order yours today! Click the 'Request a Quote' button at the top of the page. In comment box include color, size and payment information. Please indicate whether you'd like to have us UPS ship them to you or if you would like to pick up in our store. Snow Sticks will ship or will be ready for pick up in our store 48 hrs after order is placed, Mon-Fri.
Please share your thoughts, best weather pics/video, or just keep in touch via social media
Get the award winning Kid Weather App I made with my oldest son and support our love for science, weather, and technology. Our 3 year anniversary of the release and our contribution to STEM education is this November. It has been downloaded in 60 countries, and works in both temperature scales. With your support we can expand on the fun introduction to science and real weather.
Also See:
My Winter Outlook for 2016-2017: Colder with snow spread out more
NOAA Winter Outlook for 2016 to 2017
La Nina Formed: What it could mean to our winter
Farmers Almanacs Split On Cold And Snow
Extreme Weather of 2015 balanced out on both ends
Low Snow Winters In Baltimore: Records Might Surprise You
NOAA Ranks Blizzard 2016 4th Worst Snowstorm On Record
Blizzard 2016 Record Top Snowstorm: Area Totals