January 5 2017 3:15 PM Update – A Winter Weather Advisory has been issued by the National Weather Service for Thursday evening until Friday morning. There is a slight variation in time between Maryland and Pennsylvania counties, but essentially just after sunset until before sunrise Friday. Theses areas can expect between 1 and 2 inches of snow and sketchy roads for late activists and night classes. Local schools may announce postponements out off caution. It is our first event of the season on a weekday after all.  Farther south may have slightly less, but still worth a concern for conditions.  I have the latest radar simulation below. I want to caution two main points here:
 Flash Freeze: Metro areas with snow starting near or just above freezing may have less snow but are at more risk for a flash freeze on the roads. Even with pre-treatement, initial snow may melt, then freeze with steady snow and falling temperatures. Areas north and west that start colder will have just snow to deal with.
Initial Temperatues
2.  The Advisory above does not include Washington, Annapolis, or places in between at this time.  But that does not mean they are in the clear. A little bit of snow, even an inch or less can still cause slick problems, with the flash freeze I mentioned above. So this area along wth Howard and Anne Arundel Counties need to be watched.
Radar Simulation —> slider HRRR Model
If there is a need to update the priory's snow map, I will post that this evening. Still plan on a general 1 to 2 inches in the Advisory Zone and up to 1 inch in other areas.
[metaslider id=42093]
Morning Temperatures:
Note the drop in temps staying well below freezing. The morning will be slick, but local roads are subject to your local crews…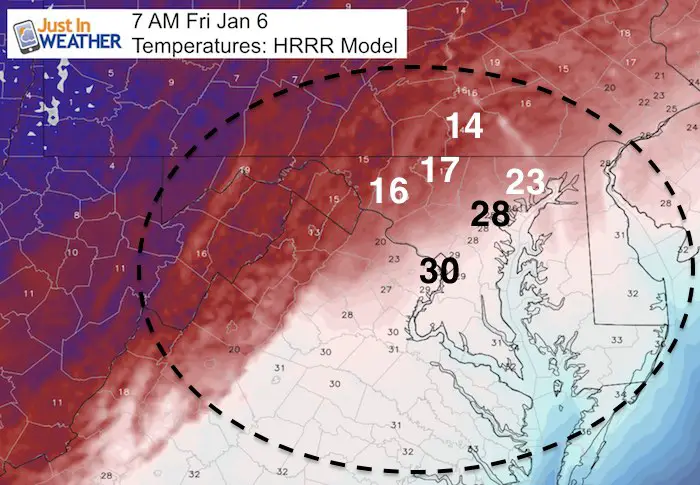 Will School Be Delayed?
Well, the snow should be done by 3 or 4 AM, but freezing temps will keep icing conditions around. The condition of the roads will depend on your local road crews. Sometimes less is more of a problem… but no promises. Kids must do all of their homework or risk jinxing any chances to sleep in.
Faith in the Flakes Online- Flannel PJs Printed Inside Out
Store Now Open
We've added Flannel PJ Pants that will be printed inside out. They have to be, to make it snow ?
Free Personal Delivery for orders of 20 items or more to schools and businesses.
Click this image for the online store.
Look for more items to be added soon.
Also see the info for the STEM Assembly Spirit Wear program:  Put your school name on the shirts and raise money for you PTO/PTA in the process.
FITF SNOW STICKS
Available in 2 Ft, 30 Inches, and 3 Ft Sizes. Also with Orange/Black or Purple/Black. Click on the image to see the options offered by my friend Thatcher at Signs By Tomorrow in Timonium.
Go to http://www.signsbytomorrow.com/timonium/ to order yours today! Click the 'Request a Quote' button at the top of the page. In comment box include color, size and payment information. Please indicate whether you'd like to have us UPS ship them to you or if you would like to pick up in our store. Snow Sticks will ship or will be ready for pick up in our store 48 hrs after order is placed, Mon-Fri.
Please share your thoughts, best weather pics/video, or just keep in touch via social media
Get the award winning Kid Weather App I made with my oldest son and support our love for science, weather, and technology. Our 3 year anniversary of the release and our contribution to STEM education is this November. It has been downloaded in 60 countries, and works in both temperature scales. With your support we can expand on the fun introduction to science and real weather.
Also See:
My Winter Outlook for 2016-2017: Colder with snow spread out more
NOAA Winter Outlook for 2016 to 2017
La Nina Formed: What it could mean to our winter
Farmers Almanacs Split On Cold And Snow
Extreme Weather of 2015 balanced out on both ends
Low Snow Winters In Baltimore: Records Might Surprise You
NOAA Ranks Blizzard 2016 4th Worst Snowstorm On Record