February 7 2017 – As expected, a new record high temperature was set at Baltimore's BWI today just a day and a half ahead of a abrupt return to winter. I am enjoying reporting both a record high and Winter Storm Watch in the same breath, which might be something more suited for Colorado. But I should elaborate, not all of us are under the 'watch' yet. Pennsylvania is first on the list with the notice, but I expect more to be added in Maryland. It will snow, and it will be heavy on Thursday morning at daybreak. But these warm temps will play a factor in what will stick.
Record High
Baltimore's BWI reaches 72°F at 4:24 PM
This obliterated the old record for this date of 64F set in 1904. Breaking a mark 113 years old is impressive. If you are curious,
The hottest February day on record in Baltimore was 83°F on Feb 25 in 1930
Here's a look at the Baltimore Climate Data for February. The Snow stuff is below
Winter Is Coming
Reminder: The Winter Storm Watch has been issued by the regional office in State College PA for their counties, which include southern Pennsylvania. I do expect the impact will reach central Maryland so more watches or advisories will be issued. The government is the only body that can issue these, but I will pass any updates along.  Their forecast map is below. I will issue my first call map tonight.
Snow Potential:
This set up is the reverse of the format I usually follow. The Canadian has been last to the party, actually absent with the storm as of last night. Now that model is most aggressive. What I am really concerned with is the freezing line.  This is a little farther south than the GFS Model (compare below). That will be crucial for where the stickage will be maximized in Maryland.
I expect school delays or closing in southern PA Thursday since the heaviest snow will be falling early in the morning when decision are made.  The impact on metro Baltimore and Washington all depend on the freezing line AND the intensity of the snow that could overtake the warm ground… Even if just above freezing, there could be accumulation if heavy enough.
GFS Model was a little farther north with the freezing line. I will be watching this for any trend. We must also consider the lack of cold air means a warmer Chesapeake Bay and thus warming influence off of the water.
NWS Snow Forecasts
I do believe this is for total snowfall on the grass, but lower amounts on roads where the initial snow will melt. This is an increase from the maps I showed in my prior report.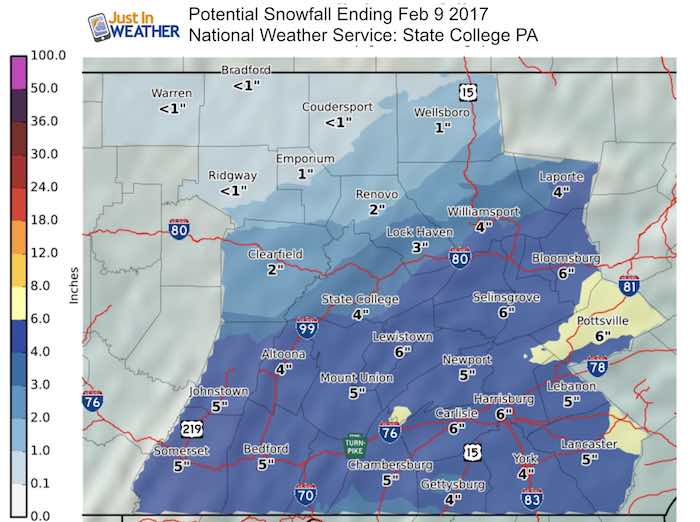 In Maryland: Reminder that this is contingent on the temperature and heavy intensity.
Faith in the Flakes Online- Flannel PJs Printed Inside Out
Store Now Open
We've added Flannel PJ Pants that will be printed inside out. They have to be, to make it snow ?
Free Personal Delivery for orders of 20 items or more to schools and businesses.
Click this image for the online store.
Look for more items to be added soon.
Also see the info for the STEM Assembly Spirit Wear program:  Put your school name on the shirts and raise money for you PTO/PTA in the process.
Sign up for email updates on new posts
Since you may miss some posts via social media, click here for email alerts as a way to make sure you don't miss any.  *You may have to refresh that page once for your browser to clear out the images.
Get the award winning Kid Weather App I made with my oldest son and support our love for science, weather, and technology. Our 3 year anniversary of the release and our contribution to STEM education is this November. It has been downloaded in 60 countries, and works in both temperature scales. With your support we can expand on the fun introduction to science and real weather.
FITF SNOW STICKS
Available in 2 Ft, 30 Inches, and 3 Ft Sizes. Also with Orange/Black or Purple/Black. Click on the image to see the options offered by my friend Thatcher at Signs By Tomorrow in Timonium.
Go to http://www.signsbytomorrow.com/timonium/ to order yours today! Click the 'Request a Quote' button at the top of the page. In comment box include color, size and payment information. Please indicate whether you'd like to have us UPS ship them to you or if you would like to pick up in our store. Snow Sticks will ship or will be ready for pick up in our store 48 hrs after order is placed, Mon-Fri.
Also See:
My Winter Outlook for 2016-2017: Colder with snow spread out more
NOAA Winter Outlook for 2016 to 2017
La Nina Formed: What it could mean to our winter
Farmers Almanacs Split On Cold And Snow
Extreme Weather of 2015 balanced out on both ends
Low Snow Winters In Baltimore: Records Might Surprise You
NOAA Ranks Blizzard 2016 4th Worst Snowstorm On Record
Blizzard 2016 Record Top Snowstorm: Area Totals