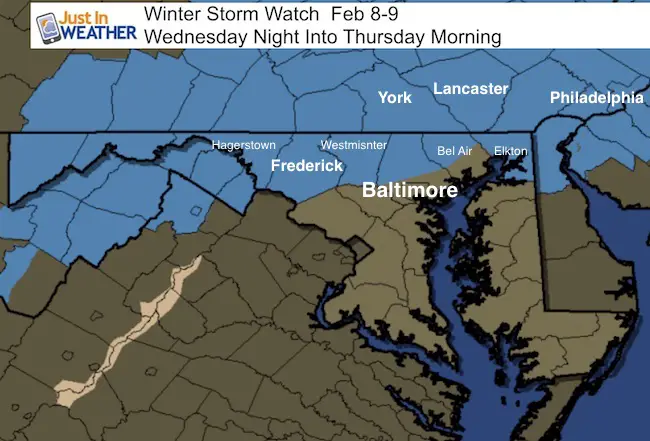 Tuesday February 7 – It does seem hard to believe that after a record day in the 70s we have a snowstorm on the way. Perhaps even hard to imagine considering the pathetic winter for snow so far. Only 0.7 inches at BWI and a lot of losers in snow contests. A Winter Storm Watch has been extended (as expected) into Maryland. There is the potential for a moderate to heavy snow event. I have some totals below… Here is the latest information I want to share and geek out a little to explain why this is such a special event. If you can't stand the reading, my snow map is below too. Please keep in mind that this is my first call. I like to stay on my low confident end. But also consider that this is what I expect we may measure on the grass, but not all will stick on the roads. But there will be road issues and school impacts Thursday morning. Here is why:
Short version:
A strong storm will develop just south of us Wednesday night
This will intensify so quickly, it will develop its own cold air and drag it down
Timing of the heavy snow burst will be before sunrise Thursday. This is the best time to counteract the warm ground.
More snow will stick and accumulate on the grass. I've been going over this for my contractor clients. There will be less to shovel than total measured.
Snow showers will continue in the evening with strong winds. Temps will get cold enough for icing Thursday night (salt if you can)
I like that the models didn't see this until recently. The odds are more favorable than a long range tracking event
There is a full moon on Friday. I have a theory that this influences the fluid atmosphere like the tides and often enhances weather events. So over achieving is possible.
These first two maps I showed in my last post. This is the expected 7 AM Thursday set up with heavy snow and a classic freezing line near or right long I-95. The Canadian Model is slightly colder than the GFS but that could make a big difference where the heavy snow totals end up.  If you live or travel north and west of Baltimore, you almost certainly will have snow and travel issues. It's closer to the Bay and south where it gets more complicated. I will try to explain and simplify what I am looking at.
Also see: Today's record high temperature
The Little Storm That Could Spin- Quickly
Have you ever ridden the Tilt a Whirl? That's all I can think of now, since not only do you spin around in a circle, but the individual cars spin too. They spin faster as they round the corners. Those same physical laws apply to the weather. There is a little spin or vorticy that will ride on the base o the trough in the jet stream and speed up rapidly. That will be this storm developing quickly, right over us, then off the coast. Here are the upper level winds that appear to start week and then boom!
[metaslider id=43250]
The Matrix- Text Breakdown
I call these text outputs from the models The Matrix. It kind of looks like it and I just watch the trilogy with my oldest son. These screen shots are  just a small sample what breakdown of layers and elements we can dig into. Basically, the colorful maps I show are just a display of one or two elements at a time. This text view can show a lot of elements for one location. Here I chose Baltimore's BWI from this morning to highlight a few things.
Highlighted here are the times and the cross section thickness of the atmosphere. This tells us if the colder air between two set levels are closer, then it is colder. The box I've highlighted shows that it will be cold enough for snow, even if the air temperature is above freezing at BWI at this time…. That layer of warm air will be thin. Plus the temperature at cloud level will provide much colder snowflakes to help chill the air.
Second..
This is the Vertical Velocity or speed of rising air.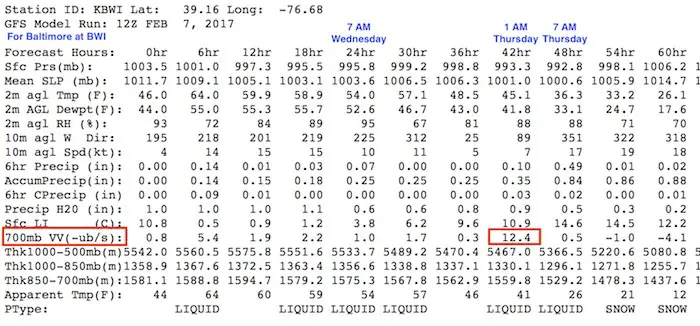 The highlighted section showing 12.4 -ub/s is screaming. We could see that in a thunderstorm. This shows me that this storm has a lot of energy to feed off of. This is why I expect intense precipitation and when the snow arrives, it will come down in a hurry to lower the temps and try to overtake the warmer ground.
Third…
Precipitation every 6 hours.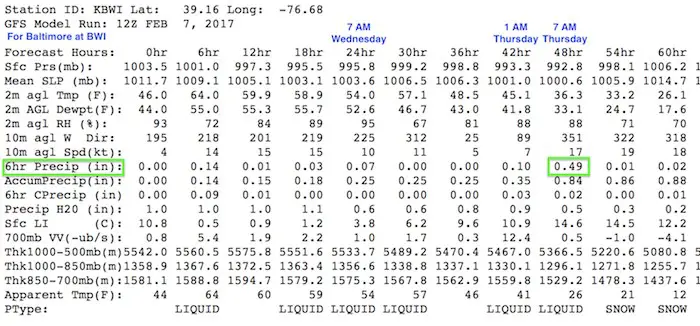 This shows 0.49 inches of liquid equivalent between 1 AM and 7 AM. That is intense! Shows that fall in the form of snow, it would be close to 1 inch per hour rates. Where is does snow, that will be enough to stick on the grass for sure and possibly overtake the pavement. Especially inland north and west.
Finally…
Wind direction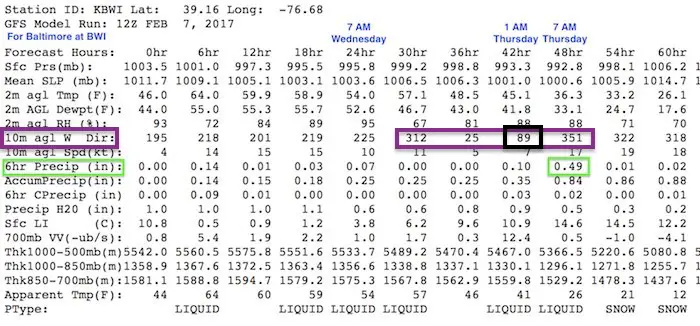 The purple box shows the direction in degrees. 312° is a northwest wind, then turning to 25°, which is north-northeast. The only concern is the 1 AM wind of 89°, which is almost due east. This is where the warmer Chesapeake Bay comes into play. It has been a mild winter and this will keep areas near the water warmer longer.  Thus, living near I-95 and south of Baltimore is why you will stay warmer and have less snow to accumulate. Typical, huh?
OK, so here we go…
My First Call For Snowfall:
The Winter Storm Watch does state there is a potential for 5 inches or more of snow. I do have the same areas in my 3 to 6 inch range… We need to consider melting still…
Compare to NWS Maps
I don't like how the models have been handling this, and I don't want to show you things that might be overblown. So I will wait until tomorrow to show model snowfall output maps.
NWS Sterling upped their snow totals for northern Maryland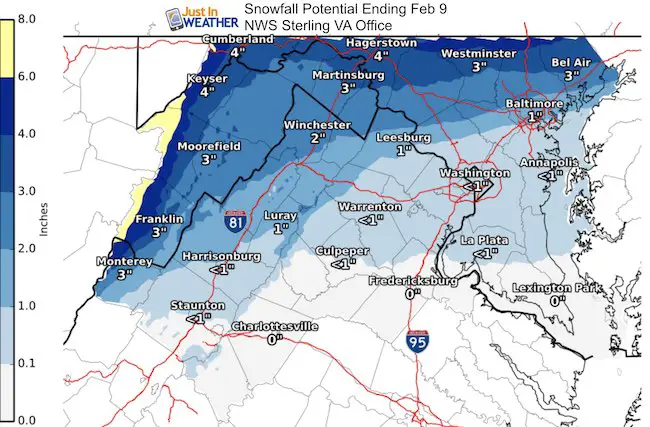 PA Zones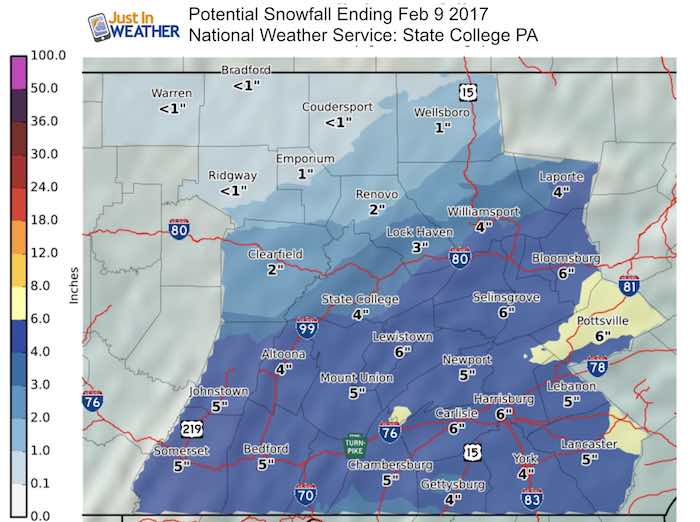 Faith in the Flakes Online- Flannel PJs Printed Inside Out
Store Now Open
We've added Flannel PJ Pants that will be printed inside out. They have to be, to make it snow ?
Free Personal Delivery for orders of 20 items or more to schools and businesses.
Click this image for the online store.
Look for more items to be added soon.
Also see the info for the STEM Assembly Spirit Wear program:  Put your school name on the shirts and raise money for you PTO/PTA in the process.
Sign up for email updates on new posts
Since you may miss some posts via social media, click here for email alerts as a way to make sure you don't miss any.  *You may have to refresh that page once for your browser to clear out the images.
Get the award winning Kid Weather App I made with my oldest son and support our love for science, weather, and technology. Our 3 year anniversary of the release and our contribution to STEM education is this November. It has been downloaded in 60 countries, and works in both temperature scales. With your support we can expand on the fun introduction to science and real weather.
FITF SNOW STICKS
Available in 2 Ft, 30 Inches, and 3 Ft Sizes. Also with Orange/Black or Purple/Black. Click on the image to see the options offered by my friend Thatcher at Signs By Tomorrow in Timonium.
Go to http://www.signsbytomorrow.com/timonium/ to order yours today! Click the 'Request a Quote' button at the top of the page. In comment box include color, size and payment information. Please indicate whether you'd like to have us UPS ship them to you or if you would like to pick up in our store. Snow Sticks will ship or will be ready for pick up in our store 48 hrs after order is placed, Mon-Fri.
Also See:
My Winter Outlook for 2016-2017: Colder with snow spread out more
NOAA Winter Outlook for 2016 to 2017
La Nina Formed: What it could mean to our winter
Farmers Almanacs Split On Cold And Snow
Extreme Weather of 2015 balanced out on both ends
Low Snow Winters In Baltimore: Records Might Surprise You
NOAA Ranks Blizzard 2016 4th Worst Snowstorm On Record