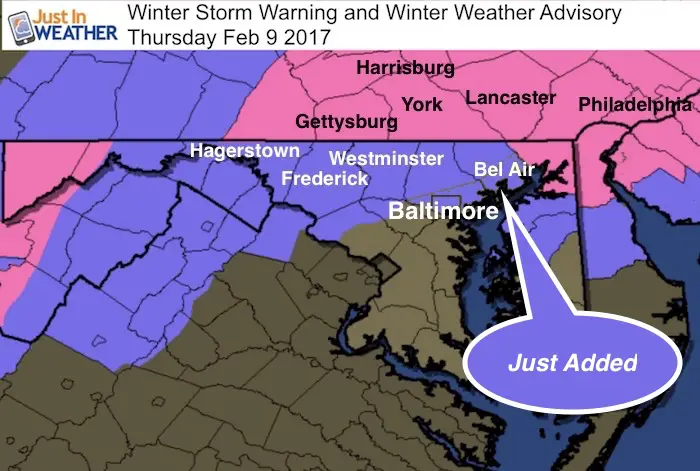 February 8 – The trend for the storm verifying colder is showing more support. Despite temperatures are in the 60s today,  the storm tonight will start as rain but turn to heavy snow. The intensity will impact travel Thursday morning, but the debate over stickage is still ongoing.  The National Weather Service has northern Maryland Counties Winter Weather Advisory. Now Baltimore City and the southern half of Baltimore and Harford Counties. White March, Essex, Aberdeen, and Bel Air are in this now. I am about to lead an assembly and tell the kid the good news. A good chance for delays and school closings in the morning.
This advisory means the heavy snow will counter the affects of the warm ground an there will be stickage, even on the roads.  The heaviest snow will be around the time decisions are made and last through the morning. More snow showers expected in the afternoon and evening. This is for an expected general 2 to 4 inches of snow and matches my initial forecast map from last night. That is posted below.  The pink shaded counties including Cecil Co and southern  Pennsylvania are for a Winter Storm Warning. This is for an expected 5 to 8 inches of snow. Still on target with my forecast. Note the Advisories and Warnings represent more confident as the event approaches.
Storm Snap Shot at 3 AM
This will be starting as rain and then turning to snow. It will transition from northwest to south early in the morning. The time frame for our region will be between 2 and 5 AM, with metro Baltimore changing over to snow closer to 5 AM through the morning commute.
Metro Baltimore is still in question.
It will snow! But how much will be wasted on melting to cool down the ground, versus sticking and accumulating. See the reasons in my prior report. There is a new special statement that NWS can issue when weather conditions can impact a commute. I suspect they may implement that tomorrow morning even if snow expectations don't amount to advisory criteria. The county split follows the climatologically favored cooler areas inland from the Bay and northwest of I-95.
Faith in the Flakes
Get the latest FITF gear  here at the online store.
How Much Snow?
Muy Firat Call Map
I expect the upper part of the snow range will verify. I will update this map in my evening post.
NWS Zone Maps
Get the award winning Kid Weather App I made with my oldest son and support our love for science, weather, and technology. Our 3 year anniversary of the release and our contribution to STEM education is this November. It has been downloaded in 60 countries, and works in both temperature scales. With your support we can expand on the fun introduction to science and real weather.
I will have the latest model snow forecast maps as well as any other updates in my next repot mid afternoon.
Faith in the Flakes Online- Flannel PJs Printed Inside Out
Store Now Open