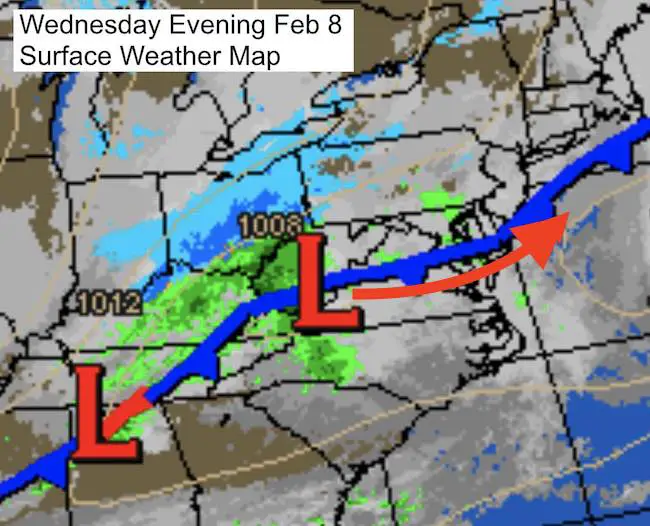 February 8th – Light rain has already started to move into the area and the storm we've been talking about all week is about to take form. If you have been reading my posts, I have been highlighting the abrupt change from heavy rain to heavy snow overnight. This will be rapid development and a quick moving storm. It also comes after two days of record heat in the 70s, and the resulting warm ground. All have been accounted for. If you have seen the previous posts, my initial snowfall map falls close to or less than what some models have been showing.
Below are two sliders to show the timeline for the temperatures (freezing line) and snow progress. This system is racing faster. That could be beneficial to get the snow changeover sooner, but also to end earlier. The time frame of main concern is 4 AM to 8 AM.  The transition and question about changing to srtickage during the bus runs will be the most challenging decision here. Keep in mind that rain will help to cool down the ground. Also, there will be heavy snow at the changeover that may fall at rates of 1 to 2 inches per hour. That can cover the ground before melting and thus compensate for the warmth. More snow will lay and stay on the grass, but there will be parts of central Maryland that will have road issues. It is all about intensity at this point to get stickage.
Can We Get Stickage?
This is all about intensity of the snow. The rate of 1 to 2 inches per hour for a couple of hours would be a heavy dumping, but not all will stick. There will be some wasted flakes to melting and prepping the ground. But stockage can start before the air is below freezing if the snow is hard enough.
I expect northern Maryland and southern PA will get into the stickage for a few hours.
Metro Baltimore- The concern is that there will be rain or the transition at the time decisions are made for schools. But heavy snow even on warm pavement runs the risk of quick stickage, even if just in colder spots. That may happen during school runs and the commute. This wil be a tough few hours between 5 and 8 AM to decide.
Snow Progress Timeline
Simulated Radar —> slider HRRR Model
[metaslider id=43351]
Temperature Progress
—> slider HRRR Model
[metaslider id=43337]
Faith in the Flakes
Get the latest FITF gear  here at the online store.
My Final Call For Snowfall
Compare to the NWS and Model Forecast Maps in my prior post.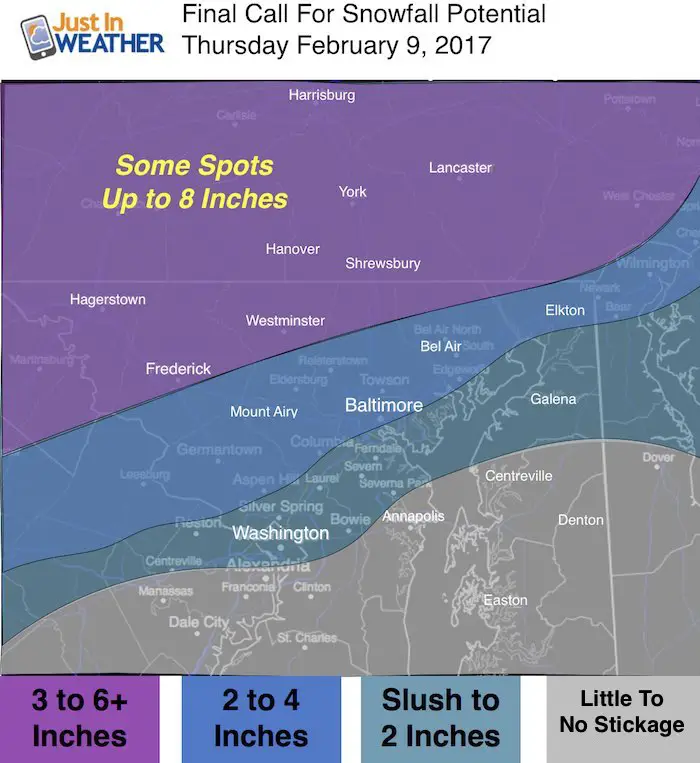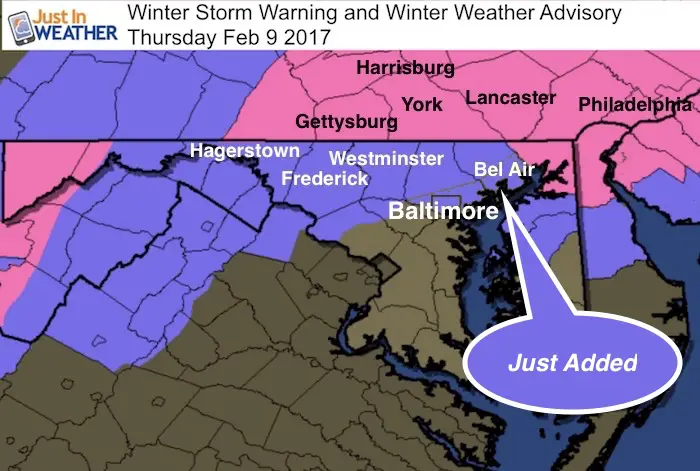 Please share your thoughts, best weather pics/video, or just keep in touch via social media
Faith in the Flakes Online- Flannel PJs Printed Inside Out
Store Now Open