Monday February 13 – The winds came in with full force last night as a line of showers arrive before midnight with Severe Thunderstorm Warnings. It was all about the gusts to 60 mph. Baltimore's BWI had a wind gust of 47 mph at 4 AM, Glen Burnie had a 59 mph gusts… but winds have slowed a little into the 35 to 40 mph range (its all relative) since. Numerous reports of wind damage has been reported across the region.  Expect another surge this morning as the sun rises and the air mixes up a little. A High Wind Warning is in place until 6 PM for central Maryland and Delaware. All this while we miss yet another blizzard that is hitting northern New England. A Wind Advisory is in place for southern Maryland and southern Pennsylvania.  Gusts could reach 60 mph with the strongest between 7 and 11 AM.
Below is the timeline showing the strong winds that could result in more downed trees and or power lines. Wind restrictions are in place on area bridges, and boating on the Bay is discouraged. For what it's worth, Orioles Spring Training begins today. Think about that as our wind chills will stay in the 20s and 30s. There may be some flurries this morning, and another band of flurries or snow showers Wednesday. Otherwise, it is all about the wind.
Wind Timeline —> slider HRRR Model
[metaslider id=43429]
Wind Outlook —> slider GFS Model
[metaslider id=43441]
Will we have snow during the week?
I had not spent much time discussing this potential since only the European Model had it last week and now all models see a miss in phasing. The ingredients seem to no line up this week but there is one hold out. Should the error of systems verifying north of forecast hold, then we could get some energy to link up on Wednesday to bring flurries or snow showers. Sadly for snow lovers there is not much else in sight.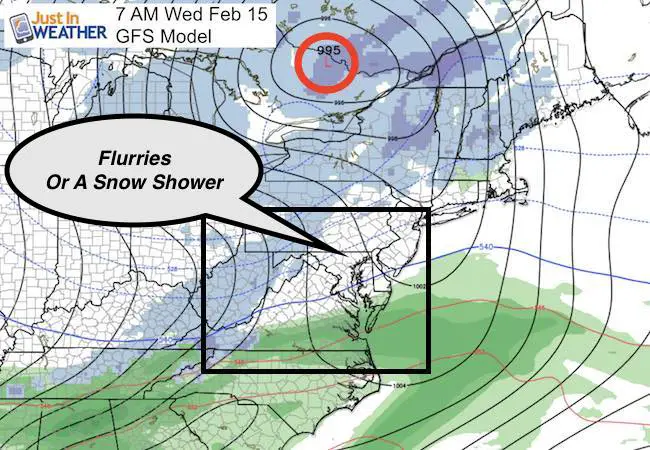 There has been chatter about the European Model that showed snow Wednesday/Thursday. As of now, the computer model consensus splits the energy and does not allow that storm to take form. However, I think there is some model error with the energy location… so we may have at least a chance of snow showers. I will have more on that in my evening post.
Get the award winning Kid Weather App I made with my oldest son and support our love for science, weather, and technology. Our 3 year anniversary of the release and our contribution to STEM education is this November. It has been downloaded in 60 countries, and works in both temperature scales. With your support we can expand on the fun introduction to science and real weather.
Please share your thoughts, best weather pics/video, or just keep in touch via social media
Faith in the Flakes Online- Flannel PJs Printed Inside Out
Store Now Open