February 14 – Happy Valentines Day and I think you will love the lack of wind. A dramatic decrease in the air flow today, but temps are rather cold this morning with many in the 20s. There is one disturbance that shows up as a band of light snow in the mountains. This is expected to ride east and may cross Washington and Annapolis along Rt 50 later this morning. The High Resolution Model shows it warming to a band of rain showers, but some flakes may briefly fly instead, just not stick.
The main story is yet another major storm forming. Do you remember the two back to back blizzards we had in early February of 2010? Well, the atmosphere is doing the same thing now, just not for us. We are on the edge missing out on the action, just getting the wind behind it and we will again. The next two storms that will try to join forces, will do so tomorrow, just to our east and impact northern New England again. Behind this storm, a big warm for the weekend. What do we get?  How about a chance of a flurry, then pushing 60°F by Sunday and Monday!
Winter is not done. The cold air will return behind yet another storm at the end of next week. To be brutally honest, my concern is that the pattern will eventually turn cold and active for us… as we enter spring. That's not good for anyone.
A Shower Today?
Simulated Radar —> slider HRRR Model
[metaslider id=43458]
High Temps Today
Just Missing Another Big Storm
 —> slider GFS Model
[metaslider id=43466]
Outlook
Cold air returns perhaps with some flurries after a storm at the end of next week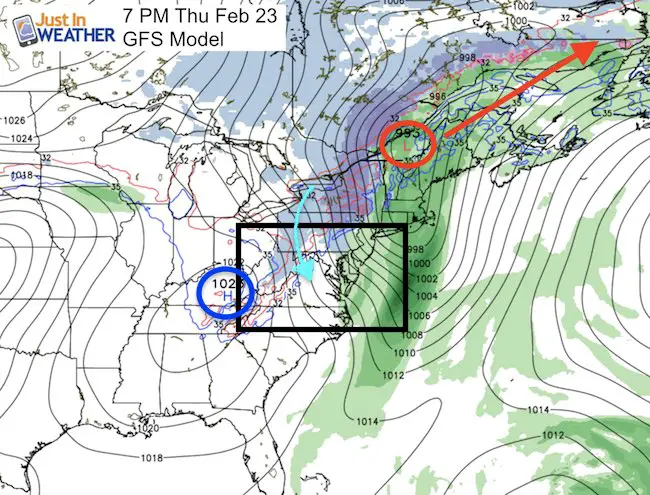 Temperature Outlook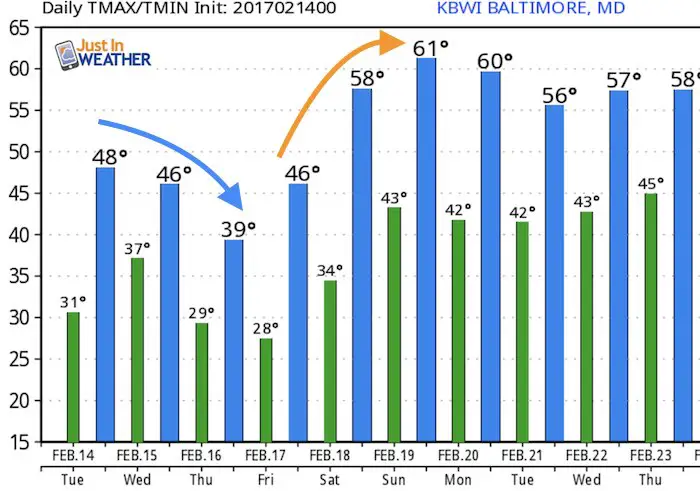 Will we have snow during the week?
There has been chatter about the European Model that showed snow Wednesday/Thursday. As of now, the computer model consensus splits the energy and does not allow that storm to take form. However, I think there is some model error with the energy location… so we may have at least a chance of snow showers. I will have more on that in my evening post.
Get the award winning Kid Weather App I made with my oldest son and support our love for science, weather, and technology. Our 3 year anniversary of the release and our contribution to STEM education is this November. It has been downloaded in 60 countries, and works in both temperature scales. With your support we can expand on the fun introduction to science and real weather.
Please share your thoughts, best weather pics/video, or just keep in touch via social media
Faith in the Flakes Online- Flannel PJs Printed Inside Out
Store Now Open