Saturday February 18 – We can not ignore the warm air that will dominate our weather for the next week. As snow lovers it may be a tough pill to swallow, but if it is not going to snow, then cold air is a waste, right?  While Baltimore is currently tied for the lowest seasonal snowfall on record (0.7″ also in 1950), western Maryland has had their fare share. Wisp Resort has had 56 inches of snow, which is a little more than half of their seasonal average. Keep in mind that March has a mind of its own, so there is plenty of time ahead to have something wacky.
As for the heat… temps will be in the upper 60s to her 70F today and tomorrow. Perfect set up for the weekend. As we look at the temps into next week, I need to fall back on the standard expectation that early season warm ups often end up warmer than first thought. So we could easily have 70s for many us (away from the cool water) next week. I figured I had to show some of the record high temps for Baltimore before getting into the forecast maps and outlook.
Check out the dates. These are some long standing records, which means it is rare to reach the 70s in late February, but also that is has happened before. In fact many records in any month show up two or three in a row that year. Below you will notice 1930 has three record highs in the same week… included the hottest February temperature in the 80s. The record on Feb 26 in 1932 tied the mark set in 1930 that date, so there should be four.
Record High Temperatures and Dates in Baltimore
Feb 19 1997: 72°F
Feb 20 1930: 76°F
Feb 21 1930: 74°F
Feb 22 1874: 74°F
Feb 23 1874: 78°F
Feb 24 1985: 79°F
Feb 25 1930: 83°F *Hottest for the month
Feb 26 1932*: 74°F Tied the mark set in 1930
Outlook
Temperatures will be above normal for much of the next week. It will come with a few days of rain, but the warm air will be a result of the storm track to our west.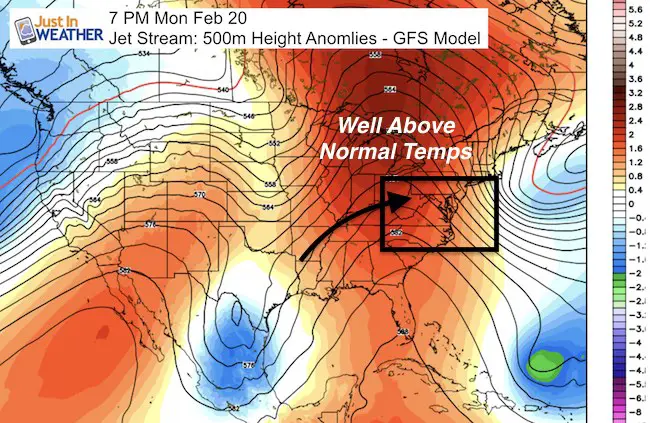 The pattern will break down any the end of next week… but cooler temps will only send up back closer to normal.
Temperatures
As I mentioned earlier, I do believe we will end up with temps warming than this outlook… So a few days reaching the 70s is very possible.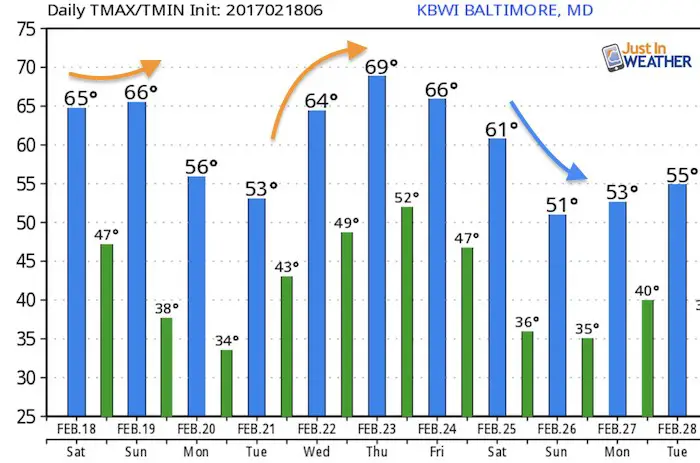 Actual Weather Events
Here are the bet chances for rain… and snow showers in the mountains next weekend
Friday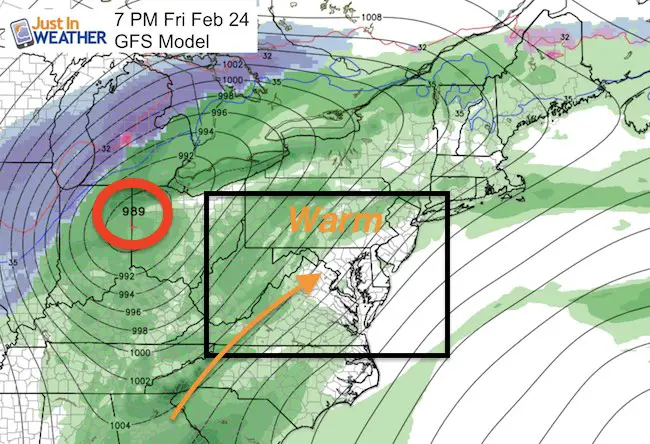 Saturday: Much Cooler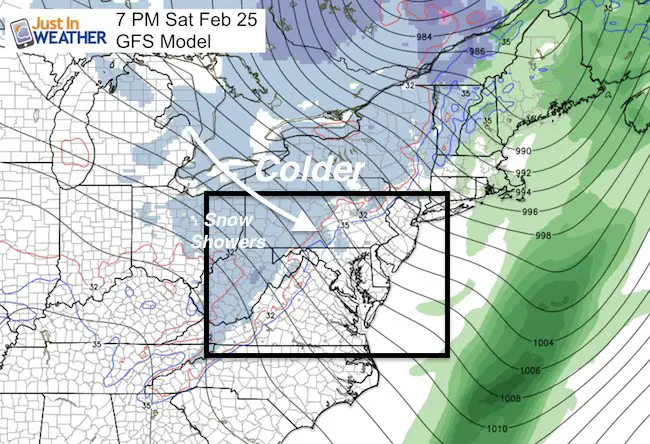 Get the award winning Kid Weather App I made with my oldest son and support our love for science, weather, and technology. Our 3 year anniversary of the release and our contribution to STEM education is this November. It has been downloaded in 60 countries, and works in both temperature scales. With your support we can expand on the fun introduction to science and real weather.
Please share your thoughts, best weather pics/video, or just keep in touch via social media
Faith in the Flakes Online- Flannel PJs Printed Inside Out
Store Now Open