Wednesday Feb 22 – A few light showers were passing through Washington and southern Maryland this morning. That will open up the warm flow and allow temperatures to begin to soar again. While it may seem odd with the extreme weather flipping to the warm side again, the sun angle today is the same as the third week of October. It is more acceptable to get into the 70s then than now. But with the lack of snowpack and now ice on our waterways, the sun angle is allowed to do it's thing without obstruction in warming. Well, we will have to wait another day to get into the 70s, but we will. For a few days. Once again, we will be challenging some long standing records that still might not be breached. Below is a look.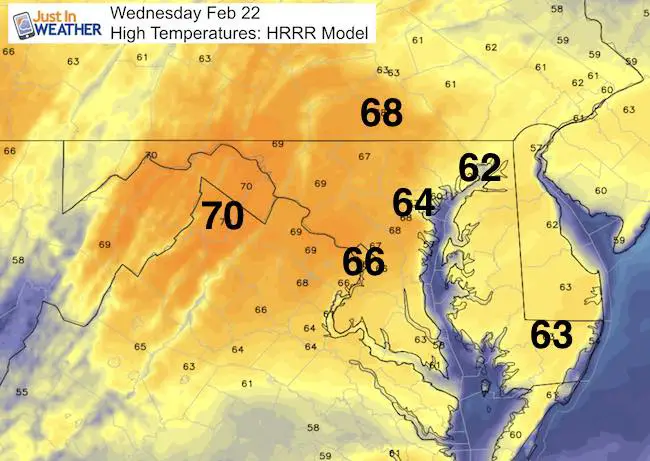 Storm Track- The next two systems will keep on the same path, to our north. That is where the cold air is locked up. The only chance of snow will be in the form of flurries or snow showers… and mainly in the mountains. A few could get close to the northern suburbs of Baltimore… AFTER the storms pass by.
Storm 1 —> slider GFS Model
[metaslider id=43576]
Storm 2 —> slider GFS Model
[metaslider id=43582]
Temperature Outlook
Even with the potential that high temperatures verify warmer than the model shown below, the old records will new a tough challenge to reach.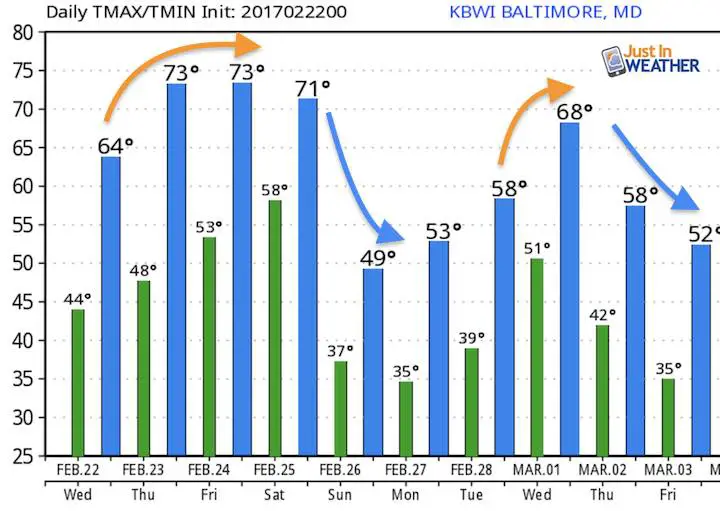 Record High Temperatures and Dates in Baltimore
For the most part,  it's been a long time since we have had this type of heat in February.
Feb 22 1874: 74°F  *Compare to (Wednesday)
Feb 23 1874: 78°F. *Compare to (Thursday)
Feb 24 1985: 79°F. *Compare to (Friday)
Feb 25 1930: 83°F *Hottest for the month *Compare to (Saturday)
Feb 26 1932*: 74°F Tied the mark set in 1930 *Compare to (Sunday)
Get the award winning Kid Weather App I made with my oldest son and support our love for science, weather, and technology. Our 3 year anniversary of the release and our contribution to STEM education is this November. It has been downloaded in 60 countries, and works in both temperature scales. With your support we can expand on the fun introduction to science and real weather.
Please share your thoughts, best weather pics/video, or just keep in touch via social media
Faith in the Flakes Online- Flannel PJs Printed Inside Out
Store Now Open