February 23 2017 – The high temperature in Baltimore today was 77°F. That is more than 30 degrees above average and yet still not a record. The 143 year old record of 78°F in 1874 remains intact along with the prior day that year. As I was doing an assembly and delivering Faith in the Flakes shirts today, I know it seems silly. But every school I visit (and I have plenty more on the schedule)  has the same conversation: It seems like the warmest February on record, and many people don't trust March. Well, I did a little research and found out that this year is NOT the warmest February on record for our region (so far). In fact, I was surprised where we did rank. That is until today. The chart below is preliminary, so I will adjust it in the morning after the daily data is complete in the books.
Record high temps often come in pairs
Feb 22 1874: 74°F 

Feb 23 1874: 78°F
Note: Friday is the final day for voting in the Baltimore Sun's Readers Poll. I appreciate the nomination for Best Meteorologist. If you want to vote, click here and scroll down to item 52 and let's see if we can do it again. Then come back to see the info below.  I see this as a group effort since you are part of what pushes my social media along.
Surprise: Up until today, 2017 raked 7th on record in Baltimore for warmest February months. It should be noted that 'average' temperatures include the High and Low for the day. That is why today is not included yet.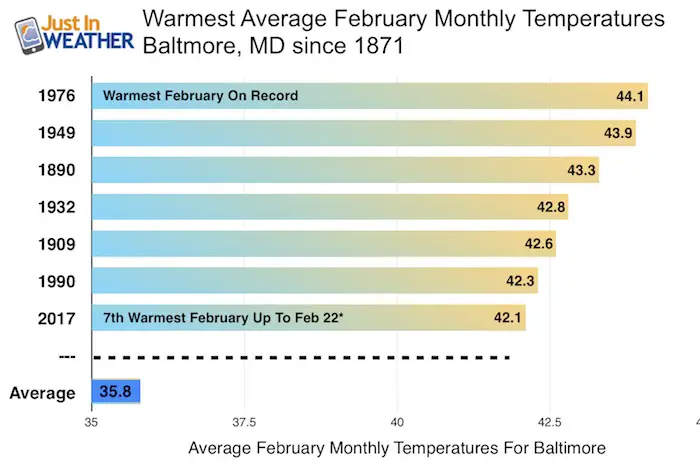 The records for the next two days are even hotter, so it looks farther out of reach. But we can all bet on the fact that this can't last much longer and reality will come back in. The long range outlook is not very cold, but closer to normal… Which means we still could get some flakes in March. No promises on storms let alone stickage, but spring is not here yet. By the way, many Maryland faculty agree that at this point they would rather get out of school early and enjoy a longer summer.
Record High Temperatures and Dates in Baltimore
Feb 24 1985: 79°F. *Compare to (Friday)
Feb 25 1930: 83°F *Hottest for the month *Compare to (Saturday)
Feb 26 1932*: 74°F Tied the mark set in 1930 *Compare to (Sunday)
Outlook- Jet Stream Looks Colder For March
The trend will be towards a colder pattern asa seen on the jet stream. There is not much snowpack left nearby, so the cool air will not have much to refrigerate it… but we will step closer to average over the next week and into mid March.
[metaslider id=43611]
Will It Snow?
I do not like to show surface forecast maps more that 5 days away. There are too many variables and often these do not verify as seen this far out. But I wanted to show you that at least there is snow form of snow on the maps by next weekend. This looks like a clipper type pattern, not conducive for large storms… but frequent impulses of cold and snow showers are possible.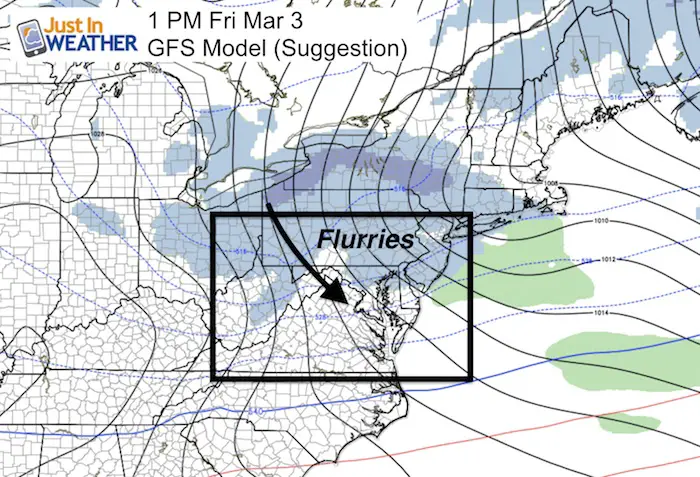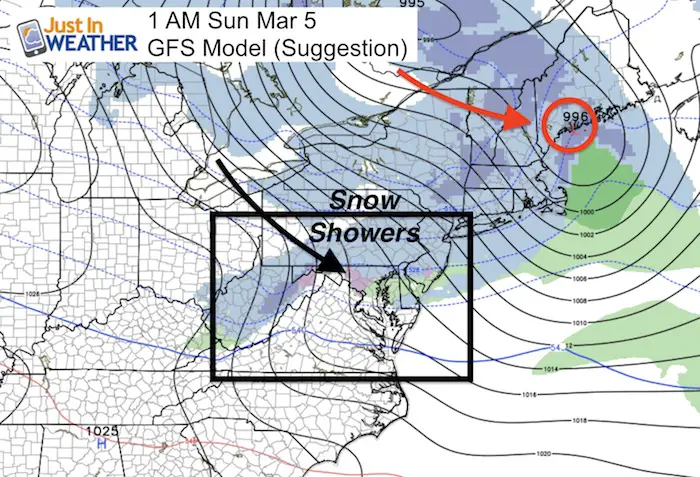 I will update the stats and have more details on our weekend chance for rain and T'storms in my morning post.
Get the award winning Kid Weather App I made with my oldest son and support our love for science, weather, and technology. Our 3 year anniversary of the release and our contribution to STEM education is this November. It has been downloaded in 60 countries, and works in both temperature scales. With your support we can expand on the fun introduction to science and real weather.
Please share your thoughts, best weather pics/video, or just keep in touch via social media
Faith in the Flakes Online- Flannel PJs Printed Inside Out
Store Now Open