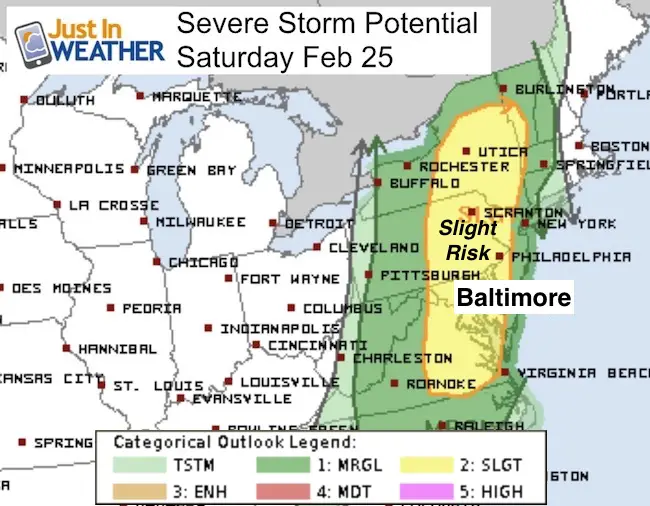 Saturday February 25 – A strong cold front will pass through today and sweep out this pre-spring airmass. Temperatures area already into the 60s, and will jump up ahead of the mid day storms. The Storm Prediction Center has issued a Slight Risk that they may turn severe for our region. This means winds could gust over 58 mph, and hail could reach 1 inch in diameters. A very slight risk of an isolated tornado. The timeline in the radar simulation below shows the prime time of daily heating. The temperature outlook suggests 70s with 60s along the Bay. This suggests a southeast wind feeding into the storms, which usually enhancing the potential strength as they pass between the mountains and I-95.
Note: Temps will get cooler, but today is the anniversary of the hottest February day on record in Baltimore.
Feb 25 1930: 83°F *Hottest for the month 
These maps help show the timing and change on the way. These will be fast moving storms, and the cold snap Sunday will be quick was well. Another warm up next week, then a change to the winter pattern for March. Yes, some snow shows up on our weather maps at the end of next week.
Radar Simulation ––> slider HRRR Model
Most likely time for storms wil be within a few hours of noon.
[metaslider id=43645]
Severe Storm Support
Severe level threshold at 1,500 kJ/Kg will be approached with the line of storms.
Forecast High Temperatures today show the 60s along the water… suggesting the influence of the cooler Chesapeake Bay. This flow often feeds into storms, enhancing them as they cross the mountains and move east.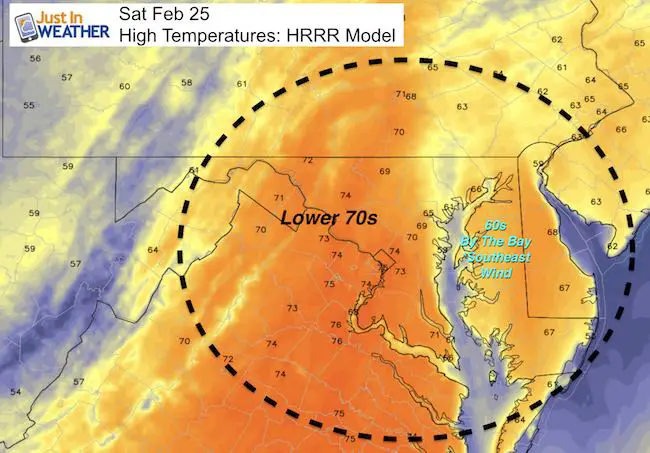 Mid Level Winds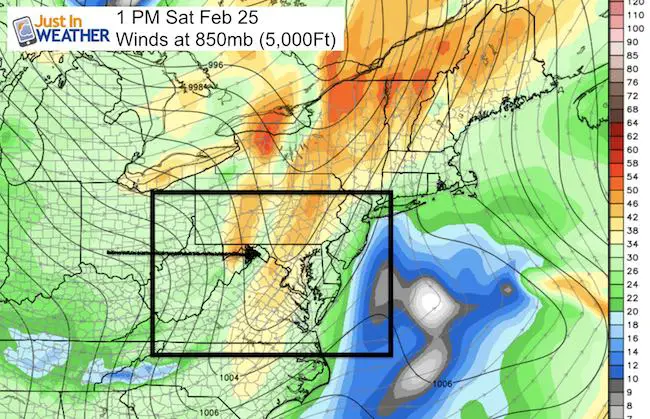 Temperature Outlook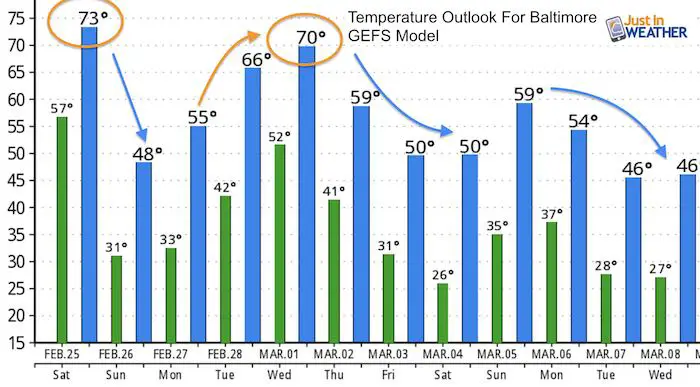 Will It Snow Again?
As I show you the forecast maps at the end of the week, know that I don't believe they will verify as shown now. BUT, I like to show these as the suggestion for what the pattern is suggesting… that snow showers will make a return. Note: Snow during the say is like NOT to stick on warm ground. It will take a lot to cool down the ground.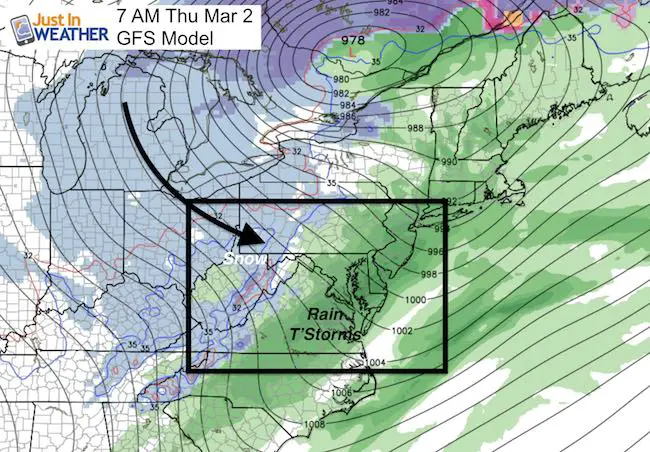 FITF For March. We still have a few weeks left in winter
Get the award winning Kid Weather App I made with my oldest son and support our love for science, weather, and technology. Our 3 year anniversary of the release and our contribution to STEM education is this November. It has been downloaded in 60 countries, and works in both temperature scales. With your support we can expand on the fun introduction to science and real weather.
Please share your thoughts, best weather pics/video, or just keep in touch via social media
Faith in the Flakes Online- Flannel PJs Printed Inside Out
Store Now Open