March 9 – I know it still seems impossible that it will snow tomorrow after hitting 71ºF today in Baltimore. Ironically we set the record of 82ºF last year… but this time we are going the other direction. Even with 60s this evening, and arctic front is looming and will crash through in the morning. As I had been saying for the past few days, it will snow and yes we all know the ground is warm. This even is very similar to the February 9 event… when the snow moved in around daybreak, and there were delays to school, but most areas only had wet roads. This even is a bit stronger, but we still have the temperatures that will lag behind the falling snow.  Here is a look at the timeline and more below. I do believe most schools will be on time, but maybe issues in PA. Also, slow driving after 8 AM when the snow builds in.
Simulated Radar —> slider HRRR Model
[metaslider id=44149]
Temperatures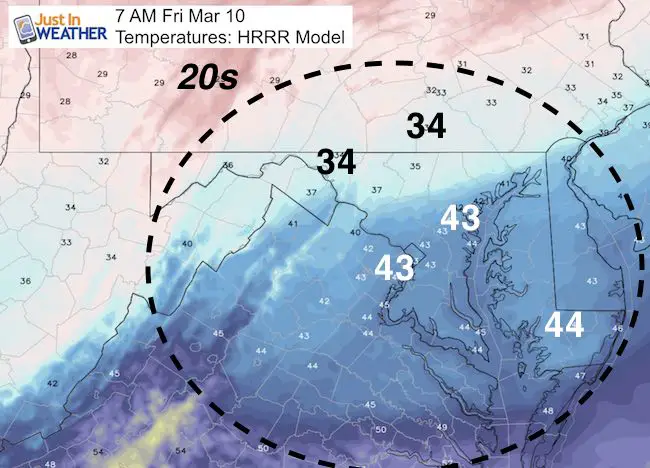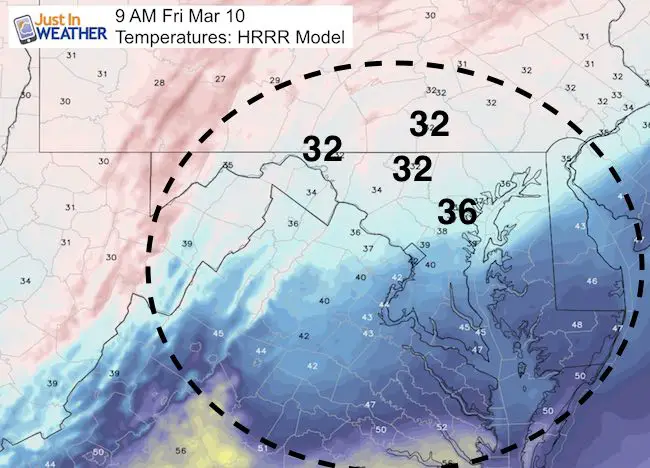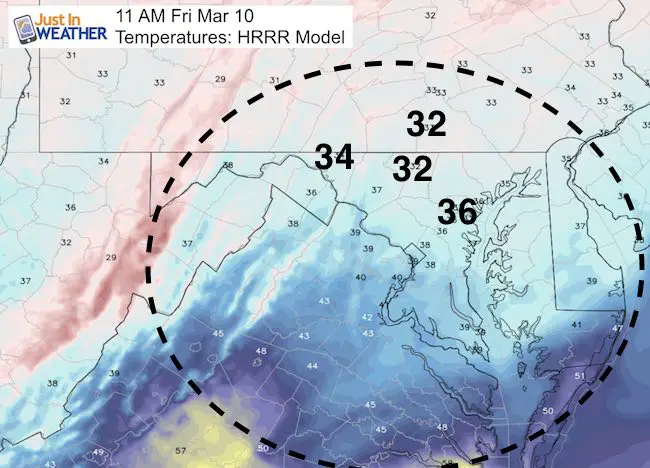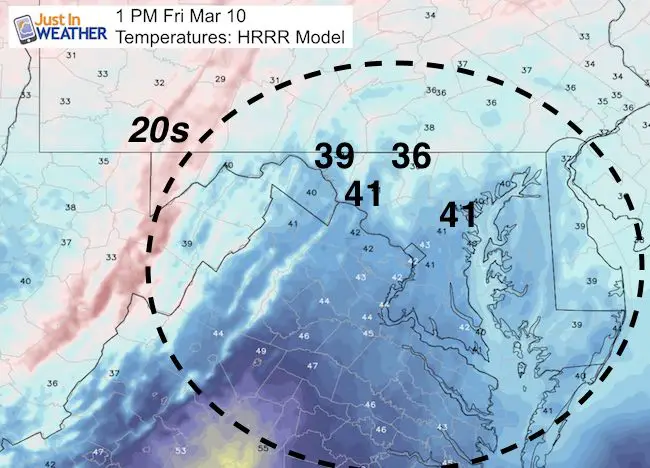 Notes:
There will be a band of moderate to heavy snow during the morning commute. 

It appears we will watch the snow line arrive after 7 AM in central Maryland. 

Temperatures will stay above freezing, but moderate snow can overtake the warm ground briefly.

Stickage amounts in my snowiest below are mainly for grassy areas. 

If the snow does not reach this far south, it may be a signal that the winter error is holding strong. Then we must rethink the next tow events for the shift north from what models are showing us.

A hard freeze will arrive Saturday morning with lows near 20ºF or colder from Baltimore and north.
Click here to see the outlook for the Tuesday potential coastal storm
My Final Call For Snowfall
Note- mostly on the grass.
Most roads will be wet.
Most likely travel issues will be 7 to 10 AM north/west of Baltimore.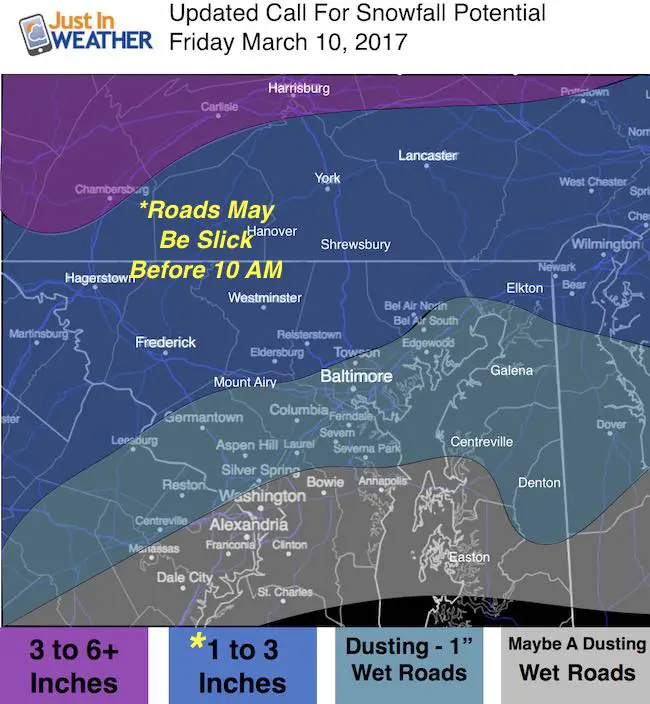 Get the award winning Kid Weather App I made with my oldest son and support our love for science, weather, and technology. Our 3 year anniversary of the release and our contribution to STEM education is this November. It has been downloaded in 60 countries, and works in both temperature scales. With your support we can expand on the fun introduction to science and real weather.
Please share your thoughts, best weather pics/video, or just keep in touch via social media
Faith in the Flakes Online- Flannel PJs Printed Inside Out
Store Now Open
Faith in the Flowers
In a few weeks my friend Lexi Hack and I  will be bringing back these shirts and the fundraiser for Save a Limb Fund at Sinai Hospital. Also stay tuned for my new Storm Smart Assembly program. A STEM based assembly on severe weather for elementary and middle schools.