Thursday March 9 – Today will be a nice day. In fact the main question under sunshine and lighter winds will be whether you end up in the mid 60s or near 70ºF.  Do not be fooled. An arctic front will be sliding through our region tomorrow morning and bring with it a change from rain to snow. As of now it looks like the best chance for stickage and accumulation will be in Pennsylvania and metro New York. But we will get snow… and coatings on the grass while roads should stay wet. Then arctic air arrives this weekend and we track two more storms.
Let's jump to tomorrow. Here is the snow set up
—> slider GFS Model
You may have rain early in the morning that will change to snow… but temps should remain above freezing around Baltimore and south.
[metaslider id=44092]
Snow – Yes! But How Much Will Stick?
Annapolis to Easton should see snow falling, but it appears to be too warm for stickage there.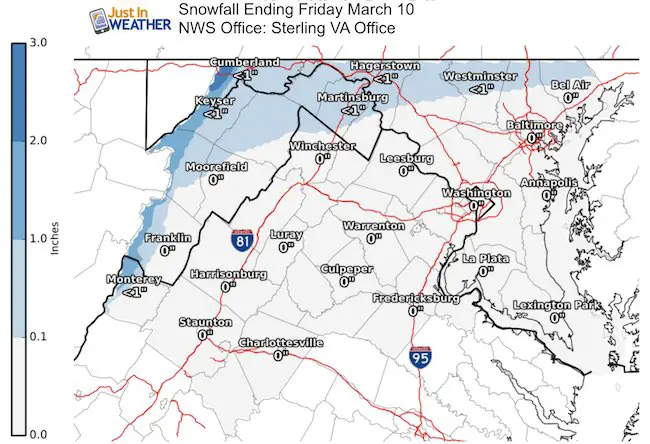 Arctic Air Arrives Saturday Morning
Lows in the teens and 20s for a few days.  The National Parks Service has pushed back the Cherry Blossoms bloom almost a week… so no record early bloom this year.  Apparently they stage is still early to not suffer damage.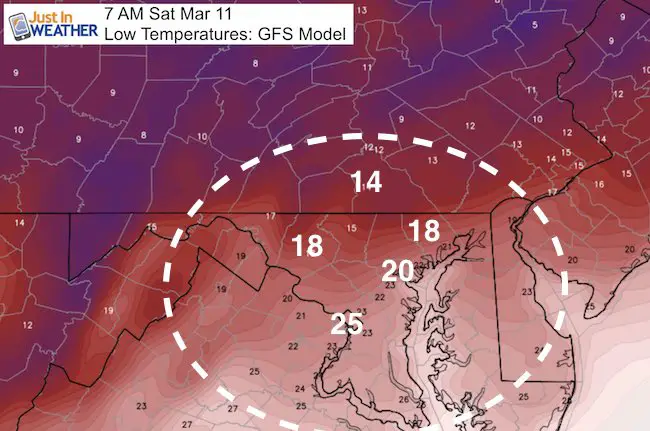 Sunday Storm Staying South?
The depth and push of this arctic air is why the Sunday storm is expected to be just south.  This is where the model bias might come into play. Notice the GFS Model stays farther south with snow. The Canadian Model was the outlier a few days ago, but not brings the northern edge of snow close to DC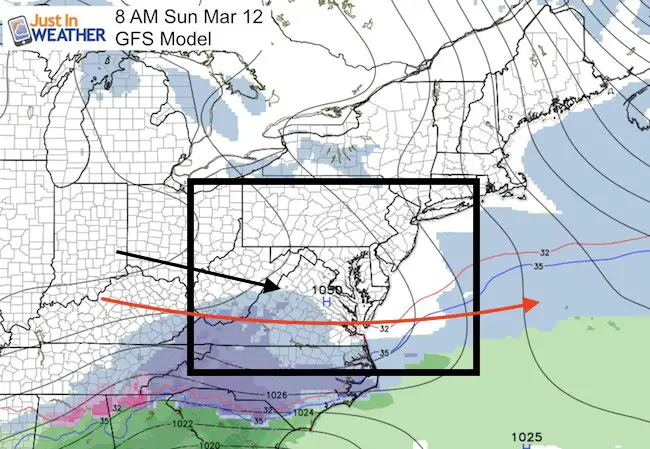 Coastal Storm Next Week?
This is where the digging trough in the jet stream and a developing coastal make take form. This hinges on a primary Low form the west shifting the energy to the coast right over Maryland…. Do NOT lock into this solution yet. I expect some changes and any adjustment from the weekend's cold and storm track will give insight into how this could track and behave
—> slider GFS Model
[metaslider id=44102]
Temperature Outlook
Again, this output is delayed on the cold air, but showing the push this weekend and extending the chill next week… but it still may not have the full impact yet.
Get the award winning Kid Weather App I made with my oldest son and support our love for science, weather, and technology. Our 3 year anniversary of the release and our contribution to STEM education is this November. It has been downloaded in 60 countries, and works in both temperature scales. With your support we can expand on the fun introduction to science and real weather.
Please share your thoughts, best weather pics/video, or just keep in touch via social media
Faith in the Flakes Online- Flannel PJs Printed Inside Out
Store Now Open
Faith in the Flowers
In a few weeks my friend Lexi Hack and I  will be bringing back these shirts and the fundraiser for Save a Limb Fund at Sinai Hospital. Also stay tuned for my new Storm Smart Assembly program. A STEM based assembly on severe weather for elementary and middle schools.