March 12 – With a Winter Storm Watch in place, the storm on the way is has been consistently plotted by many computer models for many days. Today was the initial snow plan, but that storm was successfully plotted to the south four days ago, and now we watch the next event to develop and rival the top three March snowstorms for Baltimore. The arctic air has sufficiently cooled down the ground, and the storm's arrival on Monday night will allow for plenty of stickage. My main hesitation is the specific track and freezing line that will set up between the Chesapeake Bay and I-95, so lots of wiggle room for central Maryland including Baltimore and Annapolis. The heaviest snow and biggest impact will be Tuesday morning, so business and school plans will be affected.
Storm Simulation And Snowcast Maps Below
Notes:
8 PM Monday to Midnight—> Snow arrives from the south.

Tuesday Morning: Heaviest Snow- Freezing/Rain gets closest. 

Tuesday Afternoon:  Main storm pulls away, but snow showers continue

Wednesday Morning:  Snow showers linger and temperatures will be below freezing. 

Canadian and European Model give the heaviest snow. If these verify, it would be the heaviest snowstorm in March history. The GFS model shows a closer track and more mixing in central Maryland. Still a respectable snowfall in any month for any year.

I need to consider the warmer than average Chesapeake Bay to influence the snowfall. 

Snow can fall while temps are above freezing in some areas.

Heavy, wet snow will compact and weigh down final totals. So ratios may be lower than 10:1 snow to liquid.
Also See:
March Snowstorm History In Baltimore
#FITF Gear
We are doing a special run of more Faith in the Flakes shirts this week.  Click here for the online store.
Storm Simulation —> slider GFS Model
[metaslider id=45287]
Precipitation Potential
Equivalent to all rain and melted snow: Between 1 and 2 inches could bring well over 1 foot in places that stay all snow AND below freezing for the entire event.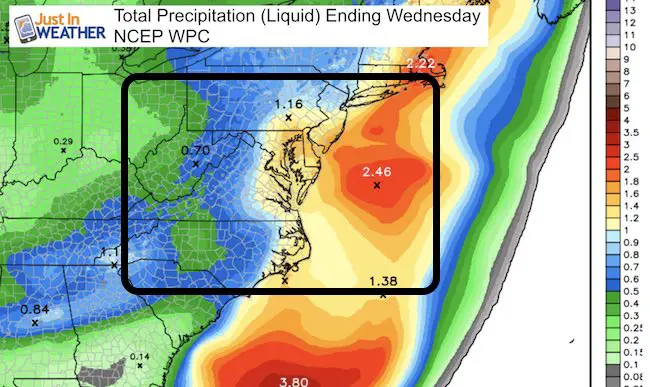 My First Call For Snowfall
Close view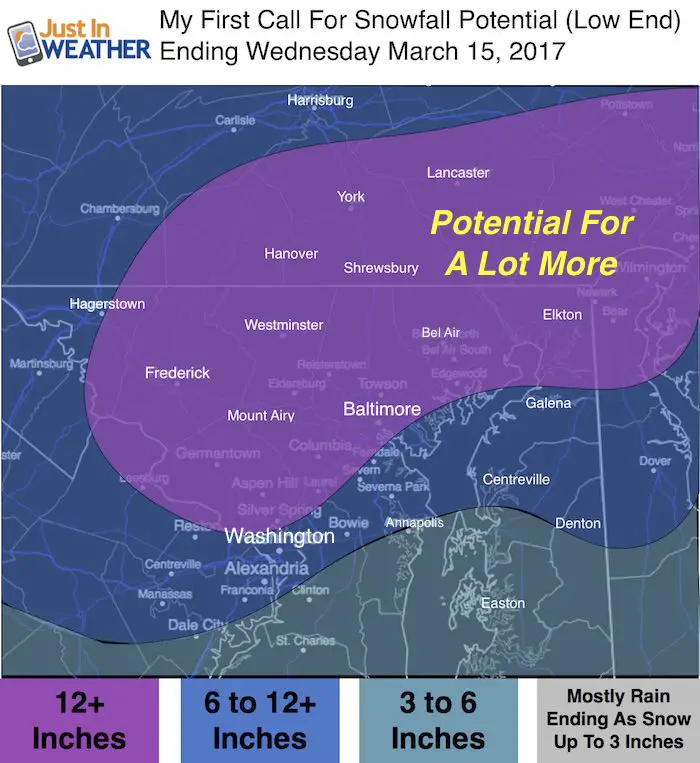 Wider View
Computer Model Snow Potential Maps  (much higher than my call)
Winter Storm Watch
Expect and Upgrade To A Warning For Many Areas Later Today
Some c0unties not listed here may get some form of an advisory issues later today

Get the award winning Kid Weather App I made with my oldest son and support our love for science, weather, and technology. Our 3 year anniversary of the release and our contribution to STEM education is this November. It has been downloaded in 60 countries, and works in both temperature scales. With your support we can expand on the fun introduction to science and real weather.
Please share your thoughts, best weather pics/video, or just keep in touch via social media
Faith in the Flakes Online- Flannel PJs Printed Inside Out
Store Now Open