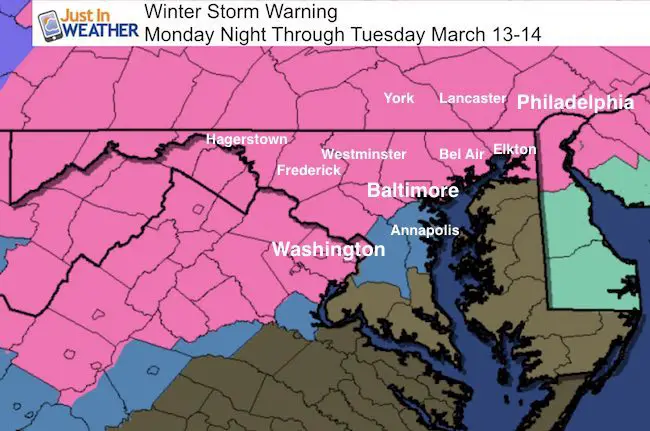 March 12 – A Winter Storm Warning has been put in place for much of central Maryland, northern Virgina, and Pennsylvania. This goes into effect Monday night and lasts through Tuesday, but some snow showers could linger into Wednesday.  This upgrade is a natural progression as we get closer and more confident of the snow on the way.  There a variety of snow expectations, but in general 'over' 6 inches of total accumulation, with many getting a whole lot more. Maryland's Anne Arundel and Prince Georges Counties remain with a 'Watch' since this is the zone that will be on the edge of the rain/slush line. That is one element that still needs to be fine tuned.
Below is the storm track from the Canadian GEM Model since I've been showing just the GFS lately. Also, the latest snowcats from  those two computer models and local National Weather Service Offices. *My first call for snowfall map remains intact and is below for comparison. I do not like to vary too much, but I will post my final call in my next report. I think it would be irresponsible to change with every model. I look for trends, and still see a wide variety of potential for some areas as you will see below.
Please keep my notes in mind with this major storm:
8 PM Monday to Midnight—> Snow arrives from the south.

Tuesday Morning: Heaviest Snow- Freezing Line/Rain gets closest. 

Winds may be strong enough (35 mph) to warrant blizzard conditions and white outs for some areas

Tuesday Afternoon:  Main storm moves north, but snow showers continue

Wednesday Morning:  Snow showers linger and temperatures will be below freezing. 

Canadian and European Model give the heaviest snow. If these verify, it would be the heaviest snowstorm in March history. The GFS model shows a closer track and more mixing in central Maryland. Still a respectable snowfall in any month for any year.

I need to consider the warmer than average Chesapeake Bay to influence the snowfall. 

Snow can fall while temps are above freezing in some areas.

Heavy, wet snow will compact and weigh down final totals. So ratios may be lower than 10:1 snow to liquid.
Also See:
March Snowstorm History In Baltimore
#FITF Gear
We are doing a special run of more Faith in the Flakes shirts this week.  Click here for the online store.
Storm Simulation —> slider Canadian GEM Model
[metaslider id=45308]
The Freezing Line may influence the amount of heavy, wet snow that can lay and stay, or compact. So measured snow totals may not be as much as the amount that falls. That is why my map is on the lower end of these models….
Model Snow Projections- NOT MINE
See my first call map again at the bottom of this post. 
Big Difference: Compare the heavy snow zone in SE PA on the Canadian Vs. GFS
Philadelphia range 10 to 24 inches
Baltimore range 10 to 16 inches
York range 13 to 20 inches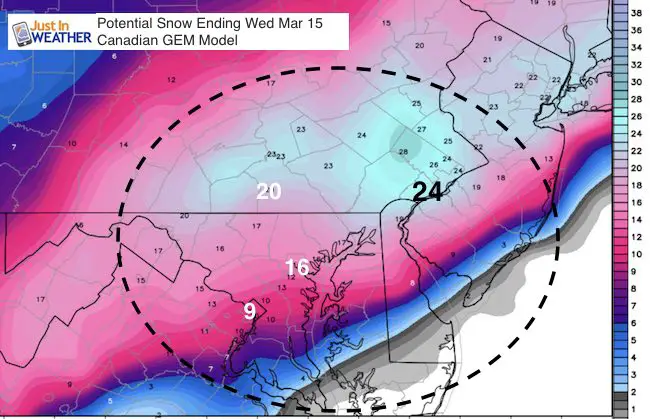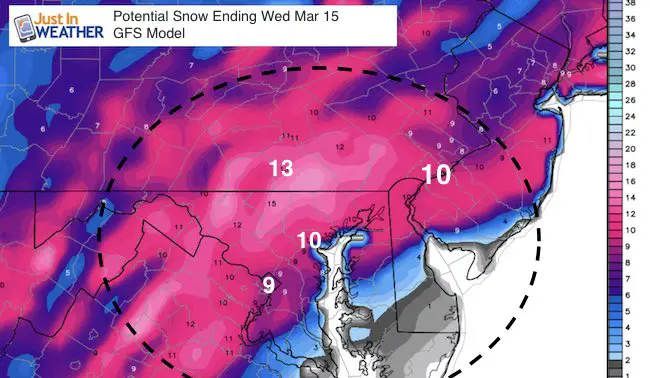 National Weather Service Regional Office Zone Maps
NWS seems to agree with my conservative approach due to wet snow compacting and influence of warmer air. Thus on the lower side, but still respectable.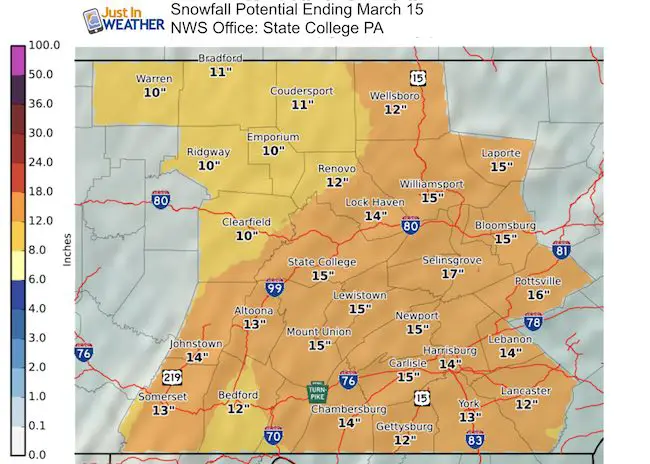 My First Call For Snowfall Maps
*I did adjust the wide view to fit with my close view… which means the 12″ line is north of Annapolis.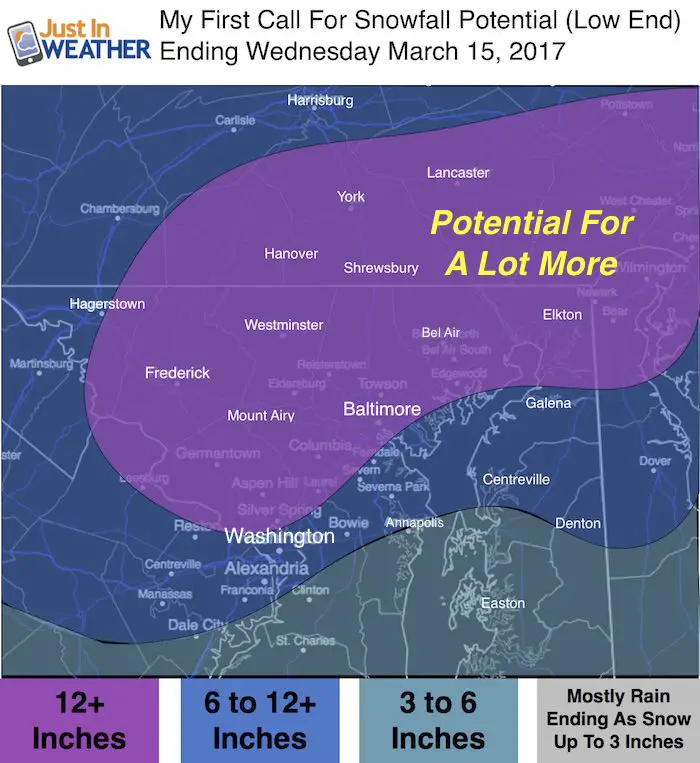 Get the award winning Kid Weather App I made with my oldest son and support our love for science, weather, and technology. Our 3 year anniversary of the release and our contribution to STEM education is this November. It has been downloaded in 60 countries, and works in both temperature scales. With your support we can expand on the fun introduction to science and real weather.
Please share your thoughts, best weather pics/video, or just keep in touch via social media
Faith in the Flakes Online- Flannel PJs Printed Inside Out
Store Now Open