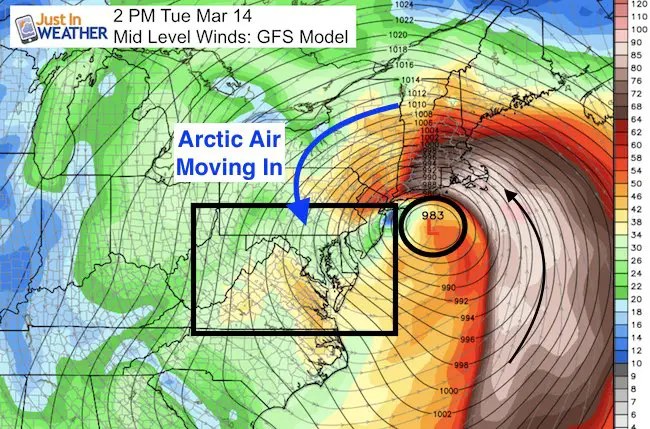 March 14 – The storm is cranking quite a bit off of the east coast. As it moves north of New Jersey, we et the cold air sliding into Maryland. The last piece of energy is producing a band of snow this afternoon that could produce a dusting to inch coating. At this point the snow amounts were lower than many expected, but there was plenty of ice and wind. So much that power outages are the issue from Harford County Maryland to Delaware. The primary thing to focus on now will be the temperatures and how that may play a role in travel and school delays. There is a lot more confidence predicting this than the snow/ice line.
Deep Freeze: It Doesn't Matter How Much Snow
I will have a final snow total and compare to my forecast later on. These are the early numbers.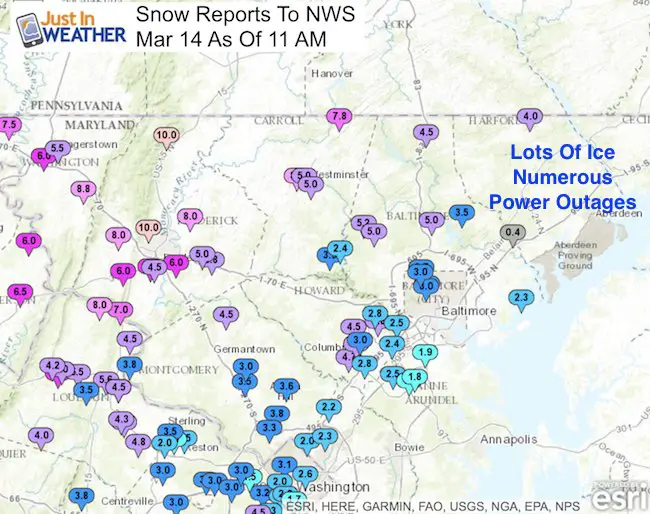 A little more snow this afternoon 
—> slider Radar Simulation
[metaslider id=45456]
I know the snow totals are how forecasts are commonly measured, but as long as you have something, you may have a new problem ahead.

Clear your driveway and sidewalk now or what is left will freeze solid.

Temps will tank tonight by dark and beyond.

Lows will drop into the teens.

Salt does not work well below 25ºF
Note: I just got off of my call with Johns Hopkins…
This may give an idea of what other schools plan to do

Closed tonight

Wednesday delay until 10 AM… but morning call to discuss if for more if needed

School delays or closings are based on local municipalities clearing and the parking lot clearing.

Here are two sliders to plan ahead… Snow band and temperature timeline.
—> slider Temperature Timeline
[metaslider id=45467]
Rare Storm For March?
See my report on March Snowstorm History In Baltimore
#FITF Gear
We are doing a special run of more Faith in the Flakes shirts this week.  Click here for the online store to get yours.
Get the award winning Kid Weather App I made with my oldest son and support our love for science, weather, and technology. Our 3 year anniversary of the release and our contribution to STEM education is this November. It has been downloaded in 60 countries, and works in both temperature scales. With your support we can expand on the fun introduction to science and real weather.
Please share your thoughts, best weather pics/video, or just keep in touch via social media
Faith in the Flakes Online- Flannel PJs Printed Inside Out
Store Now Open