Friday April 7 – The strong winds today have pushed 39 mph at BWI and helped to hold temps down for most places east of the mountains in the 40s. This is all part of the same system that brought severe storms yesterday, and snow too western Maryland today. Yes, they have stickage at Wisp Resort and there are pictures below to prove it.
Freeze Warning
The focus locally is about the cold air. Once the winds settle down a bit tonight, and the sky tried to clear… temperatures will drop! At this point, it looks like the freezing line will stay north of Baltimore and inland from I-95… So the typical places that tend to get more snow in winter will be threatened will air cold enough to damage early spring growth. This is one reason why many gardeners suggest to wait until after Mother's Day to plant.
Snow Today
Take a look at this afternoon's web cam images from Wisp Resort in western Maryland. They had stickage and show off the source of the cold air.
—> slider
[metaslider id=46432]

Race Weather: Sole Of The City 10K
I got my packet, but I will miss the race. My kids have photos and opening ceremony for their Little League Baseball season. So sadly I will miss out on one of my favorite races, and I was aiming to break an 8 min/mile. But maybe you will perform well with a little chill.
Start cold: Low to mid 40s (dress for 15ºF warmer)

Winds will increase between 10 and 25 mph gusts later in the morning. 

If you see 'near 60F' on your app, that is the afternoon high temperature by 5 PM.
Here is the close up view of the winds
—> slider Winds
[metaslider id=46431]
Temperature Outlook
The end of the weekend will be great, as temps will climb not the upper 60s Sunday. They keep going up next week as we approach 80F by Tuesday.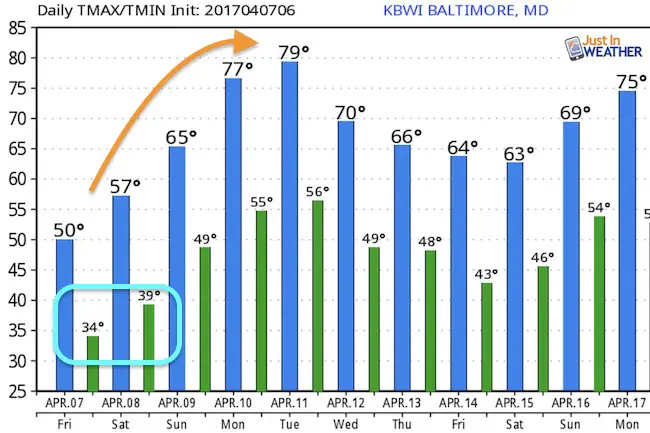 Storm Smart: My STEM Assembly Program
Click here to see the details and how this educational program is also a fundraiser for schools. We can start scheduling for May now.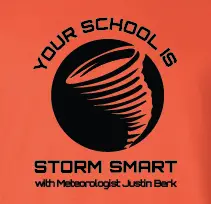 Get the award winning Kid Weather App I made with my oldest son and support our love for science, weather, and technology. Our 3 year anniversary of the release and our contribution to STEM education is this November. It has been downloaded in 60 countries, and works in both temperature scales. With your support we can expand on the fun introduction to science and real weather.
Please share your thoughts, best weather pics/video, or just keep in touch via social media
Faith in the Flakes
The store is closing for the season. Next week we wil be shifting back to spring mode. This will include a severe weather STEM assembly program.