Friday April 7 – Consider this the gift that keeps on giving. That strong storm that left scattered destruction yesterday is well to our north, but has pushed down strong winds and colder air our way. If you had a night like mine, then it sounded like the siding was going to be ripped off of the house and you can hear the trees sway and bend with every gust. That wind will continue with gusts over 40 mph and a taste of late winter. Western Maryland will get more than a taste with a fresh white blanket of snow today. Snow snow has already mixed in and two bands of rain are expected locally today.
This 24 hour water vapor satellite loop shows the Low Pressure spinning up to our north, but you can see the moisture shining back down south in our direction.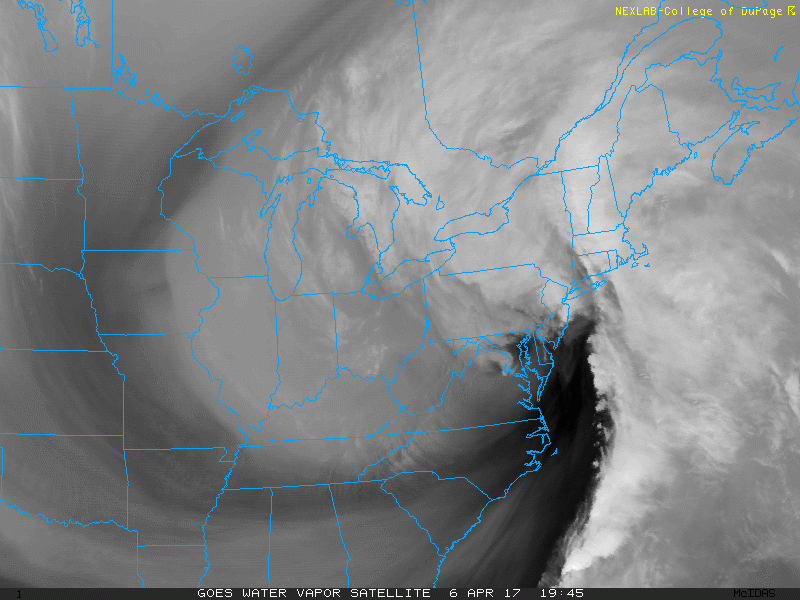 —> slider Simulated Radar
Snow will be heavy at times in Garrett County and the high peaks of West Virginia. A band of rain this morning in central Maryland and PA could have some flakes mixed in. There will be another wave of energy to spark a few hours of rain showers this afternoon as well. 
[metaslider id=46398]
Also see: Storm Photos From April 6
How Much Snow?
The HRRR Model shows a general 2 to 4 inches, but the peaks could get 6 inches today.  Road travel will be a concern during the morning. But mid day April sun should help to thaw the pavement. 
High Temperatures
A refreeze tonight in western Maryland will also suggest frosty temps in central Maryland and southern PA as well.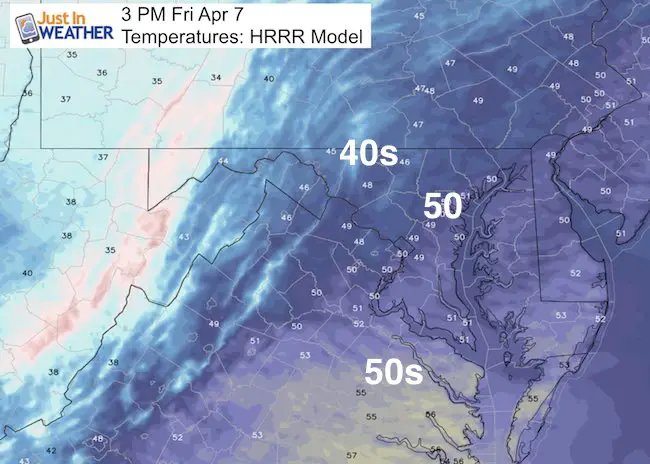 Freeze Watch
I hope you held off on your planting.  Temps may drop below 32ºF Saturday morning just inland from Baltimore and the Bay. The Winter Weather Advisory is for the mountains, while coastal flooding still possible along the Bay.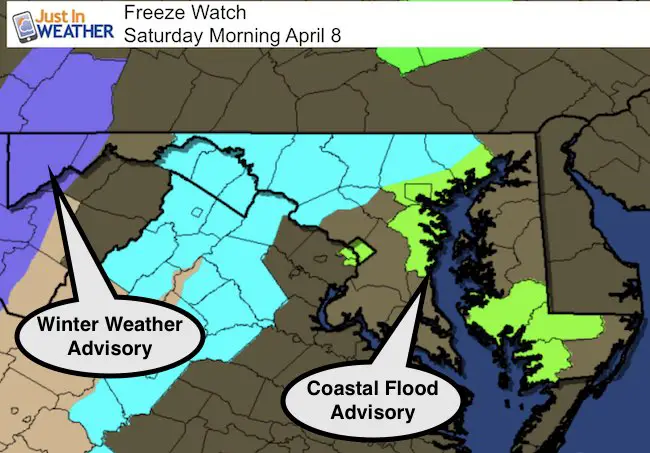 Temperature Outlook
The weekend will ben sunny with gradual warming. A big bounce back to the 70s and near 80ºF next week.
Storm Smart: My STEM Assembly Program
Click here to see the details and how this educational program is also a fundraiser for schools. We can start scheduling for May now.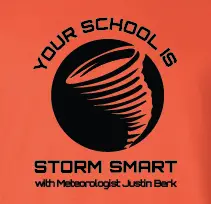 Get the award winning Kid Weather App I made with my oldest son and support our love for science, weather, and technology. Our 3 year anniversary of the release and our contribution to STEM education is this November. It has been downloaded in 60 countries, and works in both temperature scales. With your support we can expand on the fun introduction to science and real weather.
Please share your thoughts, best weather pics/video, or just keep in touch via social media
Faith in the Flakes
The store is closing for the season. Next week we wil be shifting back to spring mode. This will include a severe weather STEM assembly program.