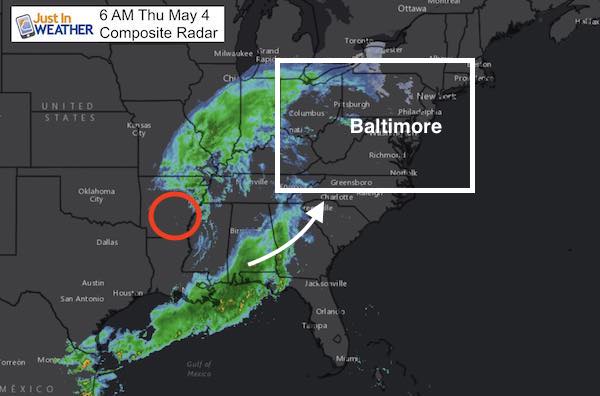 May 4 2017 – Much of today will be filled with May The Fourth Be With You wishes and yes my DVR is set to record all 6 Star Wars movies in the marathon today… but it will be a nice day to be outside. Clouds will gradually build in, but the storm on the way will not do much for us until Friday. But it will be in full force tomorrow morning. Heavy rain and thunder will be a morning and noon thing, then shift focus to the Delmarva and coast in the afternoon and evening. There could be some local flooding with over 1 inch of rainfall. This weekend, well… windy and maybe a little wet Saturday. Here are the maps and my brief notes below.
First the wide view, then a closer look at the rain:
—> slider GFS Model
[metaslider id=47276]
Friday: The heaviest rain will be in the morning for most of us. There could be thunder between daybreak and noon. This cluster could linger on the Delmarva and coastline up I-95 in the afternoon. 
Saturday: The Low Pressure will send an upper level disturbance with showers mid morning to mid day. The best chance of rain will be west and north of Baltimore but a rogue shower may stray between Washington and Baltimore. At this point it looks like there may be some drying afternoon, but it will feel like March. So your party or wedding might make out OK from the rain… 
—> slider NAM 3 Km Model
Friday morning to mid day appears to be the most stormy around the central part of our area (DC/Annapolis/Baltimore/York)
[metaslider id=47252]
Total Rain Potential
Temperature Outlook
As I showed yesterday, I think there will be a second push of colder air next week that the modeling is not giving full credit to yet.  As for this first shot… Some frost is possible inland from the Bay/Baltimore Sunday/Monday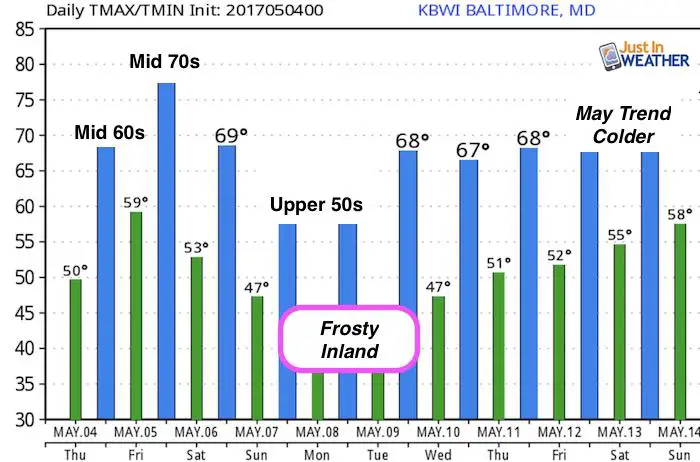 Storm Smart: My STEM Assembly Program
Click here to see the details and how this educational program is also a fundraiser for schools. We can start scheduling for May now.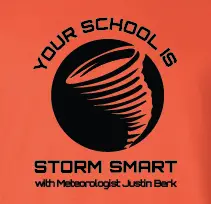 Get the award winning Kid Weather App I made with my oldest son and support our love for science, weather, and technology. Our 3 year anniversary of the release and our contribution to STEM education is this November. It has been downloaded in 60 countries, and works in both temperature scales. With your support we can expand on the fun introduction to science and real weather.
Please share your thoughts, best weather pics/video, or just keep in touch via social media
Faith in the Flakes
The store is closing for the season. Next week we wil be shifting back to spring mode. This will include a severe weather STEM assembly program.
Sign up for email updates on new posts

Since you may miss some posts via social media, click here for email alerts as a way to make sure you don't miss any.  *You may have to refresh that page once for your browser to clear out the images.

 Also See: