6:30 AM Friday May 5 – Your commute this morning may seem longer than Manny Machado rounding the bases at Fenway after a home run. Moderate to heavy rain may include some rumbles of thunder are already here. The heaviest will be between 10 AM and noon. Then there will be a break, perhaps with some peaks of sun. But we will not be done. Cinco de Mayo may feature some boomers later on too. A few thunderstorms will fire this afternoon and the trick is the watch the radar for it to move south to north.  Note: There is a Tornado Watch for the beaches in Virginia to North Carolina. I expect the most severe weather will stay to our south today.
This weekend will mark the dramatic drop in temperatures and it may feel like Fall. As for the change of showers Saturday, see more along with the frost info below.
Rain Timeline
—> slider Simulated Radar: HRRR Model
[metaslider id=47357]
It will be warm this afternoon…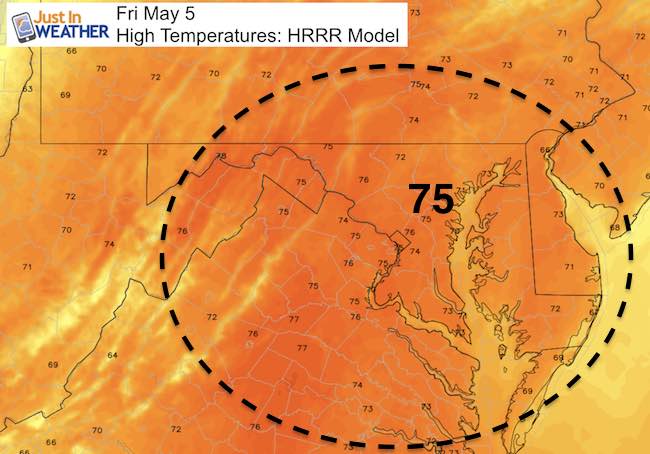 —> slider Simulated Radar: GFS Model
This morning: Heaviest rain
This afternoon: Some thunderstorms, but also peaks of sun and warm
*O's– Should get the game in, even if showers pass through downtown. 
Saturday: Windy and cooler. Chance of showers will be best between 2 and 7 PM. *Showers most likely to last a half hour or less.
[metaslider id=47356]
Rainfall Potential
Over 1 inch and local road possible flooding possible
See the temperature outlook below. I will have a map and local info about the latest frost/freeze dates for our area to share soon.
Reminder: I want to help you get over your fear of LASIK likeI did. Just sign up for a consultation and get entered to wind a $250 gift card for sunglasses at Shades Of The Bay. The procedure is now $1000 off…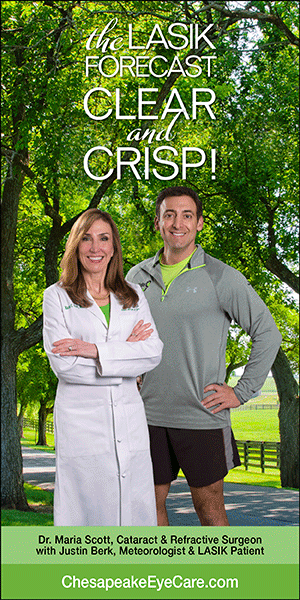 Temperature Outlook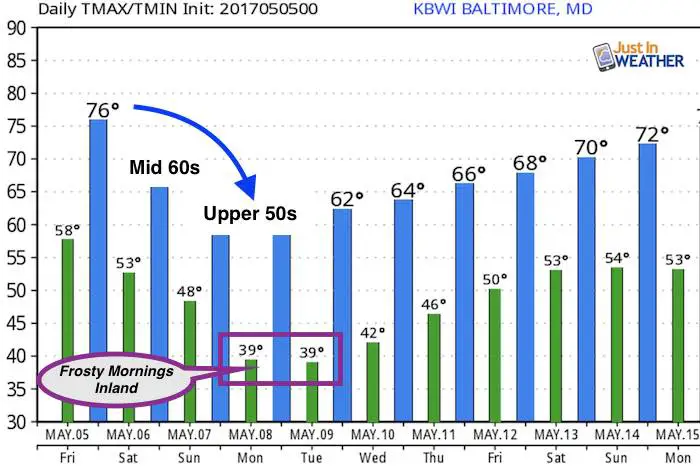 Storm Smart: My STEM Assembly Program
Click here to see the details and how this educational program is also a fundraiser for schools. We can start scheduling for May now.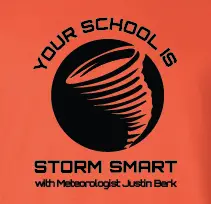 Get the award winning Kid Weather App I made with my oldest son and support our love for science, weather, and technology. Our 3 year anniversary of the release and our contribution to STEM education is this November. It has been downloaded in 60 countries, and works in both temperature scales. With your support we can expand on the fun introduction to science and real weather.
Please share your thoughts, best weather pics/video, or just keep in touch via social media
Faith in the Flakes
The store is closing for the season. Next week we wil be shifting back to spring mode. This will include a severe weather STEM assembly program.
Sign up for email updates on new posts

Since you may miss some posts via social media, click here for email alerts as a way to make sure you don't miss any.  *You may have to refresh that page once for your browser to clear out the images.

 Also See: