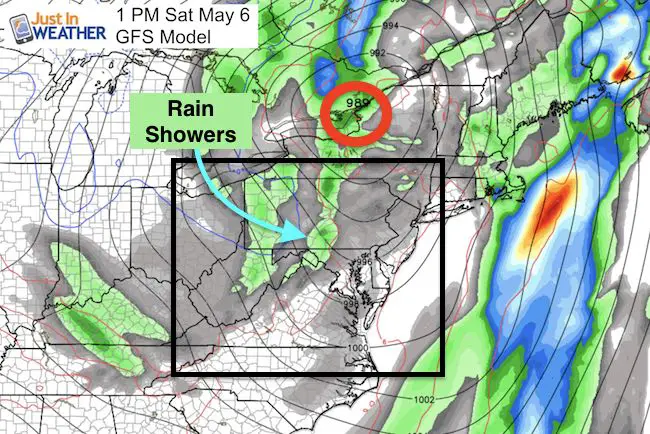 Saturday May 6 – The storm has moved out and now lingers just to our north. In winter fashion, this thing will continue to churn and slowly crawl as it pumps in colder, unstable air. This is where we need to look at disturbances aloft and wait to see the bands of rain develop before we can get the best handle on the timing. However I see rain that perhaps may be more than just the half an hour I suggested yesterday.
Rain chances:
The two models below are for comparison. You will see the HRRR is much more aggressive with the metro areas getting rain between 10 AM and 2 PM.
However the NAM 3 Km Model is less aggressive. Both show morning rain to the west of of the cities, and a band of heaviest showers across the Bay to the Delmarva.
Sunday- There may be one more push of energy with a brief shower mid day Sunday.
Cold:
Sunday Morning: There may very well be snow in Garrett County with some stockage on the grass.
Frost: Expect low temps in the 30s with frost in the colder suburbs Monday and Tuesday mornings.
Last Frost: I will post my research and map for our region later
—-> sliders: Rain Timelines
NAM 3 KM
[metaslider id=47433]
Snow Sunday Morning- In the mountains
More Showers Sunday- Mid Day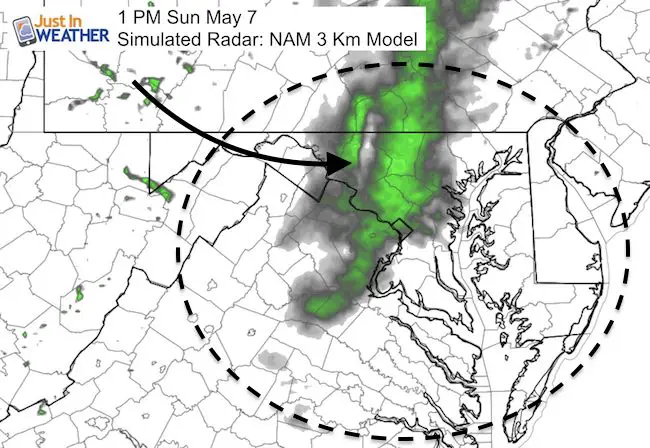 HRRR Model
[metaslider id=47464]
High Temperatures Today
It wil be chilly with temps staying in the upper 50s and lower 60s.
Reminder: I want to help you get over your fear of LASIK likeI did. Just sign up for a consultation and get entered to wind a $250 gift card for sunglasses at Shades Of The Bay. The procedure is now $1000 off…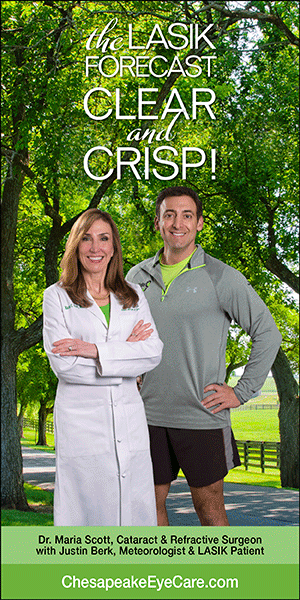 Temperature Outlook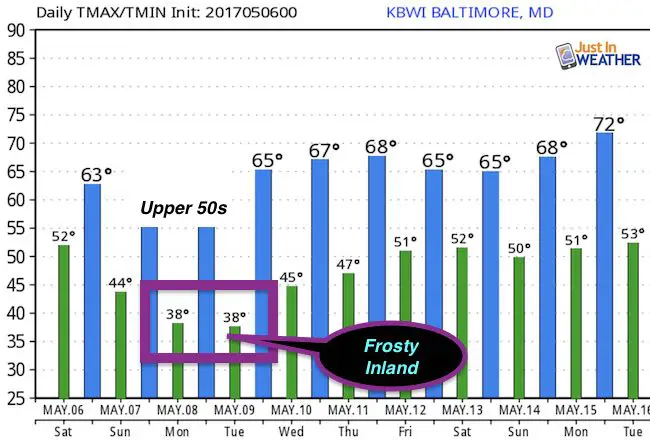 Storm Smart: My STEM Assembly Program
Click here to see the details and how this educational program is also a fundraiser for schools. We can start scheduling for May now.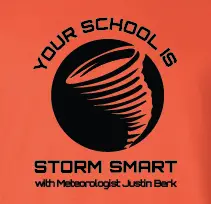 Get the award winning Kid Weather App I made with my oldest son and support our love for science, weather, and technology. Our 3 year anniversary of the release and our contribution to STEM education is this November. It has been downloaded in 60 countries, and works in both temperature scales. With your support we can expand on the fun introduction to science and real weather.
Please share your thoughts, best weather pics/video, or just keep in touch via social media
Faith in the Flakes
The store is closing for the season. Next week we wil be shifting back to spring mode. This will include a severe weather STEM assembly program.
Sign up for email updates on new posts

Since you may miss some posts via social media, click here for email alerts as a way to make sure you don't miss any.  *You may have to refresh that page once for your browser to clear out the images.

 Also See: