May 7 – We will remain in this cooler than average temperature pattern for at least the next week. The core of the cold air will settle in tonight and Monday after one last impulse of rain.  So there are two weather elements to focus on: 1) Rain showers today; 2) Frost potential Monday and Tuesday morning.
Simulated Radar:
Note- This model is exaggerated. The rain should not be this solid intense. But I wanted to show the areas where showers are possible. This includes near and north of Baltimore this morning and mid day. Then southern Maryland may have a band of showers late afternoon and evening. 
[metaslider id=47492]
Temperatures:
Cool Afternoon:
A typical May 7 would b ring a high of 71ºF to Baltimore. Today will be about 10 degrees below average.
Chilly Monday Morning:
The record low for Baltimore on. May 8  is 33ºF in 1997. We may have a chance to get the record on May 9 (36ºF set in 1966)
Frost Potential:
To get frost, temperatures do not have to hit freezing. The air temperature is measured at 5 to 6 Feet above the ground. But the ground can reach 32ºF while it is warmer just above.  The best chance will be in the areas I highlighted in purple… farther north and west of I-95 and the Chesapeake Bay. Check out the late frost and freeze map and data for our region.
Temperature Outlook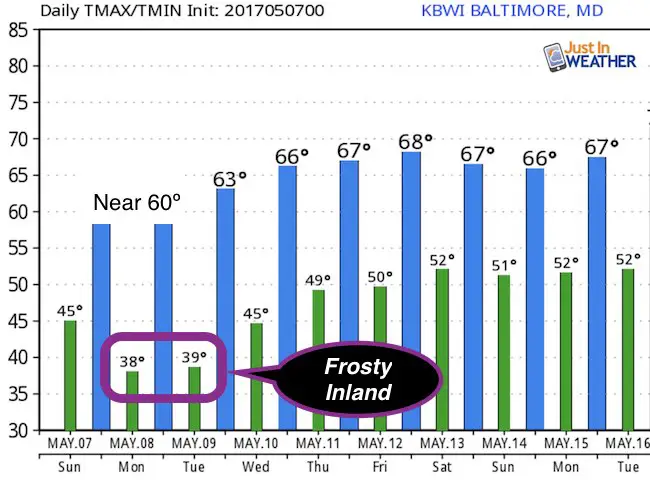 Maryland Trek
Be part of my 4th annual hike and bike across Maryland this August. See my trek page and sign up for information to do one day, the whole week, or even sponsor this great event.
Milestones this year:
I will do my 1000th mile
We aim to reach $100,000 for Cool Kids Campaign
Get the award winning Kid Weather App I made with my oldest son and support our love for science, weather, and technology. Our 3 year anniversary of the release and our contribution to STEM education is this November. It has been downloaded in 60 countries, and works in both temperature scales. With your support we can expand on the fun introduction to science and real weather.
Please share your thoughts, best weather pics/video, or just keep in touch via social media
Faith in the Flakes
The store is closing for the season. Next week we wil be shifting back to spring mode. This will include a severe weather STEM assembly program.
Sign up for email updates on new posts

Since you may miss some posts via social media, click here for email alerts as a way to make sure you don't miss any.  *You may have to refresh that page once for your browser to clear out the images.

 Also See: