Wednesday May 10 – It's not often that we talk about a Nor'Easter in May, but here we may have our second one this month… and again on a Saturday. The thing about this weather pattern is that we have a nearly stalled pattern for now with High Pressure keeping us cool and blocking a front to our west. There are a few impulses of rain trying to ride along it, but the timing and location appear to change with every model run. The constant element has been a final, stronger storm forming and hitting us on Saturday as it turns up the coast.  Another wet weekend, or part of it. This is the storm we missed in January and February as it would have been a doozy! In May, it will give us heavy rain with temps nearly 20 degrees below normal. The bright side is that Mother's Day should show some improvement for us.
Heavy Rain Potential (Most will fall on Saturday)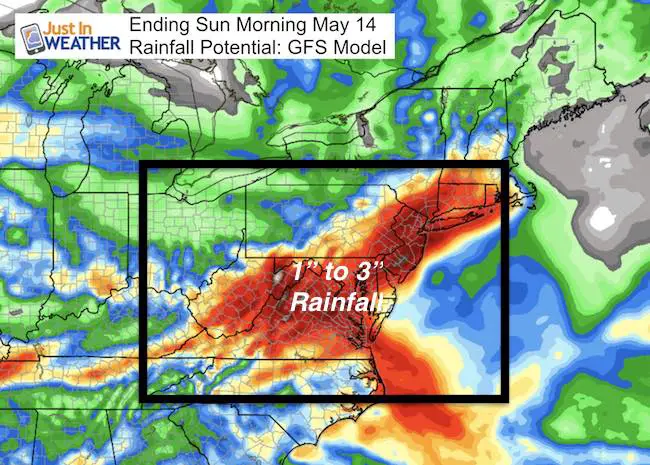 My personal investment banks on my own kids. I am chaperoning my son's field trip Friday and it was already postponed due to the expectation of a chilly rain. Then, both boys have baseball games Friday evening and Saturday morning. Again, subject to postponement. So your plans for weddings, parties, or sports may also be affected and 'I feel ya'. Saturday stuff should be indoors. It will be windy, wet, and chilly. I am sorry to show you this, but here is the timeline. Again, the rain for Thursday and Friday is subject to some adjustment… but I have confidence in the heavy rain on Saturday.
—> slider Rain Timeline
[metaslider id=47493]
Saturday: Coolest Temps
Anomalies

High Temperatures
How Much Rain? The Heaviest Will Be On Saturday
Last week I showed this product saying that it may over achieve. It was actually pretty close to what we received. So, expect between 1 and 3 inches of rain that could lead to local flooding.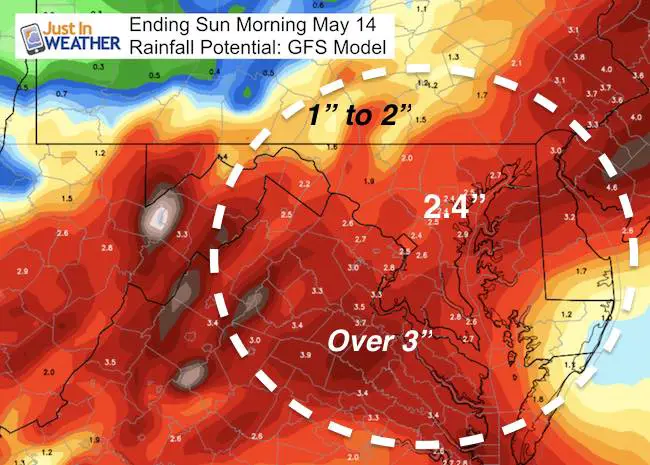 Maryland Trek
Be part of my 4th annual hike and bike across Maryland this August. See my trek page and sign up for information to do one day, the whole week, or even sponsor this great event.
Milestones this year:
I will do my 1000th mile

We aim to reach $100,000 for Cool Kids Campaign
Get the award winning Kid Weather App I made with my oldest son and support our love for science, weather, and technology. Our 3 year anniversary of the release and our contribution to STEM education is this November. It has been downloaded in 60 countries, and works in both temperature scales. With your support we can expand on the fun introduction to science and real weather.
Please share your thoughts, best weather pics/video, or just keep in touch via social media
Faith in the Flakes
The store is closing for the season. Next week we wil be shifting back to spring mode. This will include a severe weather STEM assembly program.
Sign up for email updates on new posts

Since you may miss some posts via social media, click here for email alerts as a way to make sure you don't miss any.  *You may have to refresh that page once for your browser to clear out the images.

 Also See: