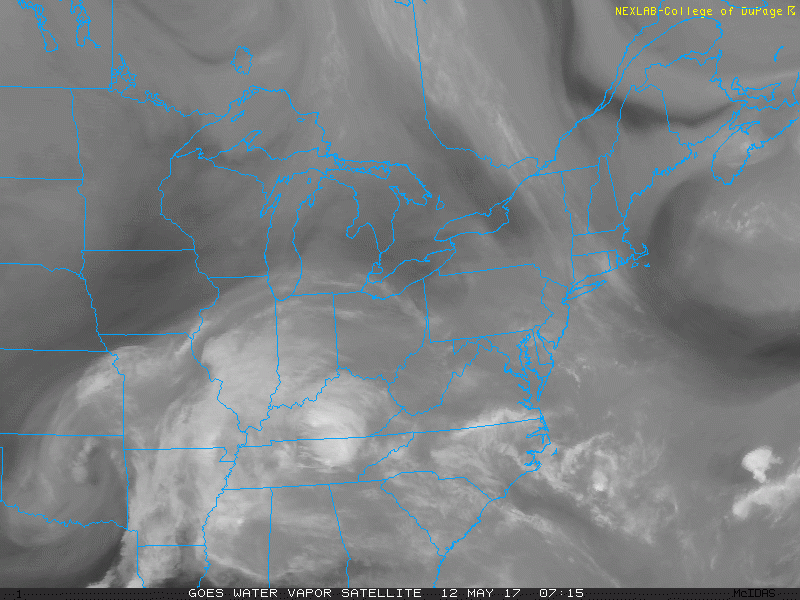 Friday May 12 – The water vapor satellite loop tells the story. A large storm system is spreading our way, even though the upper Low is diving southeast into Arkansas. The compilation of radar simulations below is as much for my personal need to know as for your events. Rain is on the way this evening and if you live south or west of Baltimore you will get it first. The north side may stay dry until after sunset.
My oldest son has a baseball game this evening, and my youngest has one tomorrow morning. So dealing with rain while watching is different than it being canceled. Tonight's game will get in, but tomorrow morning is sketchy. That goes for your plans as well. Morning races tomorrow will be windy and wet, in addition to chilly.  The Flower Festival in Westminster was moved back to allow for the heavy rain to depart, but it will remain chilly and damp through lunch time. Before showing the timelines below, I should also add that chill. Temps will remain in the upper 40s to lower 50s through Saturday. Mother's Day will see an improvement, and yes we are still aiming for close to 90ºF… by the end of next week.
Friday Night – Saturday Morning
Heavier rain will arrive after midnight
—-> slider
[metaslider id=47714]
Saturday
Rain will be heavy around sunrise, then taper off as the storm pulls away. Showers and drizzle will linger north of Rt 50 through noon. Some improvement later, but it will remain windy and chilly.
—-> slider
[metaslider id=47741]
Chilly Saturday High Temps
Maryland Trek 2017
Be part of my 4th annual hike and bike across Maryland this August. See my trek page and sign up for information to do one day, the whole week, or even sponsor this great event.
Milestones this year:
I will do my 1000th mile

We aim to reach $100,000 for Cool Kids Campaign
Get the award winning Kid Weather App I made with my oldest son and support our love for science, weather, and technology. Our 3 year anniversary of the release and our contribution to STEM education is this November. It has been downloaded in 60 countries, and works in both temperature scales. With your support we can expand on the fun introduction to science and real weather.
Please share your thoughts, best weather pics/video, or just keep in touch via social media
Faith in the Flakes
The store is closing for the season. Next week we wil be shifting back to spring mode. This will include a severe weather STEM assembly program.
Sign up for email updates on new posts

Since you may miss some posts via social media, click here for email alerts as a way to make sure you don't miss any.  *You may have to refresh that page once for your browser to clear out the images.

 Also See: