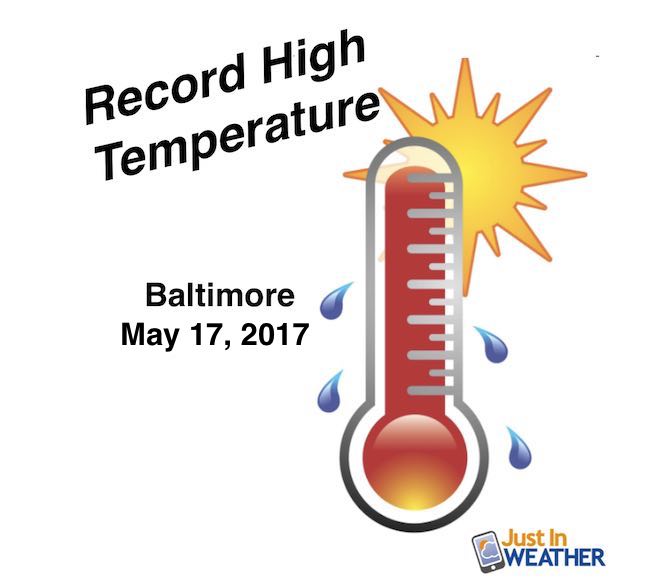 Thursday May 18 – Baltimore reached 93ºF at BWI on Wednesday May 17 and tied the record high for the date set back in 1896. Temperatures this morning have held in the mid 70s, and depending on the temps by midnight, we could have a run at two more records today. 1) Warmest minimum temperature = 68ºF in 1900 ; 2) Record High = 97ºF set in 1962.  I think the high will not be reached.  Then we set our sights on rain chances and Preakness.
Black Hole Sun
Won't You Come
And Wash Away The Rain
It is with great sadness that Chris Cornell, lead singer of Soundgarden… was found dead at age 52. These lyrics of his seemed to fit our weather over the past week, and especially today. I wanted to pay this tribute.
How Hot Today?
Here is a comparison of two models… again, the high record should be safe. Note that it will be a little more humid than yesterday. Also, temps could reach 90ºF by noon in some spots and on that threshold for some schools.

Afternoon T'Storms?
There is a chance for a cluster of showers to develop in north central Virginia to track, but for now it appears to be along Rt 50 and south. Stay tuned for when they actually form.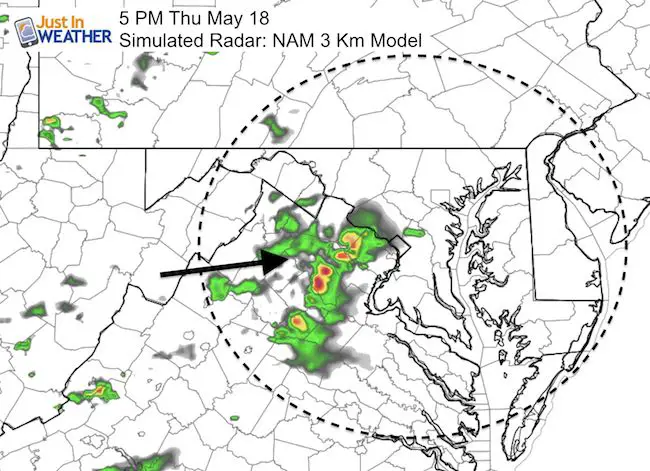 Cold Front Timing
Large High Pressure will slide southward, then off the coast to shift our winds by the weekend. It will spark some storms. Our best chance will be Friday, and could last overnight. But the concern for rain for Preakness and the half marathon in St. Michael's should be eased as it should be drying by morning. Saturday is expected to have more clouds, but an cooler easterly winds keeping temps in the low to mid 70s.
[metaslider id=47872]
Next Chance For Rain
The main cold front will sweep through next Monday. That will be the focus that could impact school field trips and other events.
Temperature Outlook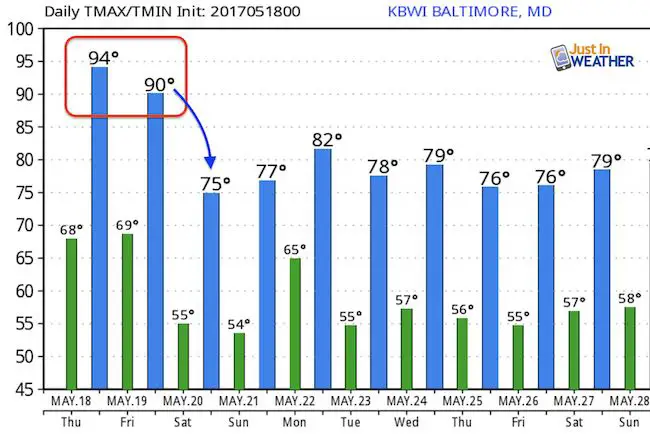 Maryland Trek 2017
Be part of my 4th annual hike and bike across Maryland this August. See my trek page and sign up for information to do one day, the whole week, or even sponsor this great event.
Milestones this year:
I will do my 1000th mile

We aim to reach $100,000 for Cool Kids Campaign
Get the award winning Kid Weather App I made with my oldest son and support our love for science, weather, and technology. Our 3 year anniversary of the release and our contribution to STEM education is this November. It has been downloaded in 60 countries, and works in both temperature scales. With your support we can expand on the fun introduction to science and real weather.
Please share your thoughts, best weather pics/video, or just keep in touch via social media
Faith in the Flakes
The store is closing for the season. Next week we wil be shifting back to spring mode. This will include a severe weather STEM assembly program.
Sign up for email updates on new posts

Since you may miss some posts via social media, click here for email alerts as a way to make sure you don't miss any.  *You may have to refresh that page once for your browser to clear out the images.

 Also See: