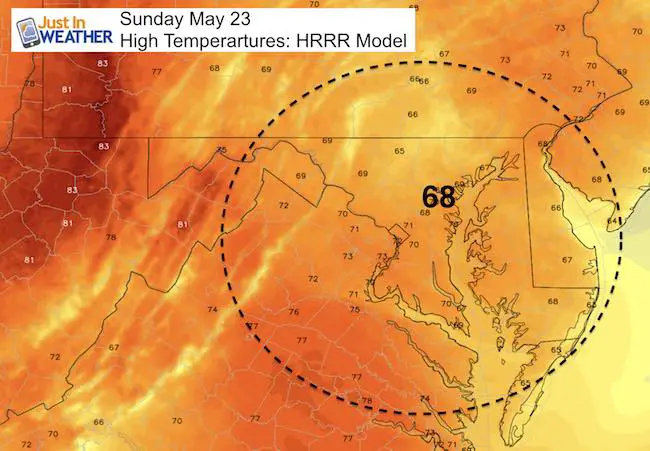 Sunday May 21 – You can call this payback for the summer preview we had for 3 days as temperatures will remain well below normal into this week. Baltimore officially hit 70ºF but most of the day was spent in the 60s.  Today will stay in the mid 60s to near 70ºF, much lower than the 75ºF 'normal' high for this date.  A very active weather pattern is setting up as a trough in the atmosphere will keep the cool pocket of air overhead along with rain and potential storms most of this week. That will keep us on edge for outdoor plans. I consult for Johns Hopkins University and will be hoping to squeeze in a lot of their graduation events. There is also the Blue Angles show for the US Naval Academy grads in Annapolis. The good news is that Wednesday might be our best day.
Jet Stream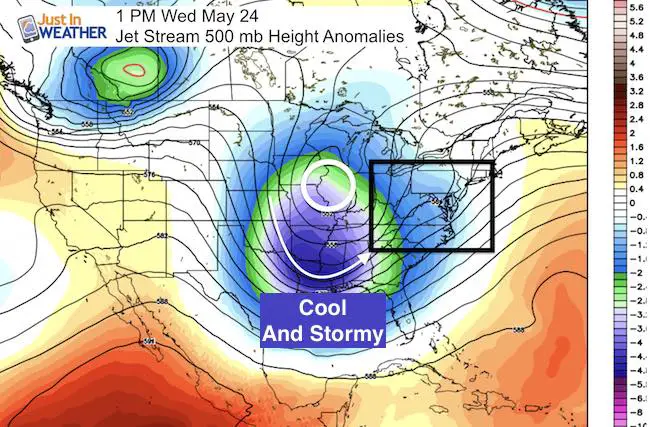 Rain Timeline
A few impulses will track through the Mid Atlantic. I caution the exact track as some prior systems have trended north of the initial forecast. That could take some of the heavier bands into more of our region.
[metaslider id=47945]
Temperature Outlook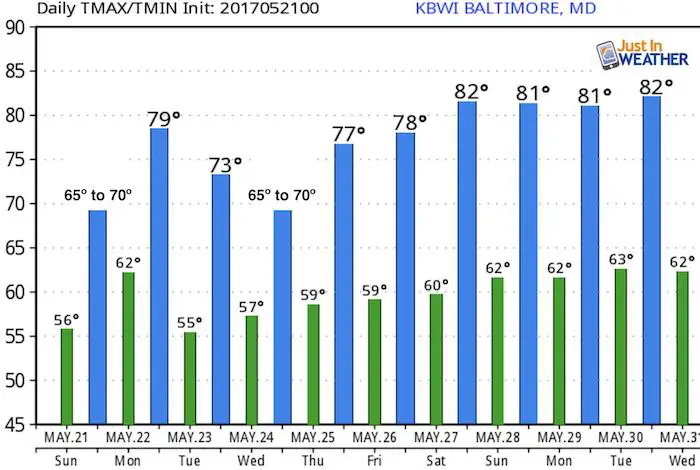 Maryland Trek 2017
Be part of my 4th annual hike and bike across Maryland this August. See my trek page and sign up for information to do one day, the whole week, or even sponsor this great event.
Milestones this year:
I will do my 1000th mile

We aim to reach $100,000 for Cool Kids Campaign
Get the award winning Kid Weather App I made with my oldest son and support our love for science, weather, and technology. Our 3 year anniversary of the release and our contribution to STEM education is this November. It has been downloaded in 60 countries, and works in both temperature scales. With your support we can expand on the fun introduction to science and real weather.
Please share your thoughts, best weather pics/video, or just keep in touch via social media
Faith in the Flakes
The store is closing for the season. Next week we wil be shifting back to spring mode. This will include a severe weather STEM assembly program.
Sign up for email updates on new posts

Since you may miss some posts via social media, click here for email alerts as a way to make sure you don't miss any.  *You may have to refresh that page once for your browser to clear out the images.

 Also See: