Tuesday May 23 – If you are anything like me then you spend days like this glue to the radar awaiting confirmation of the arrival of rain. I have been sweating this one out with many events on the line. Besides the big ones like graduation events and the Orioles, there are countless after school sports.  The short version is: If you live in PA, you should be OK.  Around the Baltimore and south, that is where it will get wet sooner. Now the question is, how wet?
First things first: The latest meso-analysis. We have an east wind, plus an 'event' on the way. That almost always helps to feed in moisture from the Chesapeake and increase our rain chances.  The wind isn't strong, but the direction is the key.
The radar can be deceptive with the onset of storm system.  Check out this view, and also the same time stamp on the first page of the slider below. There is a thin ribbon of rain that developed in northern Maryland along a mid level boundary. It looks like it has been raining just west and north of Baltimore for the past two hours, but not much else. We have to look close for any hint of moisture and that might not fully represent what is reaching the ground.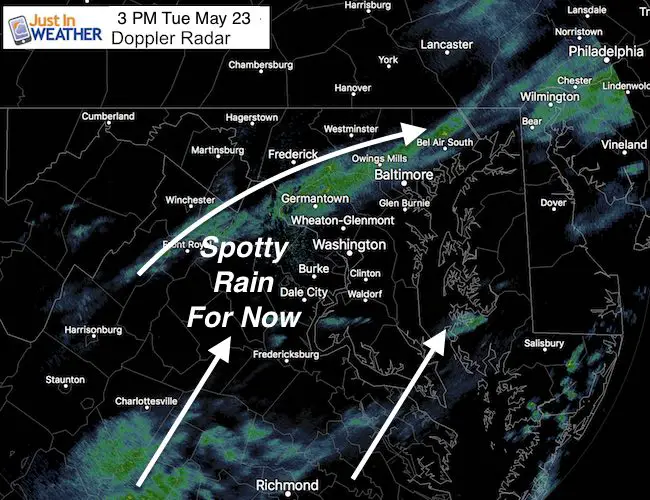 Close up view…. It has been raining in the same area just outside of Baltimore for much of the afternoon… and that band is not moving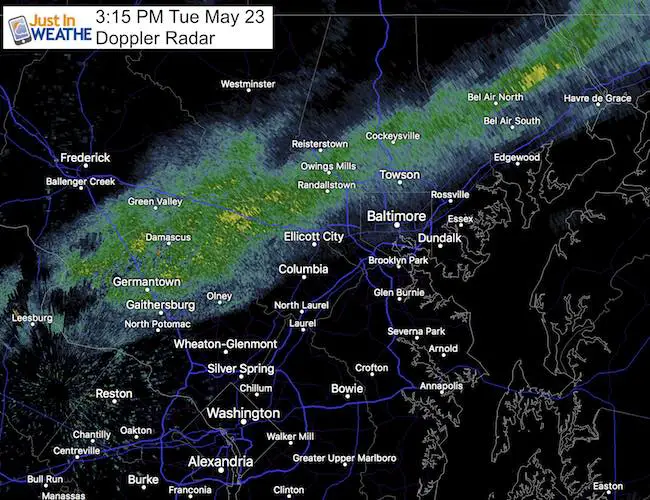 Now check out the radar simulation. By all accounts, the rain  will expand and move north this evening. This also looks like a steady shield of light rain. That will make all the difference for how wet it may get. That is what The Orioles game is a question mark. And the Senior Toast at Johns Hopkins was moved inside… to avoid the risk of being wet. Not a heavy rain, but just steady enough to be wet… according to the short range models. Now we see if this translates or waits until later…
—> slider: Simulated Radar
[metaslider id=48091]
Maryland Trek 2017
Be part of my 4th annual hike and bike across Maryland this August. See my trek page and sign up for information to do one day, the whole week, or even sponsor this great event.
Milestones this year:
I will do my 1000th mile

We aim to reach $100,000 for Cool Kids Campaign
Get the award winning Kid Weather App I made with my oldest son and support our love for science, weather, and technology. Our 3 year anniversary of the release and our contribution to STEM education is this November. It has been downloaded in 60 countries, and works in both temperature scales. With your support we can expand on the fun introduction to science and real weather.
Please share your thoughts, best weather pics/video, or just keep in touch via social media
Faith in the Flakes
The store is closing for the season. Next week we wil be shifting back to spring mode. This will include a severe weather STEM assembly program.
Sign up for email updates on new posts

Since you may miss some posts via social media, click here for email alerts as a way to make sure you don't miss any.  *You may have to refresh that page once for your browser to clear out the images.

 Also See: