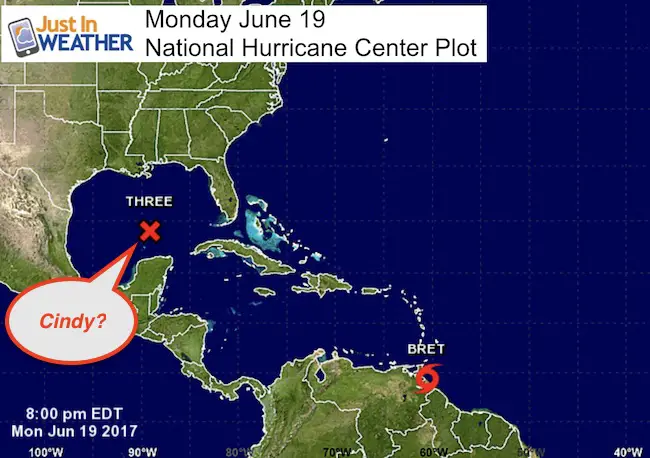 Monday June 19
Three weeks into the 2017 Hurricane Season and the Caribbean is heating up. There are two systems under scrutiny but the first one to get names is the one farther east. Tropical Storm Bret is entering the Greater Antilles and appears to be skirting the coast of South America and eventually weaken with unfavorable conditions over this week.  The second storm drifting north into the Gulf of Mexico could be named Cindy as the National Hurricane Center gives that an 80% by Tuesday. That is the one with plenty of moisture for Mexico's Yucatan and will impact the US Gulf Coast
Note: We need to watch this in the Mid Atlantic as the long range patter could bring that moisture our way and set up a new pattern. Considering the persistence of storms in the Nation's heartland, this system could shift the focus eastward and get us in on more of that action. Given the dry start to June, we are due for a change.
Tropical Storm Bret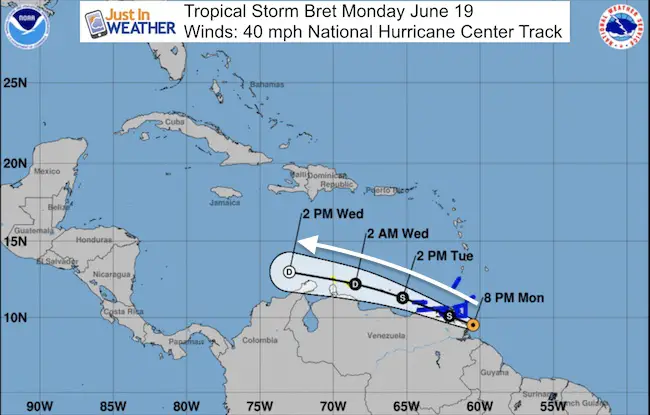 Potential Tropical Storm Three
"Cindy"
This storm is like to be named Tuesday or Wednesday. There is a tremendous tropical plume of moist with it, but the time may run out for it to fully develop as it is expected to move onshore somewhere between New Orleans and east Texas. There is some wiggle room with the precise track, and then what it may do onshore. But the notion is flooding rain along the coast, and then a curve that could bring the remnant Low into the Mid Atlantic by this weekend.
Rainfall Potential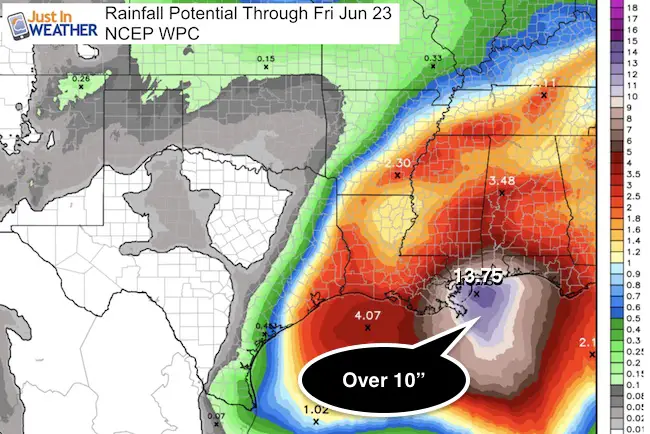 Tracking Inland
Check out the Upper Level Plot on Thursday…. Here we see the disturbance in western Louisiana, but more importantly the ridge off the SouthEast US Coast. The weakness around that ridge, plus the trough to the north should allow the storms to curve and head towards the Mid Atlantic. No where to pin this down due to how tropical systems can vary with forward speed and location onshore. So this is just a trend to follow into the weekend.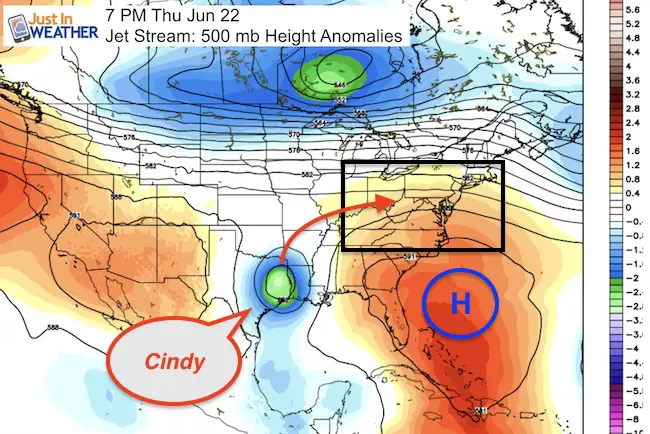 Early Model Projections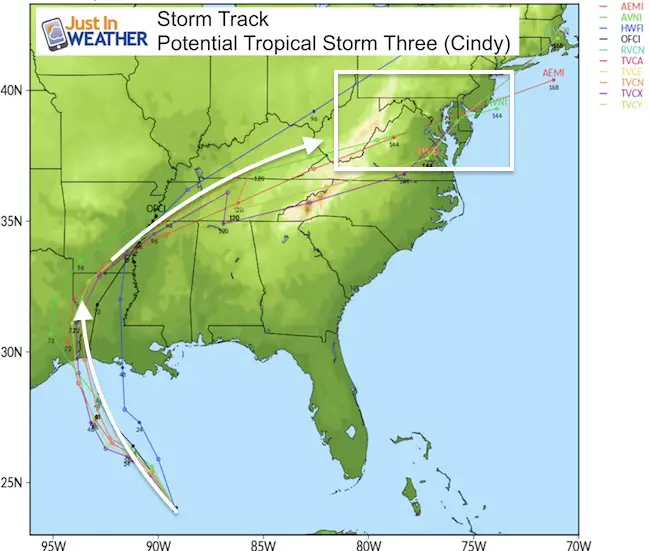 Also See:
2017 Tropical Outlook and Atlantic Names
History of naming tropical storms and hurricanes
Get the award winning Kid Weather App I made with my oldest son and support our love for science, weather, and technology. Our 3 year anniversary of the release and our contribution to STEM education is this November. It has been downloaded in 60 countries, and works in both temperature scales. With your support we can expand on the fun introduction to science and real weather.
Get $1000 Off LASIK
Plus enter to win free sunglasses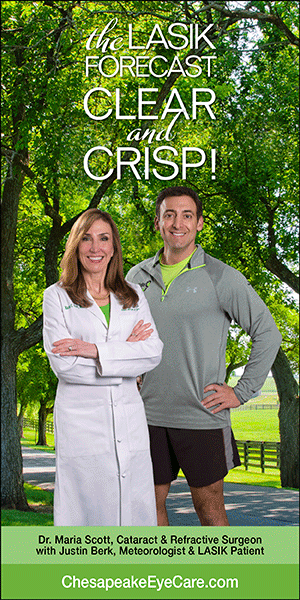 Maryland Trek 2017
Be part of my 4th annual hike and bike across Maryland this August. See my trek page and sign up for information to do one day, the whole week, or even sponsor this great event.
Milestones this year:
I will do my 1000th mile
We aim to reach $100,000 for Cool Kids Campaign
Please share your thoughts, best weather pics/video, or just keep in touch via social media
Faith in the Flakes
The store is closing for the season. Next week we wil be shifting back to spring mode. This will include a severe weather STEM assembly program.
Sign up for email updates on new posts

Since you may miss some posts via social media, click here for email alerts as a way to make sure you don't miss any.  *You may have to refresh that page once for your browser to clear out the images.

 Also See: