Monday July 24
After a very stormy weekend, the cell that developed after midnight was the peak performance. I often point out the heat of the day brings the most intense storms mid to late afternoon. But sometimes there are other factors that come in to play. This time it was around 1:30 AM. In fact The National Weather Service posted the Tornado Warning at 1:27 AM, only about 3 minutes before this apparently hit Bay City. See their warning below the radar loop video. Also see that this part of Maryland has a high frequency of funnel clouds.
So what could you do after a round of storms settled down and its the middle of the night? Imagine getting the alert while in a deep sleep and trying to process the information. Given the damage, it is amazing that this wasn't worse. Here is the Velocity Scan at 1:30 AM. I've highlighted the wind direction (green towards the radar, red away). We can see a distinct contrast, just north of Rt. 50 and Stevensville. This is where Bay City took the direct hit. Compare this to the radar loop animation video below.
Video Of Doppler Radar And Velocity Scan
The radar will loop a few times, then switch to the velocity or mid scan. Watch and see how fast this develops. The bright pink patch of winds races in from Hillsmere Shores (south of Annapolis) and forces this storm to route in a hurry. Then the wind field spreads out. If the tornado is confirmed, it was only on the ground for a few minutes. 
Is this area prone to twisters?
Waterspouts have been reported in this same area over the Chesapeake Bay. See these reports, including just last week.
Waterspout Video and Photos July 15 2017
Waterspouts photos August 21 2016
Rain Wrapped?
Even if this was during the day, it might not have been easy to see. Here is security camera view looking west from Stevensville illuminated by lightning. It would be in the rain shaft on the left side of the screen. Thanks Mike Ranelli.
Damage
This was one of the first photos I received. This is from a friend of a friend who is out of town. I do not want to mention the name because of that, but they wanted to share this image a neighbor took in the Ellendale neighborhood.  Trees reported down on eastbound Rt 5o and all of Kent Island is without power.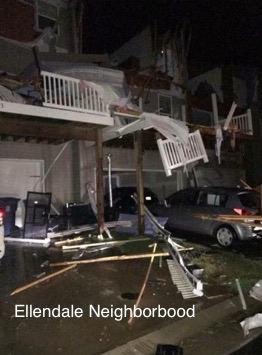 National Weather Service: Tornado Warning Issued 3 minutes before striking
This is the exact report they issued at 1:27 AM. Queen Annes County is under the Mount Holly, NJ National Weather Service Office. This is on the western edge of their coverage area. 
——————————————————————————————————————–
Power Outages
5,689 Affected Customers according to Delmarva Power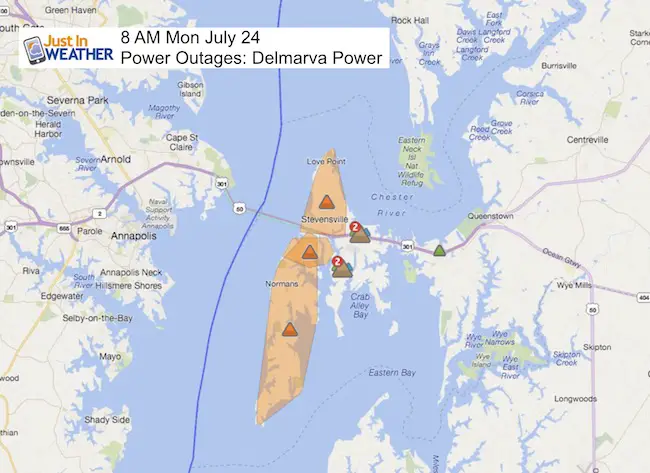 Please share your thoughts, best weather pics/video, or just keep in touch via social media
Get the award winning Kid Weather App I made with my oldest son and support our love for science, weather, and technology. Our 3 year anniversary of the release and our contribution to STEM education is this November. It has been downloaded in 60 countries, and works in both temperature scales. With your support we can expand on the fun introduction to science and real weather.
Get $1000 Off LASIK
Plus enter to win free sunglasses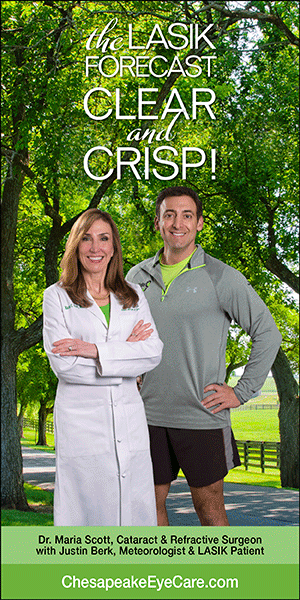 Maryland Trek 2017
Be part of my 4th annual hike and bike across Maryland this August. See my trek page and sign up for information to do one day, the whole week, or even sponsor this great event.
Milestones this year:
I will do my 1000th mile
We aim to reach $100,000 for Cool Kids Campaign
Faith in the Flakes
The store is closing for the season. Next week we wil be shifting back to spring mode. This will include a severe weather STEM assembly program.
Sign up for email updates on new posts

Since you may miss some posts via social media, click here for email alerts as a way to make sure you don't miss any.  *You may have to refresh that page once for your browser to clear out the images.

 Also See: