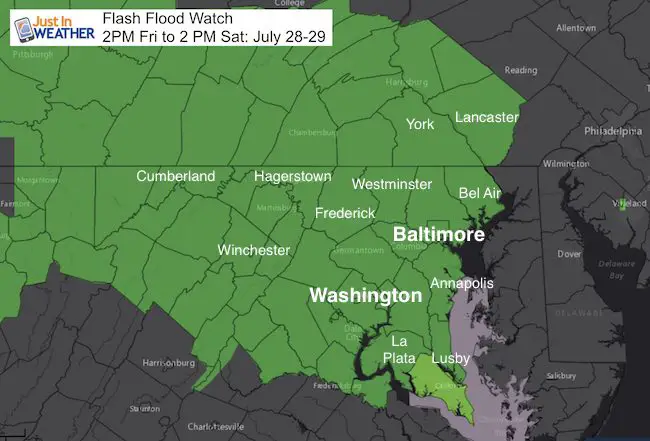 July 27 2017
A Flash Flood Watch has been issued for much of our region beginning 2 PM Friday July 28 into 2 PM Saturday July 29. This post is only about that potion and does not include the thunderstorms that will develop today. I will update that. Please consider a few things: First, this is preliminary and might be adjusted depending on actual flooding that may take place. A Watch means it may happen. A Warning will be issued when it is happening.  Also- This was issued by the National Weather Services offices in Sterling VA for Maryland west of the Chesapeake and northern Virginia. The Pennsylvania counties were issued by NWS State College.
What About The Rest?
Cecil County and Delmarva should be advised for heavy rain and potential flooding as well. Once again we see the crossroads of NWS offices split across our region and lack of coordination that can lead to confusion. NWS Mount Holly/Philadelphia is the office that handles Maryland east of the Bay and Delaware. They are often late to the party, so stay tuned for their expansion into that region.
Severe Storm Risk Friday
The energy will be east and south of the arriving Low Pressure. The track puts that energy south of Rt 50. So Washington and Annapolis and the Bay Bridge into the tornado path from this past Monday are on the northern edge of that zone for Slight Risk. A small chance of storms turning severe, with a greater risk farther south.
 
How much rain?
A LOT!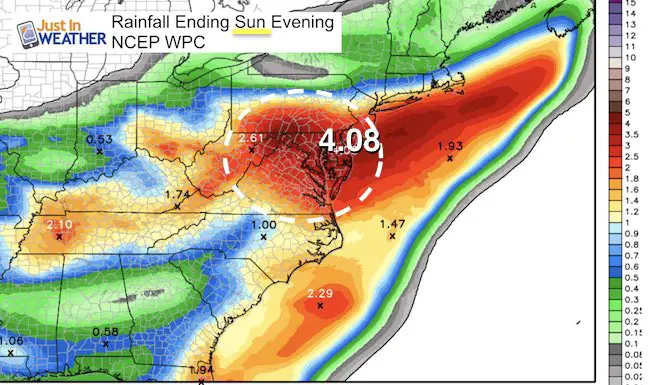 This first map shows the NCEP WPC forecast, which is lower that the two model outputs I have posted below.  Either way, between 2 to 4  inches in a short time can lead to flooding on soggy ground and waterways still high from early this week.  Is this atmospheric memory at play? We have had a bulls eye on our backs with severe storms in the past 2 weeks.. So no reason to think the weather has forgotten the pattern.  Please see the rain timeline here and the other maps with my notes below.
Rain Timeline —-> slider GFS Model
Heavy rain develops Friday afternoon and will last into Saturday. You will see this easily includes Delmarva. Lingering showers into Sunday, especially for the beaches. Cloudy and damp weather may finish the weekend from Ocean City to OBX.
[metaslider id=50151]
Rain Totals
This is the local view for the same GFS Model ending Sunday evening. Notice Southern PA through central Maryland between 2 and 4 inches. The bullseye on the Lower Eastern Shore might be a bit overdone at 8 to 10 inches, but highlights the stalling heavy rain bands east of the Bay and possible severe weather on that side of the Low Pressure.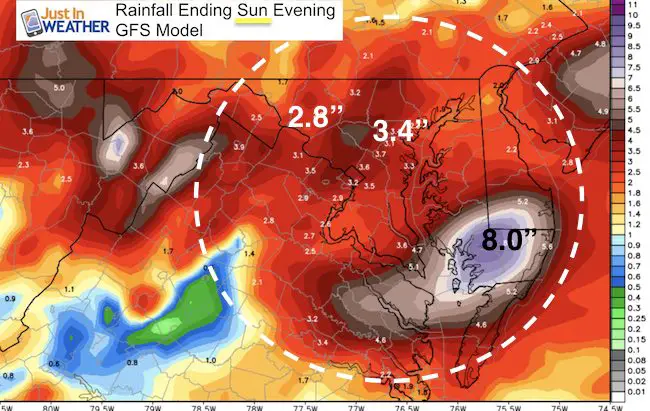 NAM 3 Km Model
This was only generated through Saturday evening. So the night and Sunday portion of rain is not included… The consistent high amounts in north central Maryland… The void of heavy rain on the lower Eastern Shore should be noted as not including the rain beyond 7 PM Saturday into Sunday.
Kent Island Tornado
Doppler Radar Loop: Likely Tornado On Kent Island July 24
Tornado Damage Photos On Kent Island: July 24 2017
Waterspout Video and Photos July 15 2017
Waterspouts photos August 21 2016
Please share your thoughts, best weather pics/video, or just keep in touch via social media
Get the award winning Kid Weather App I made with my oldest son and support our love for science, weather, and technology. Our 3 year anniversary of the release and our contribution to STEM education is this November. It has been downloaded in 60 countries, and works in both temperature scales. With your support we can expand on the fun introduction to science and real weather.
Get $1000 Off LASIK
Plus enter to win free sunglasses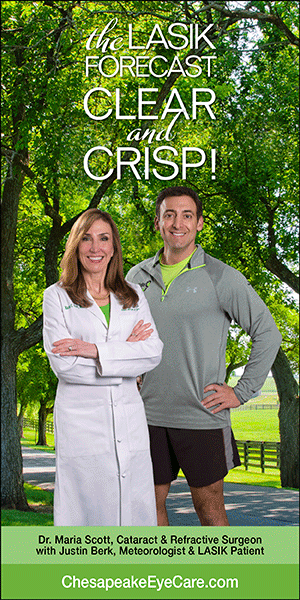 Maryland Trek 2017
Donations now being accepted. Please select "Cool Kids Campaign" in the options to add to our entire team's total.
Milestones this year:
I will do my 1000th mile on Day 1 in Garrett County
We aim to reach $100,000 for Cool Kids Campaign for the entire event.
Faith in the Flakes
The store is closing for the season. Next week we wil be shifting back to spring mode. This will include a severe weather STEM assembly program.
Sign up for email updates on new posts

Since you may miss some posts via social media, click here for email alerts as a way to make sure you don't miss any.  *You may have to refresh that page once for your browser to clear out the images.

 Also See: