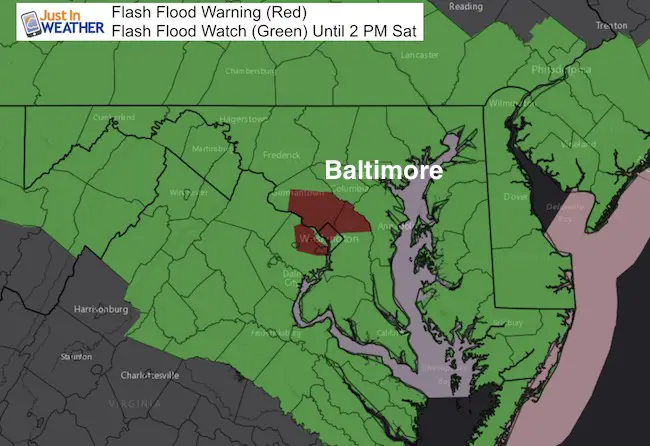 Friday July 28
A band of heavy rain developed this morning has has already produced over 1.5 inches of rain near Arbutus and between 2 and 4 inches in Montgomery County north of Washington DC. There was a boundary stalled over central Maryland helping to ignite the intense cell.  This is important to consider as the main storm develops today and could lead to impressive amounts of rain in a short period of time. It is easy to see how some earlier forecasts of over 4 inches of rain can be possible.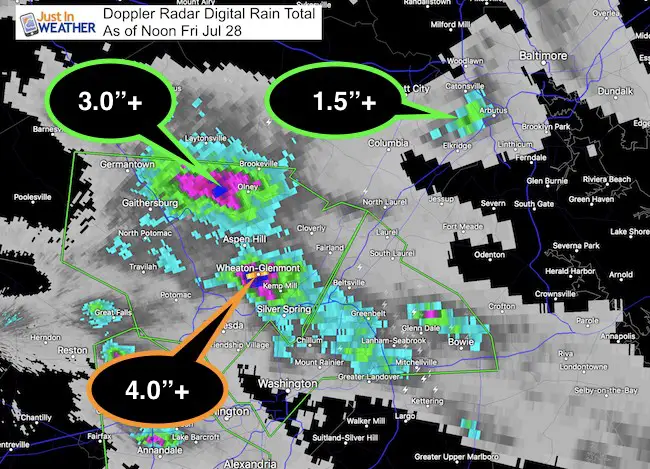 Below is the latest radar simulation showing this band expanding northward over parts of Howard County and into metro Baltimore. Please note that this is just a gauge and individual cells can pop up with localized flash flooding. It is most important to NOT try and drive through flooded roads. Only 12 inches of moving water can pick up an SUV. As little as 6 inches of water can take a person off of their feet!
Radar Simulation
The morning rain band is spreading north, with new bands of rain into southern PA and expanding to Annapolis.
Heavy showers today but the steady and heavier widespread rain will be overnight. 
—> slider
[metaslider id=50248]
Will The Rain End Saturday?
I do not want to make an abrupt adjustment to the storm timeline. I have always been on the point of heaviest rain today and tonight, with showers shifting south Saturday… We need to see how this currently crawling system develops today. As you can see here, the GFS model sends the storm away tomorrow but the Nam 3 Km keeps it around longer.
GFS Model- DOES NOT Stall the Storm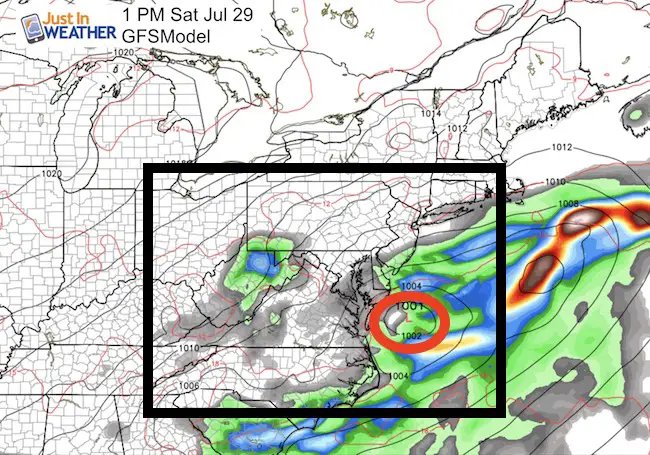 NAM 3 Km Model keeps the storm and rain scattered across our area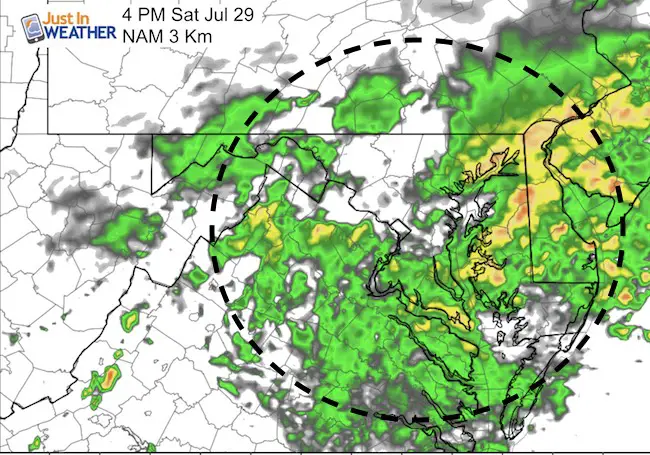 Rain Total Forecast Maps (Suggestion)
Also see this morning's Rain Timeline and Ocean Wave Map
Please share your thoughts, best weather pics/video, or just keep in touch via social media
Get the award winning Kid Weather App I made with my oldest son and support our love for science, weather, and technology. Our 3 year anniversary of the release and our contribution to STEM education is this November. It has been downloaded in 60 countries, and works in both temperature scales. With your support we can expand on the fun introduction to science and real weather.
Kent Island Tornado
Doppler Radar Loop: Likely Tornado On Kent Island July 24
Tornado Damage Photos On Kent Island: July 24 2017
Waterspout Video and Photos July 15 2017
Waterspouts photos August 21 2016
Maryland Trek 2017
Donations now being accepted. Please select "Cool Kids Campaign" in the options to add to our entire team's total.
Milestones this year:
I will do my 1000th mile on Day 1 in Garrett County
We aim to reach $100,000 for Cool Kids Campaign for the entire event.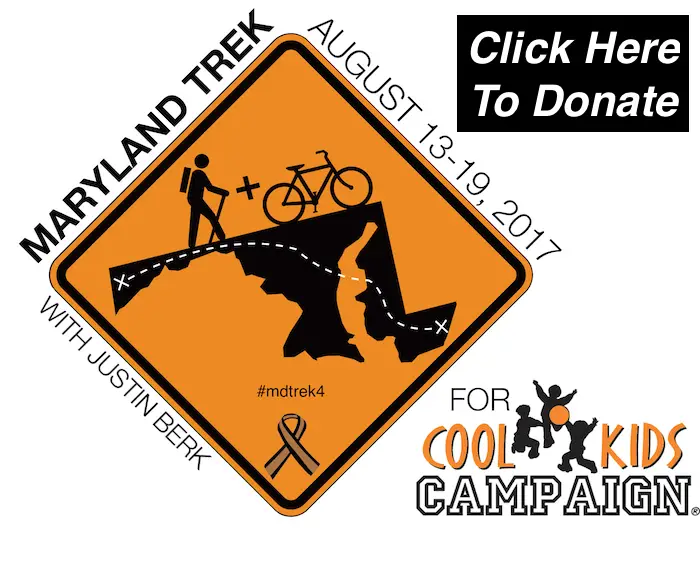 Faith in the Flakes
The store is closing for the season. Next week we wil be shifting back to spring mode. This will include a severe weather STEM assembly program.
Sign up for email updates on new posts

Since you may miss some posts via social media, click here for email alerts as a way to make sure you don't miss any.  *You may have to refresh that page once for your browser to clear out the images.

 Also See: