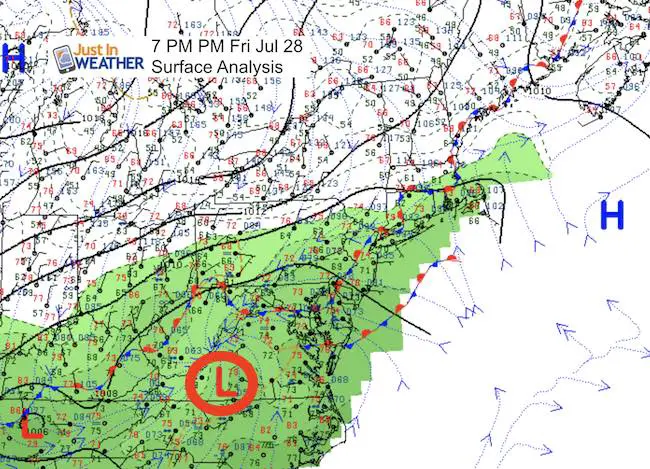 Friday July 28
Many people have written me saying the radar this evening looks like a tropical storm ever the Mid Atlantic. In fact if this was a winter storm, we would be in pretty good shape for a solid hit of snow, based on the track into Virginia. If you have ever seen me write about atmospheric memory, I believe this out of season storm could give insight into the storm path or pattern for the next season or so. So this analysis is something I will look back on to see if we have any repeating events in the months ahead.
Note: The forecast was to track into southern VA, but the plots suggest this is verifying a little farther north. That fits with my thoughts I shared earlier about model bias. There is a tendency for storms to track north of the forecast. In the winter that would be very important for snow/rain lines.  But that is not what we have to worry about now.
First, here is a look at a few perspectives analyzing the rain, winds, and surface pressure this evening.
Doppler Radar
This is a snapshot of the Doppler Radar showing the movement of the individual cells circulating around a partial void north of Washington. This is the tropical storm many were referring to.  The movement does suggest the circulation of Low Pressure, but the surface reports below beg to differ…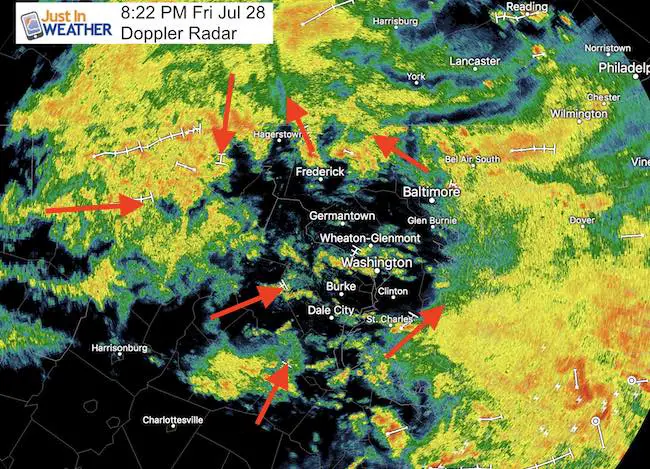 Surface Plots
I've highlighted the wind direction and trying to identify the surface Low Pressure in the center. Winds circulate counter-clockwise around a Low. This look like it should be along the Shenandoah near Harrisonburg, VA.
NOAA Mesoscale Analysis
This plot of surface pressure points to the same area as seen above.
Rainfall So Far
There have been some intense rain bands that hit a few areas hard and slowly moved on… The results were rainfall rates of 2 inches per hour and local flooding. Here is the Doppler Radar Estimated Rainfall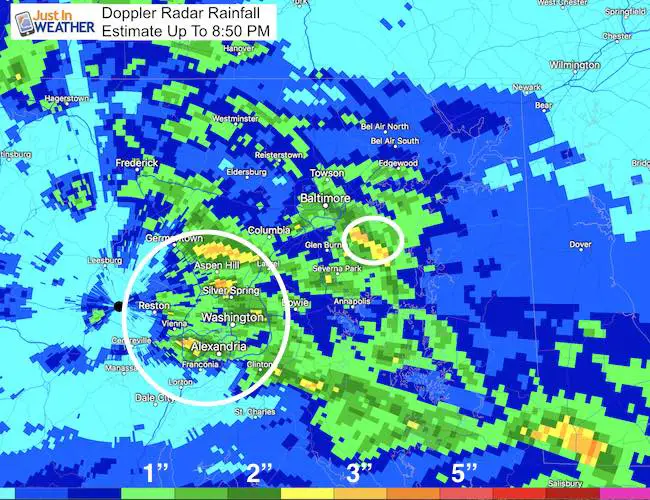 Here are the latest Flood Warnings in the hardest hit areas. A Flood Watch continues into Saturday as we have more heavy rain on the way. The simulation/timeline is below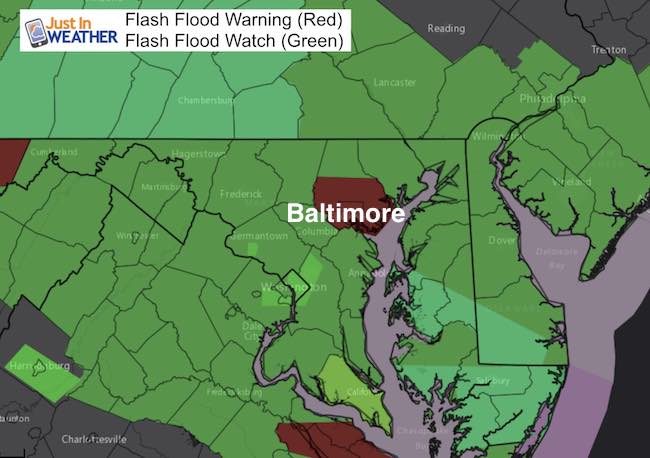 Radar Simulation —> slider
Notes:
Heavy rain will fall overnight and begin to subside in the morning. But behind the Low Pressure will be remaining upper level energy that will leave a cluster of rain in the mountains. The trough aloft will also lead to developing showers returning mid day around central Maryland. So, rain will not be completely gone.
[metaslider id=50291]
GFS Model
This model shows the Low southeast of Ocean City Saturday afternoon. But while it looks like the rain will be over, there will be showers developing mid day. Check out the upper level winds below.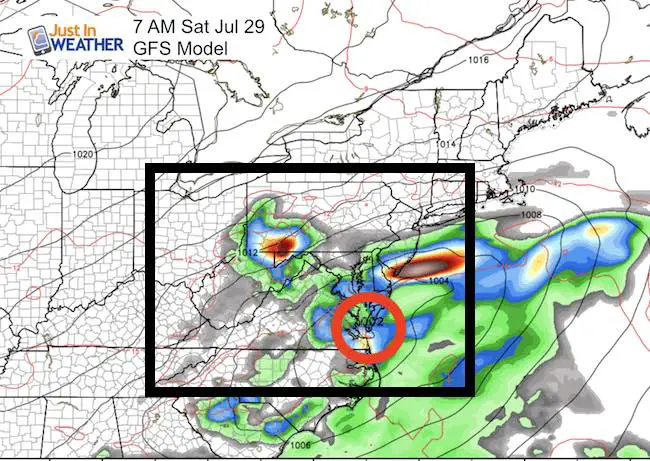 Wind Aloft
The northeast winds Saturday will keep the clouds and cool temps around.
Note: I am back to tracking the expanding flood conditions tonight. The outlook for Sunday is better, but the beaches will be under the influence of strong winds and high surf… But inland will have a nice end to the weekend. 
Please share your thoughts, best weather pics/video, or just keep in touch via social media
Get the award winning Kid Weather App I made with my oldest son and support our love for science, weather, and technology. Our 3 year anniversary of the release and our contribution to STEM education is this November. It has been downloaded in 60 countries, and works in both temperature scales. With your support we can expand on the fun introduction to science and real weather.
Kent Island Tornado
Doppler Radar Loop: Likely Tornado On Kent Island July 24
Tornado Damage Photos On Kent Island: July 24 2017
Waterspout Video and Photos July 15 2017
Waterspouts photos August 21 2016
Maryland Trek 2017
Donations now being accepted. Please select "Cool Kids Campaign" in the options to add to our entire team's total.
Milestones this year:
I will do my 1000th mile on Day 1 in Garrett County
We aim to reach $100,000 for Cool Kids Campaign for the entire event.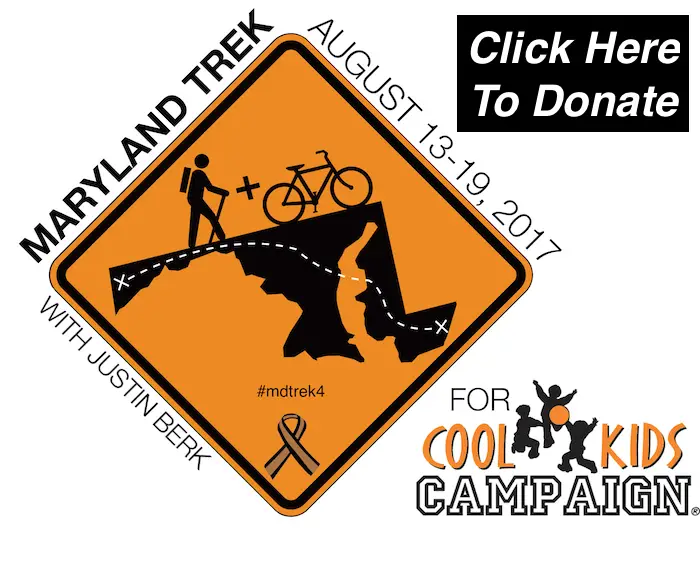 Faith in the Flakes
The store is closing for the season. Next week we wil be shifting back to spring mode. This will include a severe weather STEM assembly program.
Sign up for email updates on new posts

Since you may miss some posts via social media, click here for email alerts as a way to make sure you don't miss any.  *You may have to refresh that page once for your browser to clear out the images.

 Also See: