August 4
After a week filled with severe storms, we are not quite done yet. The action today will be a little different as we have a larger trigger in the atmosphere in the form of a cold front. This will pull the energy closer to the front, so the stray storms that have been popping up will be less numerous, but there may be a few mid afternoon. The cold front should arrive tonight with a distinct line of heavy rain that we can track, and it will be followed by a cooler, more stable air mass for the weekend.
The outlook for mid August is cooler than normal, which should end our heat waves, but also conflict with a potential hurricane in the Atlantic. The long range outlook is sketchy and maybe a little scary for some. But I think the cool air may help push the storm off the coast… I hope so, because 10 days away will be the middle of our Maryland Trek. So there is a personal reason I am hoping we can get a long term break from active weather. See more below.
Severe Storm Outlook
The bulk of the energy will be in the monitions, but metro Baltimore and York will be on the edge of marginal risk for severe storms. The threat includes large hail, high winds, and isolated tornadoes. Note, I will have a follow up on the potential tornado yesterday in Timonium in my next post.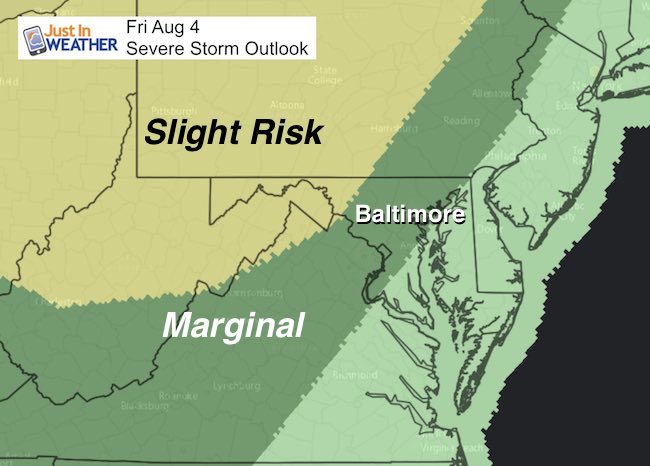 Radar Simulation —-> slider
Note: Isolated showers will pop up mid afternoon. Then we watch the line of storms with the cold front between 9 PM and 3 AM cross our region.
[metaslider id=50550]
High Temperatures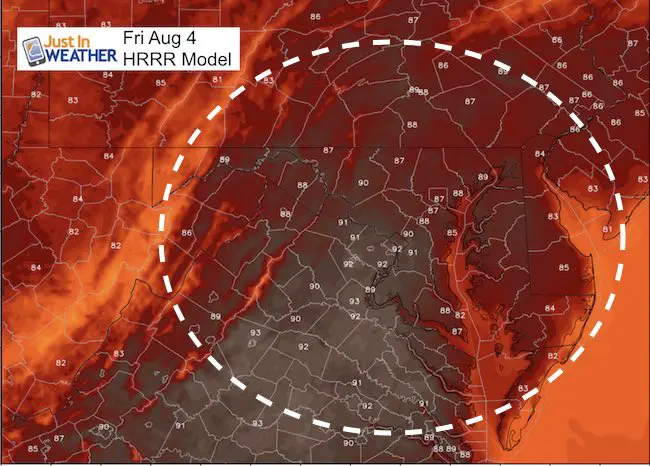 Outlook
This is important! The next two weeks will feature a colder dominating pattern. This should hold much of the nation below average temps. The means highs in the 70s for our region mid month. That should protect us from a tropical threat that is expected to develop. See below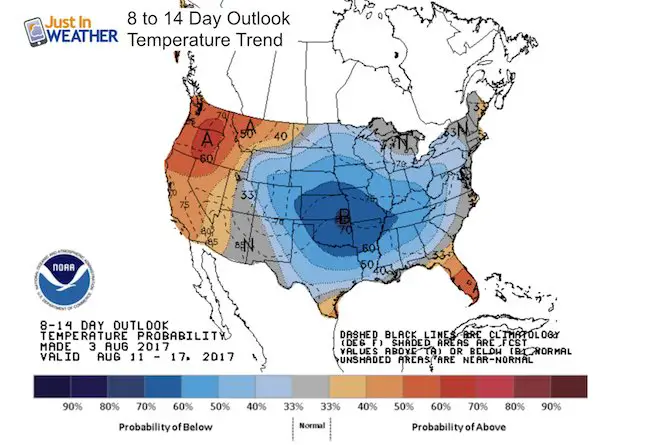 Temperatures For Baltimore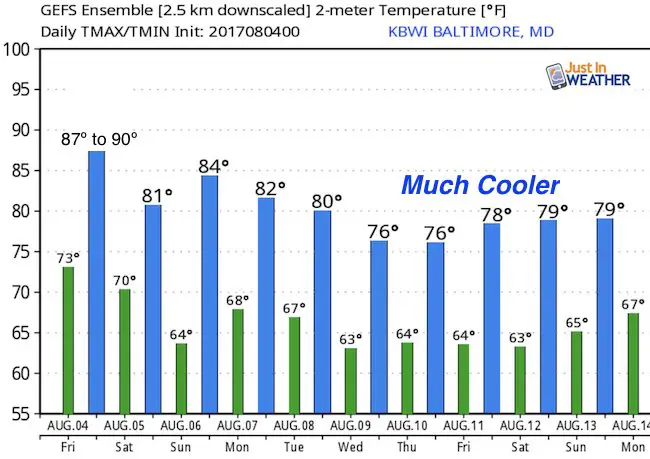 Tropical Outlook
There is a wave off of the coast of Africa that looks like it is organizing, but it is NOT YET a named storm. The climatological odds favor development and moment into the Caribbean and then off the east coast of the US.
There is a theory that when there is a major typhoon in the Asian Pacific, there will be a strong or major hurricane in the Atlantic 10 days later. Typhoon Noru in the Philippine Sea did reach 120 mph and is currently approaching southern Japan with 85 mph winds… Well, 10 days later we could have a storm off of the US east coast.  The GFS Model that many American meteorologists use does show this off of the Carolina coast line, but the tropical model consensus curves it away from the US… which I must agree with based on our cooler temperature trend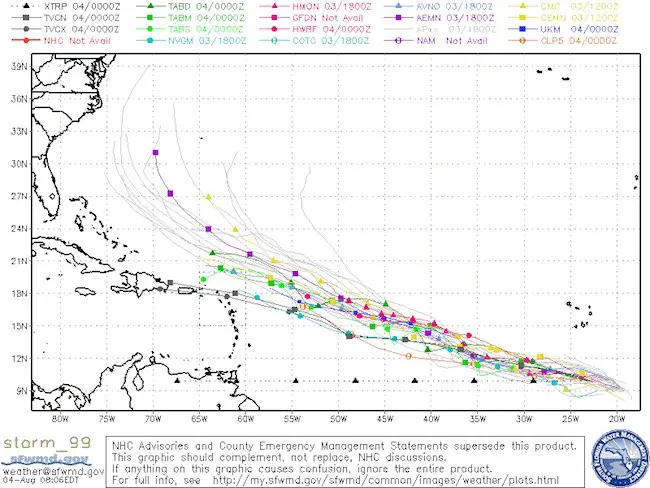 This is the GFS Model Output for Day 10… But I DO NOT AGREE WITH THIS!. I am showing this for comparison for when the model should catch up with the tropical models…
Please check back for more updates on this and the follow up to the potential Baltimore County tornado
Please share your thoughts, best weather pics/video, or just keep in touch via social media
Get the award winning Kid Weather App I made with my oldest son and support our love for science, weather, and technology. Our 3 year anniversary of the release and our contribution to STEM education is this November. It has been downloaded in 60 countries, and works in both temperature scales. With your support we can expand on the fun introduction to science and real weather.
Maryland Trek 2017
Donations now being accepted. Please select "Cool Kids Campaign" in the options to add to our entire team's total.
Milestones this year:
I will do my 1000th mile on Day 1 in Garrett County
We aim to reach $100,000 for Cool Kids Campaign for the entire event.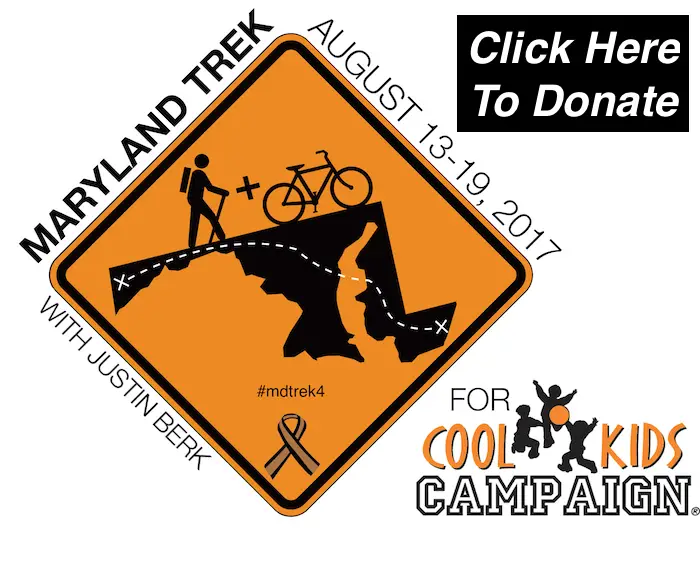 Kent Island Tornado
Doppler Radar Loop: Likely Tornado On Kent Island July 24
Tornado Damage Photos On Kent Island: July 24 2017
Waterspout Video and Photos July 15 2017
Waterspouts photos August 21 2016
Faith in the Flakes
The store is closing for the season. Next week we wil be shifting back to spring mode. This will include a severe weather STEM assembly program.
Sign up for email updates on new posts

Since you may miss some posts via social media, click here for email alerts as a way to make sure you don't miss any.  *You may have to refresh that page once for your browser to clear out the images.

 Also See: