Monday August 7 2017
There has been a lot of chatter lately about severe weather, and not just in the MidWest. A few stormy weeks in Maryland has had many people asking me if something unusual was happening with our weather. The thing is, we often get a few stormy weeks each year and each time I get the same questions. In fact a recent study ranked showed Maryland gots 10 tornadoes per 10,000 square miles between 1950 and 2010. That was ranked by The Weather Channel as the 3rd top tornado state given the frequency versus it's size. This was behind only Florida and Kansas.  Yes, there are plenty of twitters in the tornado belt states but they are much larger with more real estate to fill up their numbers.
There is a good chance Salisbury had a tornado rip through today, but NWS needs to confirm that with an investigation tomorrow. The Baltimore County storm last week actually was NOT a tornado. My friend Larry Rogers flew his drone over the damage area and there is no distinct path. It was just a microburst and straight line winds.  However, the Kent Island EF-2 still jumps out as being the most destructive. But do you remember the Washington and College Park twister early in April?
I wanted to show some tornado statistics here that might surprise you. Then again, thanks to social media and video cameras on phones… the overwhelming reporting may have given the impression we have an epidemic here. Some however could argue the weather has always been this active, just that technology and population spreading into more rural areas has shown what may have been missed decades ago. Below the stats are links to some storms I covered over the past few years to shed some light on the status.
What is the average number of tornados?
The United States is the tornado capital of the world!
75% of all global twisters touch down in our country.
1,224 tornados touch down in the US in an average year.

8

 – The average number in Maryland between 1985 and 2014. I've seen longer term averages have the state close to 10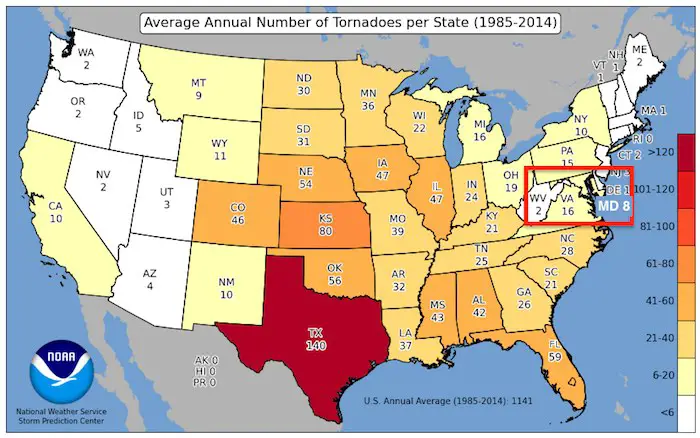 Records
21 – The most Maryland had in any year recorded in 2011
10 – June 1st 2012 had the most in Maryland on any single day
2012 to 2014 were the lowest three years for tornados in the US on record.
Yes, The one day Maryland record came in a very low tornado year for the US
Since 2005
Notice the low lines for 2012-2014

Notice the years more active than this year: 2010, 2011, 2008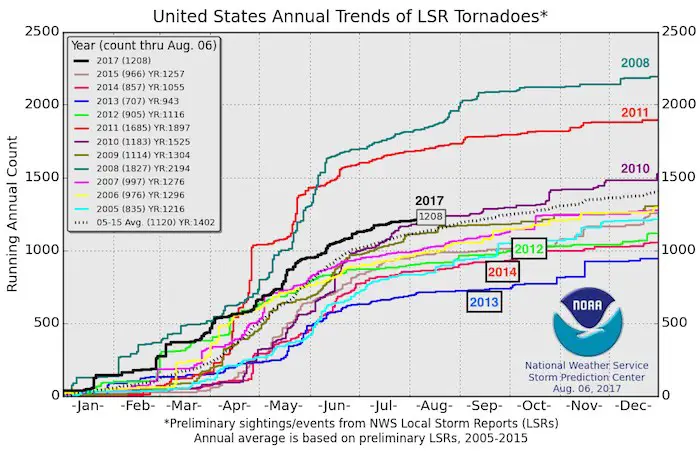 Tornado 2017 Only Slightly Above Average
The numbers may be contrary to what you might have thought. The amount of reporting and places to see instant updates has increased dramatically in the past decade. More cell phones take photos and video with immediate uploads to social media. News outlets will lead a newscast or produce multiple stories about severe weather and destruction. Weather is the common denominator linking all aspects of society together.
A Few Recent Tornado (and waterspout) Local Reports
Baltimore County August 3 Storm was NOT a tornado:
Washington DC: Tornado was confirmed April 6
June 2015 Severe Weather Month Related Posts:
27 Flood Photos From June 27 Storm
Flooding makes manhole cover dance in Baltimore (video)
4 Inch hail In Baltimore County
Tropical Depression Bill Passing Overhead
Record Wettest June in Baltimore- More on the way
Also See:  2015 Had A Balance Of Extreme Weather From Heat To Cold And More
I will not suggest any impact of climate change or denier rhetoric here. That topic stirs a lot of emotions and all I am showing are stats and recent history. However there is a lot of anxiety when the weather gets destructive since we can not control it. When we see a lot of photos and videos it can give the impression the weather is worse than ever. Some years are worse than others. But the numbers for tornados alone in the US have shown a distinct low number, only starting to build back up this past year.  The US had three of the lowest tornado years between 2012-2014 while Maryland saw record high numbers,. Patterns show up with all aspects of weather, and we can't look at the recent few weeks as anything out of the ordinary. Just bad luck with the atmospheric target on Maryland's back.
Please share your thoughts, best weather pics/video, or just keep in touch via social media
Get the award winning Kid Weather App I made with my oldest son and support our love for science, weather, and technology. Our 3 year anniversary of the release and our contribution to STEM education is this November. It has been downloaded in 60 countries, and works in both temperature scales. With your support we can expand on the fun introduction to science and real weather.
Maryland Trek 2017
Donations now being accepted. Please select "Cool Kids Campaign" in the options to add to our entire team's total.
Milestones this year:
I will do my 1000th mile on Day 1 in Garrett County
We aim to reach $100,000 for Cool Kids Campaign for the entire event.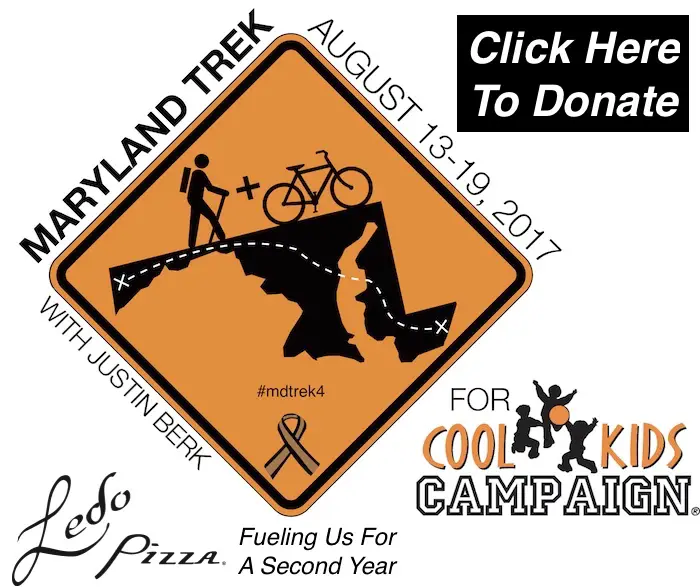 Faith in the Flakes
The store is closing for the season. Next week we wil be shifting back to spring mode. This will include a severe weather STEM assembly program.
Sign up for email updates on new posts

Since you may miss some posts via social media, click here for email alerts as a way to make sure you don't miss any.  *You may have to refresh that page once for your browser to clear out the images.

 Also See: