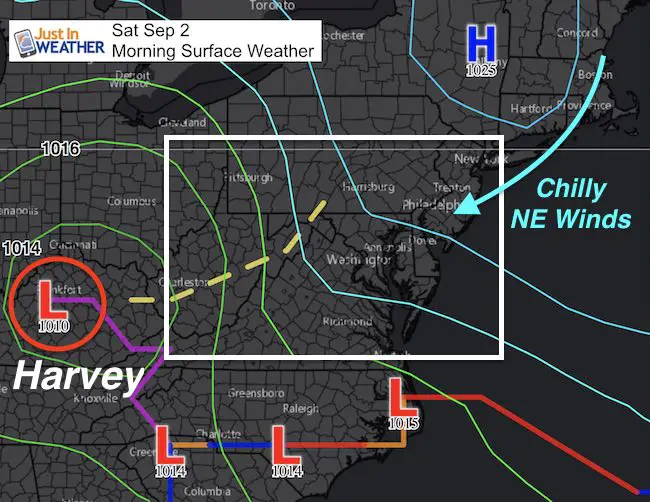 Saturday September 2
The thing about today's weather is these remains of Harvey are exactly what we expected and it is a much diminished form than the Category 4 hurricane that first hit Texas a week ago. We have a soggy Saturday but the rain will not be too heavy, just off and on all day. Thanks to High Pressure in New England, the irony of this tropical system is that winds will be chilly and temps will stay in the 60s.
I want to show you the radar simulation below. There is a burst of rain this morning that will give way to showers for the rest of the day. This should culminate with another push of heavier showers or a storm after 10 PM.  Then we set up to dry out and warm back to the 80s for Labor Day.  The long range outlook is what I now feel I need to share. Hurricane Irma is a strong Category 2 storm and long range models put it off of the east coast next week. More on that below.
—-> slider: Rain Today
[metaslider id=52313]
Temperatures
Rainfall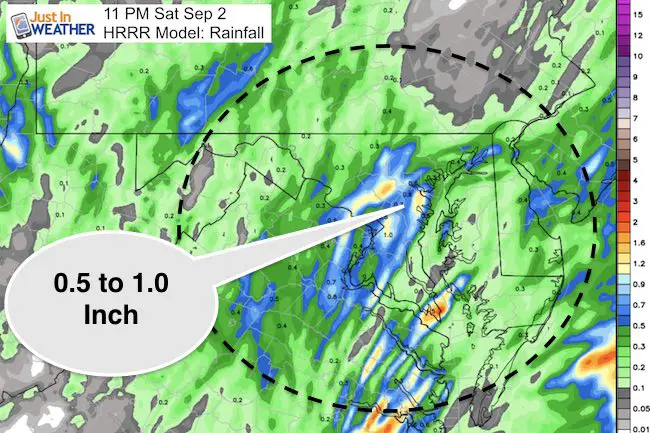 Labor Day Improvement
Some showers and clouds may linger early Sunday, but
[metaslider id=52349]
Outlook

Hurricane Irma
Winds are 110 mph and this is still 3 to 5 days away from land on the edge of the Caribbean. What happens beyond this is what is a little alarming.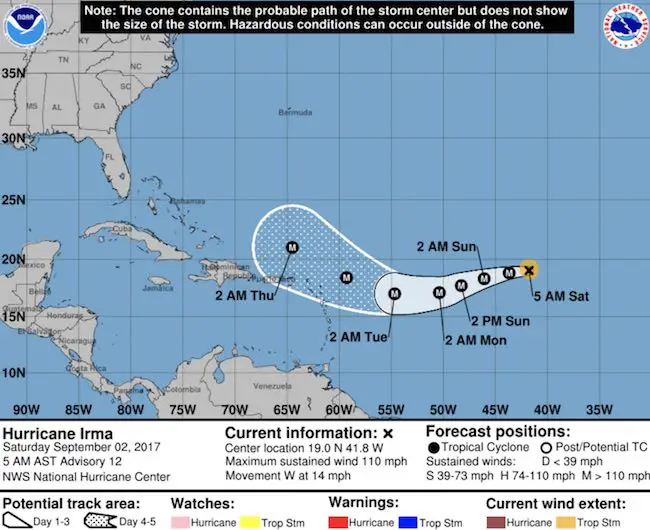 This storm is fluctuation in strength but is expected to reach at least Category 4 intensity before clipping the Caribbean. I do not like to suspect anything beyond 5 days, but multiple long range computer models have shifted the track closer to the US and similar to Hurricane Isabel…
Outlook
Multiple computer model curve this storm towards the US coast. This is father west than the earlier projections curving closer to Bermuda. The GFS Model below shows the circulation off of OCMD and into New Jersey and metro New York.
CAUTION
THIS IS NOT A PROMISE
This forecast shows the potential for the energy off of the east coast. There are many factors that would work against this directly hitting the Mid Atlantic. However a small percentage of storms do act like this and all it takes it one.  So this is worth watching but with suspicion. The odds of this 8 day forecast verifying as is shown now is very low…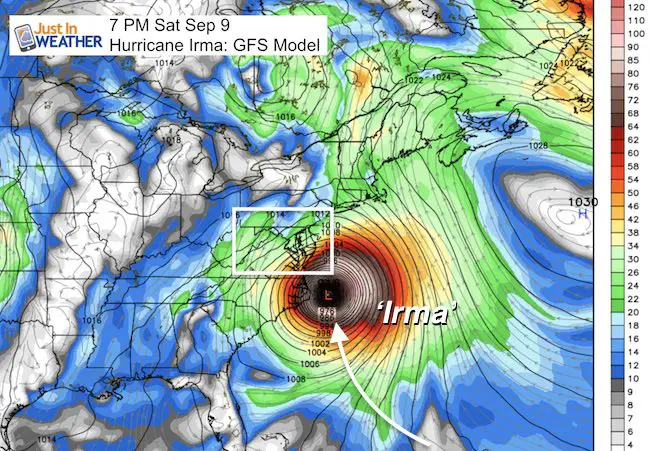 Keep on Trekking
Continue to be part of our Maryland Trek and Support Cool Kids Campaign. This was our best event yet and we want the message to carry throughout the year.
Proceeds go to programs that help children and their families ensuring cancer treatment.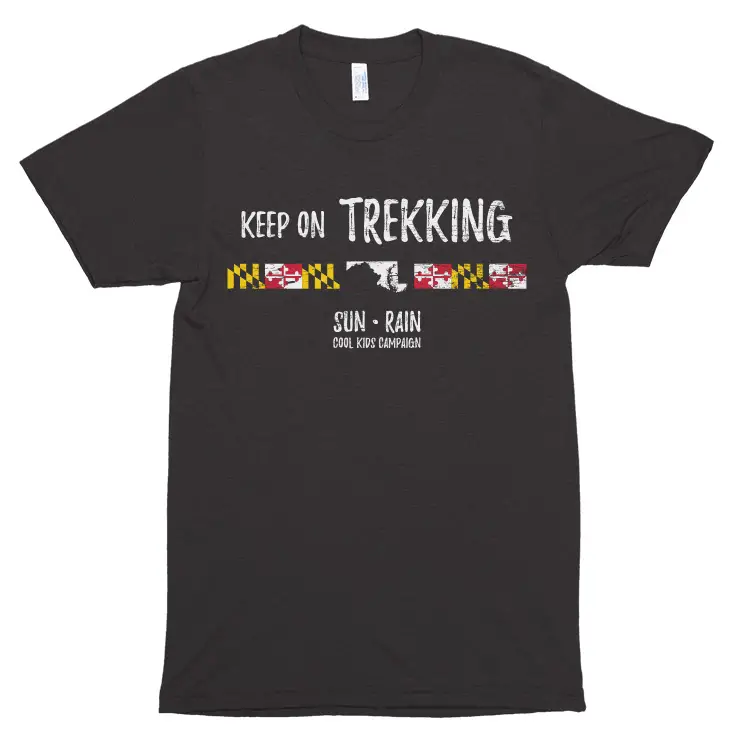 Please share your thoughts, best weather pics/video, or just keep in touch via social media
Get the award winning Kid Weather App I made with my oldest son and support our love for science, weather, and technology. Our 3 year anniversary of the release and our contribution to STEM education is this November. It has been downloaded in 60 countries, and works in both temperature scales. With your support we can expand on the fun introduction to science and real weather.