The flood in Ellicott City Maryland on May 27 2018 was the result of nearly 8 inches of rainfall in a few hours and up to 10 inches in surrounding areas. It was supposed to be a once in a thousand year flood, but something similar happened just two years ago on July 30, 2016.  For starters, when you hear 'once in a thousand years' that does not mean it happens that often. It means the odds are statistically 0.1% chance of occurring. Much like a 'once in a hundred years' event is statistically likely 1% of the time.
Since 1768, there have been 15 major floods in Ellicott City. See the list and more about the history below.
All of that water had to funnel down multiple tributaries and feed into the Patapsco River in a short period of time. Main St has that run parallel or pass under a few times. The valley itself is made of granite and not porous. So there is no forgiveness to the water and it rose a lot more than the rainfall. This article has a few links to elaborate on the history of flooding in this historic town as well as a strong suggestion that the two recent floods were enhanced not by weather patterns, but the surrounding development.
New Aerial Video
— Mid-Atlantic Aerial (@midatlaerial) May 28, 2018
Aerial Photos
[metaslider id=62726]
Also see the raw video, more photos, and radar loop of the event in my prior post.
Record Flood Rise
Record Flood Stage at Patapsco Valley State Park, a few miles downstream of Ellicott City.
The jump to 24.36 Ft was up about 18 feet in less than two hours! It was also 9.36 Ft above Flood Stage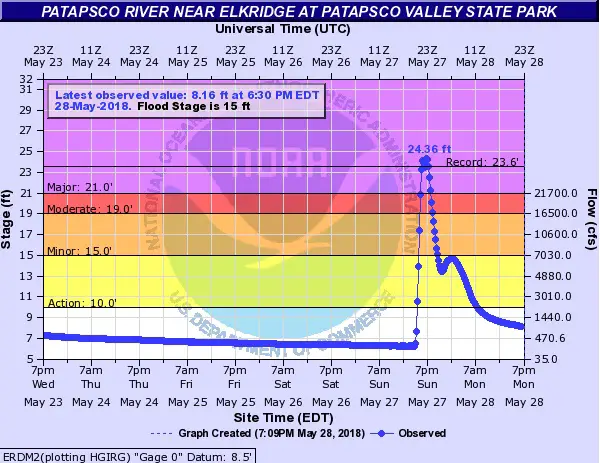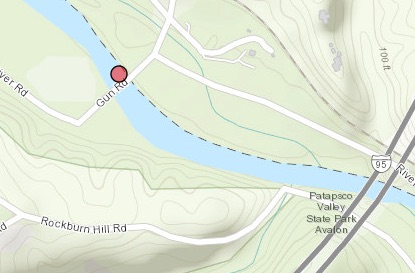 Catonsville 
The water here was 0.07 Ft below the record flood stage. It experienced a jump of nearly 16 Ft in less than 2 hours.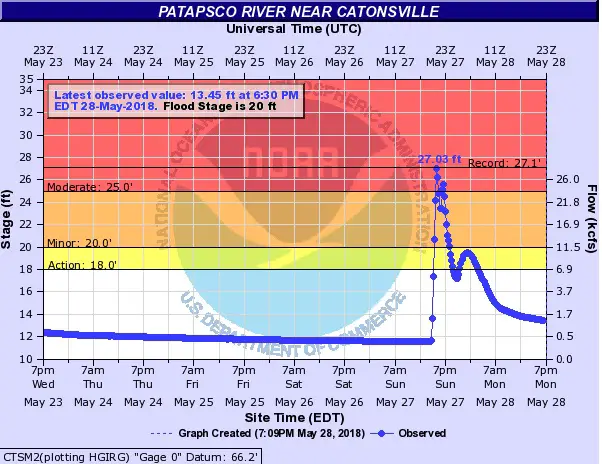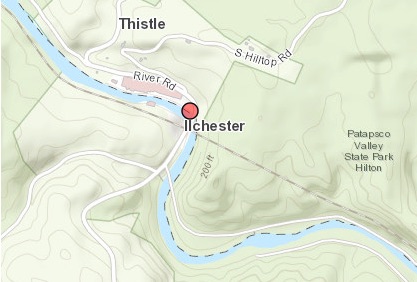 Ellicott City
The irony of this location is that is barely registered Moderate Flood Stage at 124.78 Ft. This may be due to the water using Main St as a bypass diverting some of the flow. The red dot on the map below is just north of Main St, and the bulk of the Main Street flow was beyond this gage.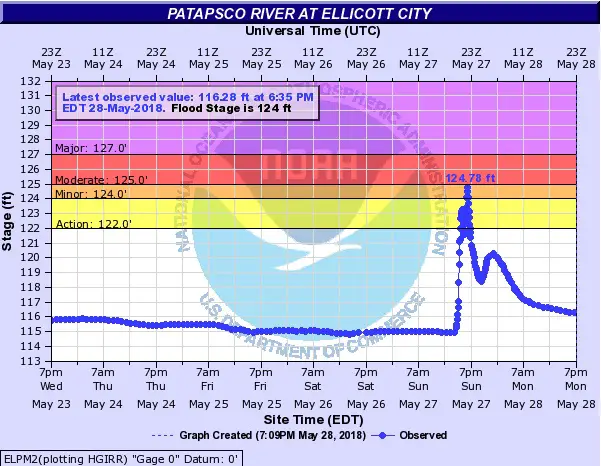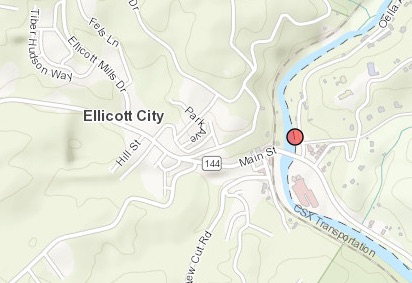 History Of Flooding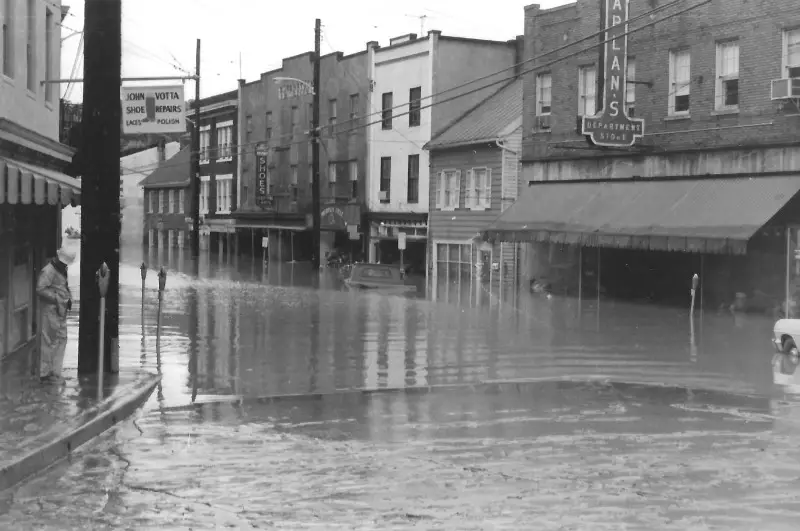 This was the 1972 flood from Hurricane Agnes from the Howard County Historical Society.  Since 1768, there have been 15 major floods in Ellicott City
1768
1817
1837
1868 – Patapsco flooding, killed 43 people, destroyed 14 homes
1901
1917
1923
1942
1952 – September 1
1972 – July 12, Hurricane Agnes, 14.5 ft
1975 – September 30, Hurricane Eloise, Hurricane Eloise
1989 – September 22, flood
2011 – September 7, Tropical Storm Lee
2016 – July 30
2018 – May 27
See more about the Ellicott City Flood History from Preservation Maryland
New Development And Drainage Engineering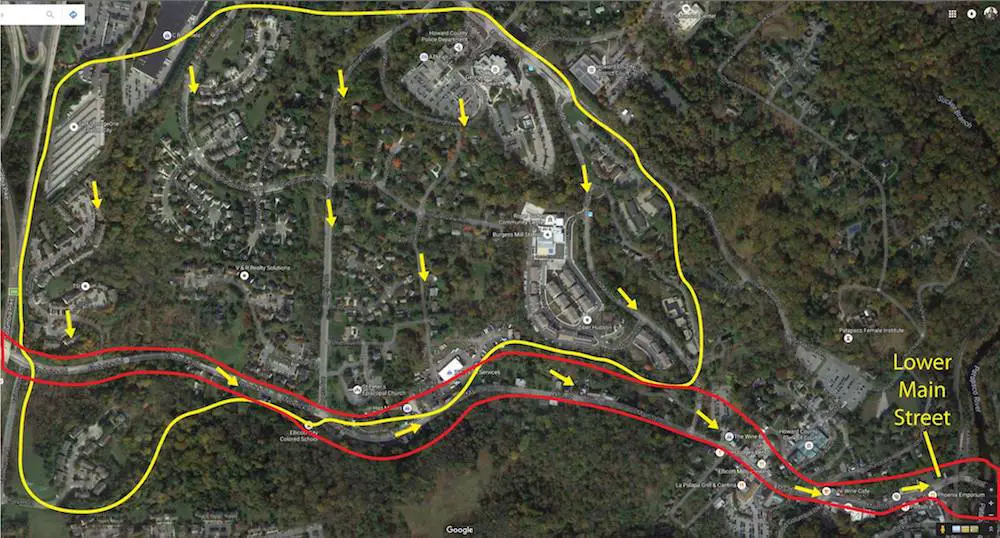 In August of 2016, Brian Kelm wrote up an extensive detail of the run off around Ellicott City that fed into that particular flood. It widely accepted that the flooding is a normal occurrence, but has been getting worse due to the new development and reshaping of water flow around the historic district. See the full article here in Envision Frederick County and how it may apply just two years later with this storm.
Flood Recap
See the raw video, radar loop, and rain estimates
See Governor Hogan's Visit Sunday Evening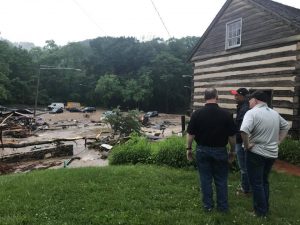 Keep In Touch Every Day
Click here to sign up for email alerts…. Just in case you don't get the post on your social media feed
Please share your thoughts, best weather pics/video, or just keep in touch via social media
Shine On
Proceeds from all sales go to Just In Power Kids. Click the image to shop and show your support.
Partner With Us. My Fiancee Shannon and I started this non profit Just In Power Kids. We are building a network of Integrated Wellness Practitioners plus funds for kids in and post cancer treatment to get free sessions.
Get the award winning Kid Weather App I made with my oldest son and support our love for science, weather, and technology. Our 3 year anniversary of the release and our contribution to STEM education is this November. It has been downloaded in 60 countries, and works in both temperature scales. With your support we can expand on the fun introduction to science and real weather.