Thursday May 31 2018
We have a Flash Flood Watch in place this afternoon and this evening, and I will show the latest radar simulation update below. Many afternoon sports will be impacted if not at the start, then during the event. But I want to point out that there is more rain on the way this weekend and it may be even worse Saturday afternoon into Sunday morning. This is a potentially dangerous situation standing on its own. But add in our saturated ground and swelling waterways, plus the cleanup of recent floods and there is a lot more anxiety that is justified.
Here is the breakdown:
Today: Radar Simulation —> slider
Metro Baltimore will see the bulk between 5 PM and 9 PM
[metaslider id=62788]
Rainfall Potential
Some areas may get between 1 and 2 inches of rain today. We can only hope that storms that form continue to move rather than crawl or stall in place. Slower moving cells would drop more rain and lead to more flooding. 
Flash Flood Watch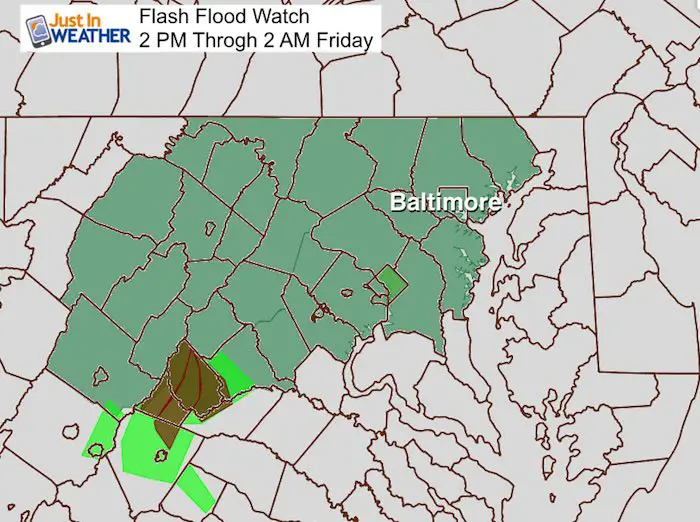 Wider View And Looking Ahead
This afternoon's water vapor satellite
Alberto remained a depression through Michigan and is not in Canada. This is as far north as an organized system will get.  It helped to drag tropical moisture north that we see in the form of fog, clouds, and will feed into the strong storms today.  The next system in Missouri is heading east and will act on this moisture to make for more heavy rain this weekend. A new Low is expected to form right over Delmarva Saturday.  See more below.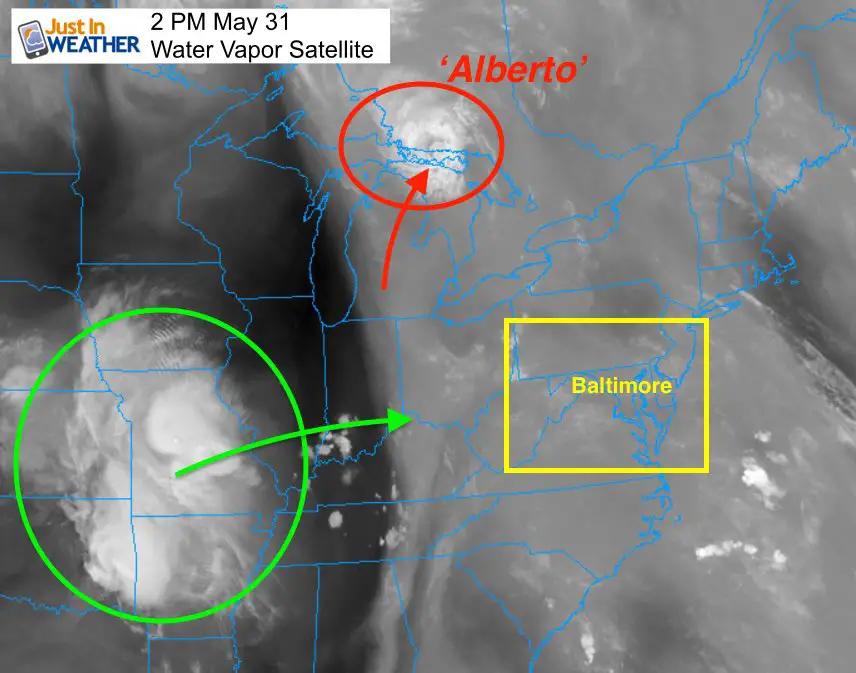 Satellite Animation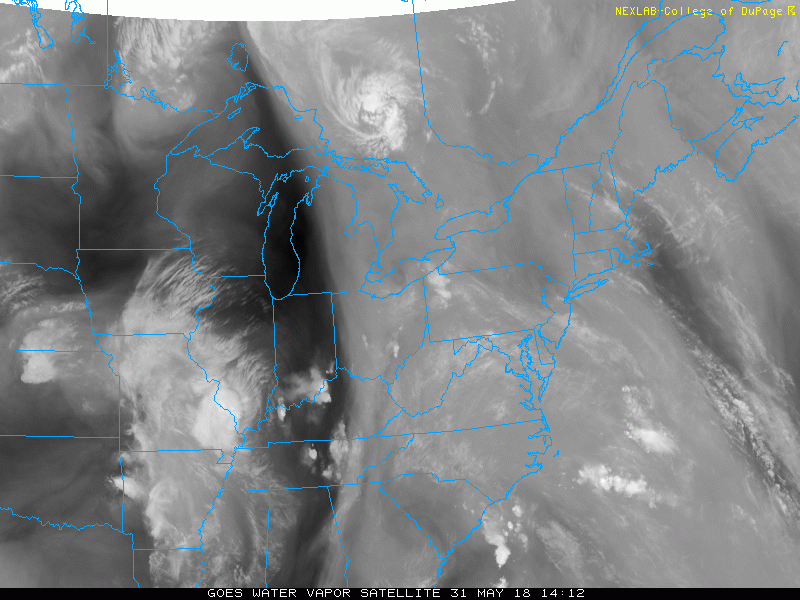 Forecast Through The Weekend
Precipitable Water shows the potential for rainfall in the clouds. A symbol of the moisture available… Note that we will have more storms develop on Friday afternoon and evening. But the strongest storms and heaviest rain will be Saturday into Sunday morning.
—> slider
[metaslider id=62805]
Resulting Low Pressure forming in Saturday
The Low Pressure over southern Delmarva would be in a position to pump in maximum rainfall into central Maryland.
Rainfall Potential Through The Weekend
This is just a 'potential' and as we saw last week… individual cells could dump more rain depending on location of track and speed. Some cells may sit in place (like last weekend) and would over perform rainfall in those locations. We won't know those until the day they will form.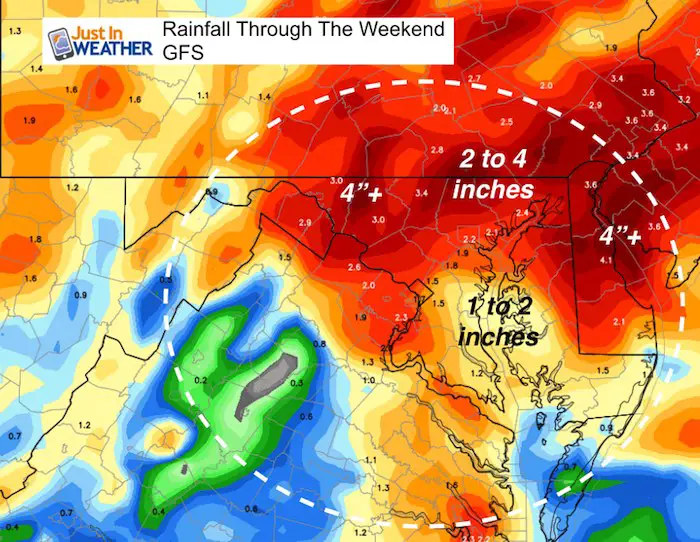 Keep In Touch Every Day
Click here to sign up for email alerts…. Just in case you don't get the post on your social media feed
Ellicott City Flood Reports:
Raw video, radar, and rain totals
Video of damage from the air, history, and area development concerns
Shine On
Proceeds from all sales go to Just In Power Kids. Click the image to shop and show your support.
Partner With Us. My Fiancee Shannon and I started this non profit Just In Power Kids. We are building a network of Integrated Wellness Practitioners plus funds for kids in and post cancer treatment to get free sessions.
Please share your thoughts, best weather pics/video, or just keep in touch via social media
Keep In Touch Every Day
Click here to sign up for email alerts…. Just in case you don't get the post on your social media feed
Get the award winning Kid Weather App I made with my oldest son and support our love for science, weather, and technology. Our 3 year anniversary of the release and our contribution to STEM education is this November. It has been downloaded in 60 countries, and works in both temperature scales. With your support we can expand on the fun introduction to science and real weather.