1 PM Tuesday September 11 2018
Hurricane Florence is still going strong with 130 mph winds. It lost some speed overnight as it undergoes an eye wall replacement cycle. But it should regain back to or above 140 mph sustained winds in the next day.  The size of the storm is almost as important as track to consider with landfall. I am writing this with perspective on Maryland since that is the northern edge of where a State of Emergency has been issued. There is a lot of concern on the Chesapeake Bay and reminders of Isabel in 2003.  This is not the same storm but rising water is a real potential.  Rainfall and wind may be much less than you are expecting after being bombarded with endless news reports and online posts (like mine).
The storm is moving faster now at 16 mph, which is why it may end up tracking a little farther south. But then it will slow down and possibly stall across North/South Carolina. That will be the bulk of wind and rain will be. However the size of the storm will spread out on the north end as it makes landfall. I want to simplify the expectation of wind, severe storms, and rain here.  First, here is the latest view of Hurricane Florence
Wind Field
Hurricane Force Winds (over 74 mph) reach 40 miles from the center.  

Tropical Storm Force Winds (over 39 mph) reach 150 miles away.  
Mid Day Snapshot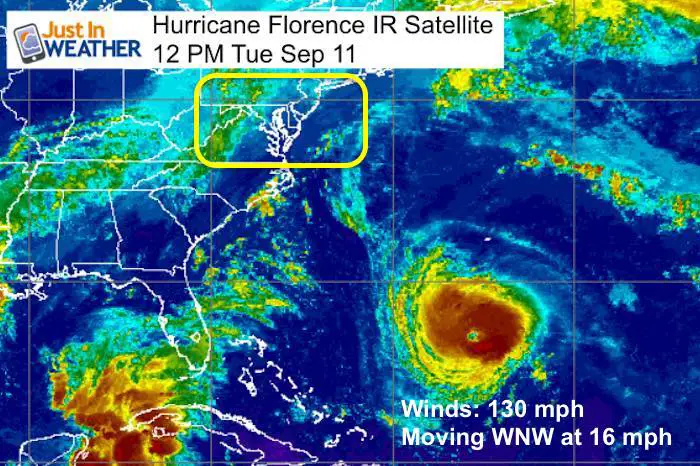 SUMMARY OF 1100 AM AST...1500 UTC...INFORMATION
-----------------------------------------------
LOCATION...26.7N 65.3W
ABOUT 390 MI...625 KM S OF BERMUDA
ABOUT 905 MI...1455 KM ESE OF CAPE FEAR NORTH CAROLINA
MAXIMUM SUSTAINED WINDS...130 MPH...215 KM/H
PRESENT MOVEMENT...WNW OR 295 DEGREES AT 16 MPH...26 KM/H
MINIMUM CENTRAL PRESSURE...950 MB...28.06 INCHES

Visible Satellite
The east side seems to be eroded away a little, but the core eye wall appears to be clearing out again as the storm is about to regain some intensity.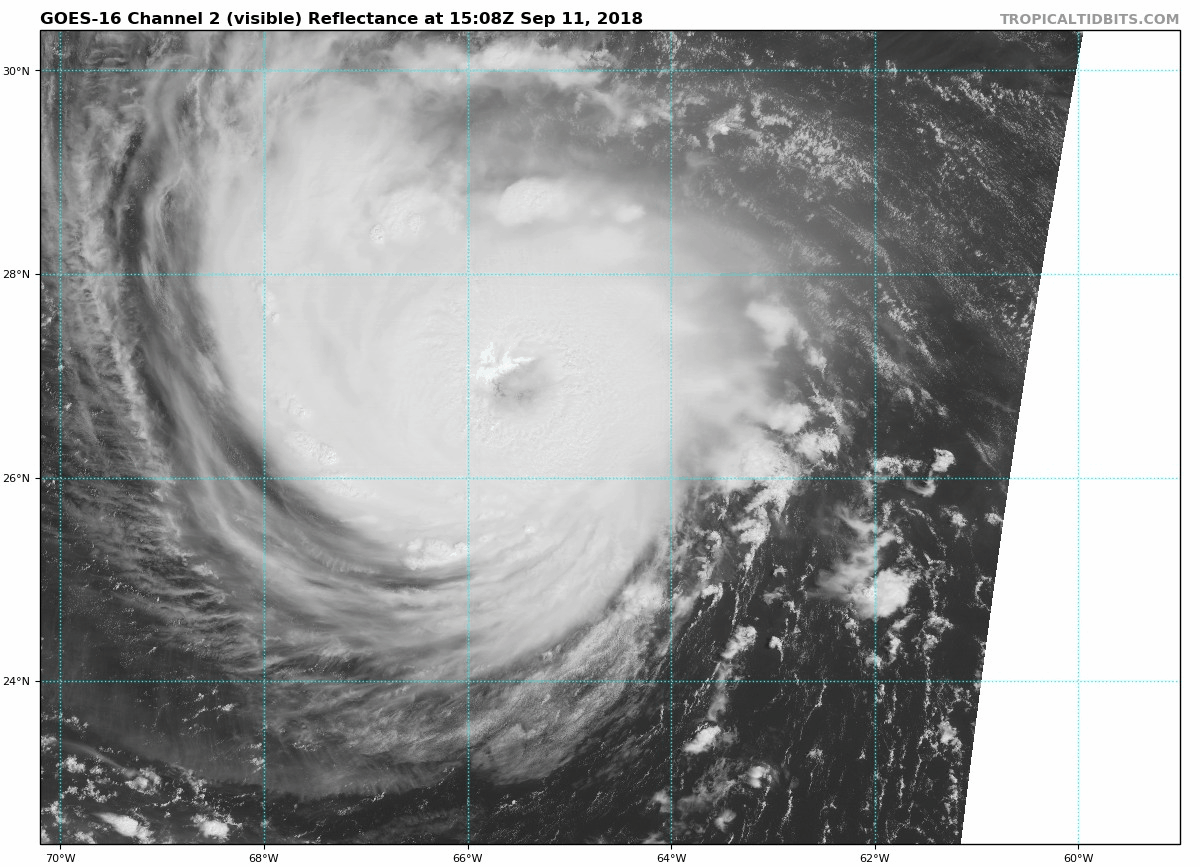 Likely Landfall
The HWRF shows a Thursday night hit, this may adjust based on faster forward speed today.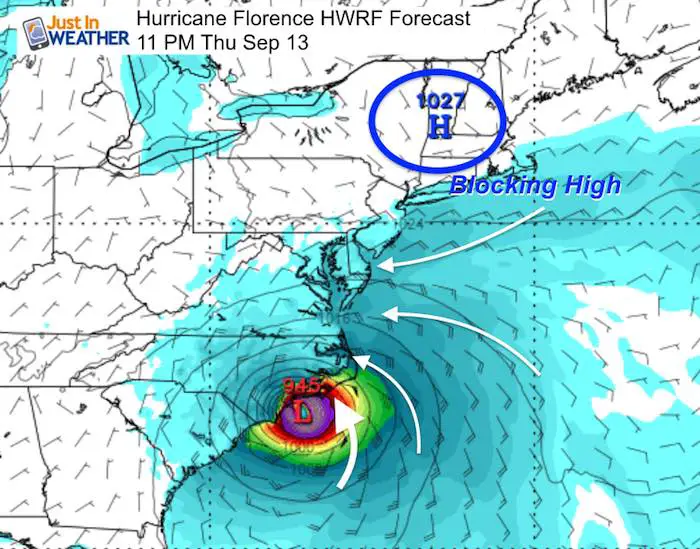 High Pressure in New England and our old front not shown here all all helping to steer Florence inland and NOT up the coast. There have been many questions about it getting closer. If anything I have seen a push farther south. The European Model is leaning towards possibly a South Carolina landfall. I'll show that update later this afternoon.
Hurricane and Storm Surge Watch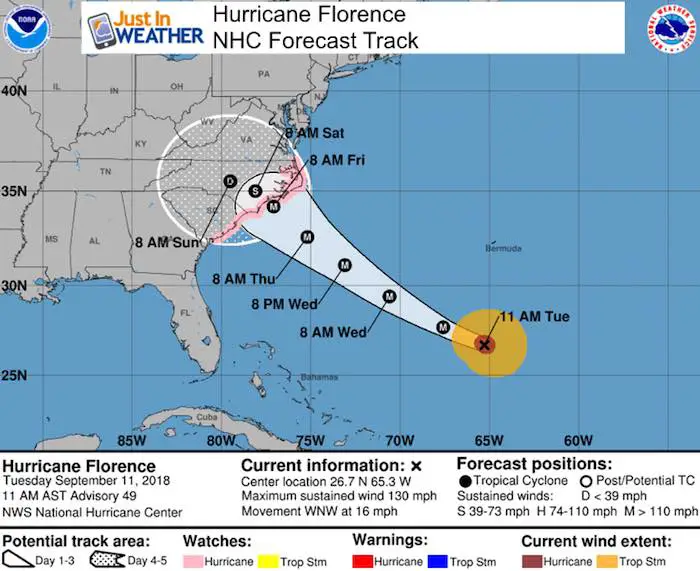 When does this show up?
The earliest arrival of tropical storm force winds (over 39 mph) is Wednesday night into Thursday morning. You see Maryland is included in the main cone… This can be deceiving. Check out the maps below.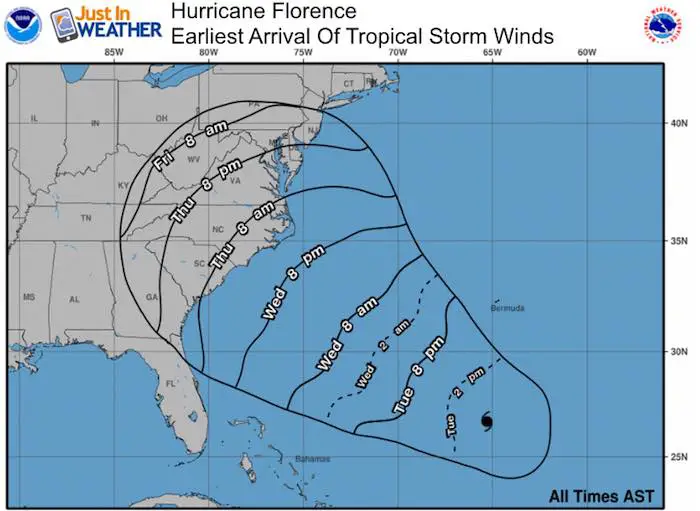 Wind Expectation
While the storm will spread out as it makes landfall, that is still a far distance from Maryland.   Here is a look at the forecast landfall from NOAA and odds for winds reaching tropical storm intensity of 39 mph or higher. Notice Ocean City has 25% chance of steady winds getting to tropical storm intensity, but there could be gusts that high. Less of a chance near Annapolis (25%) and Baltimore (15%) , but St. Mary's (35%) may get stronger winds than OCMD.
Virginia Beach and southward towards OBX dramatically increased the likelihood of damaging winds.
This map is the NOAA plot with landfall Friday morning. This may be too slow.
Severe Weather
Landfalling tropical cyclones often produce small tornadoes.  The 'marginal' risk of this includes Southern Maryland and Ocean City. Note, that is marginal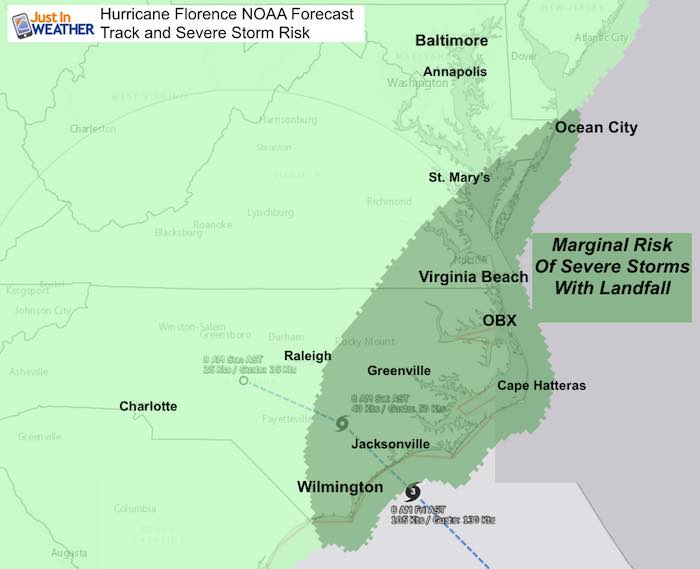 Heavy Rainfall
This is the map I showed this morning online.  The European Model does indicated that there may be some areas upwards of 40 inches of rain… should this stall.  But the takeaway for Maryland is that the rainfall on this map also includes what we have today and tomorrow not part of Florence. We could miss out on the main rain especially if it trends on the southern part of the suggested cone.
Traveling Plans?
I have had a lot of question about the weekend. If you are heading between Virginia Beach, OBX, or Florida driving, I would have a plan B. The landfall may flood and damage roads.  If you re flying, Florida will not have a problem, but there could be delays due to turbulence getting there.  Flights will likely fly around Florence, but the atmosphere will give a very bumpy ride.
Forecast Animation
This HWRF Model is doing a good job and I will likely stick with this from here on in…Landfall may possibly shift a little south of Wilmington, NC. But then…  the storm moves due west or southwest into South Carolina. That is farther away from Maryland, like keeping the bulk of the wind and rain there as well.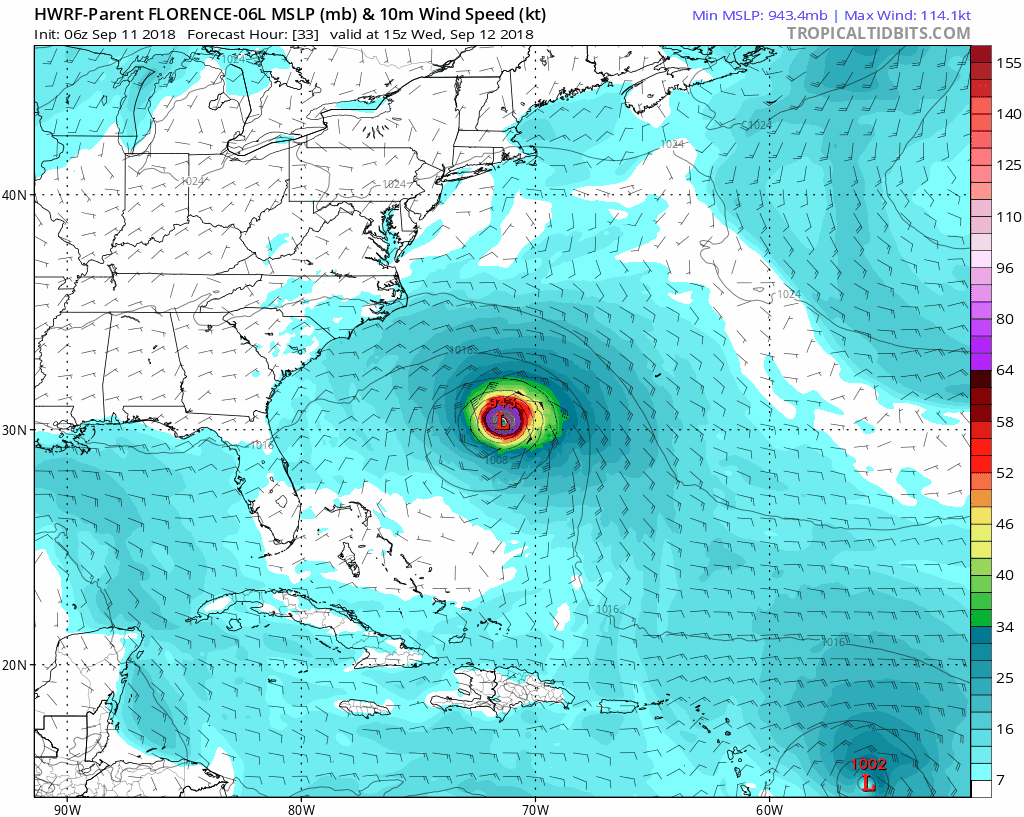 Notes:
There will be high water on the Chesapeake Bay. This is already an issue plus the hurricane will hinder the low tide from flowing out.  Wind direction will be from the east, but not the dreaded southeast up the Bay that we saw with Isabel.
Basically, shoreline areas still need to be concerned with high water, but the worst is likely to not hit us. We have had more than our share this summer. This also means it will be worst in North and South Carolina.
Keep In Touch Every Day
Click here to sign up for email alerts…. Just in case you don't get the post on your social media feed
Please share your thoughts, best weather pics/video, or just keep in touch via social media
Love Maryland Shirt Designed By Jaiden
This shirt was designed by my 'bonus' daughter Jaiden. All proceeds will go to Just In Power Kids and free holistic therapy for kids in and post cancer treatment.
Show your love for Maryland and make this 14 year old artist extra proud
---
Now Scheduling School Assemblies 
Storm Smart – Severe Weather (September, October; March through May)
FITF – Snow and ice (November through March)
Programs for K through Middle School
Choose flat fee or FREE along with a spirit wear shirt fundraiser that earns your school money.
---
Power Partner Just In Power Kids and Maryland Trek 5:

Still Time To Support Just In Power Kids
We are still taking donations for our best Maryland Trek yet. Every penny goes to Just In Power Kids programs to provide FREE holistic care for kids in cancer treatment and up to 5 years post treatment.
Partner With Us. My wife Shannon and I started this non profit Just In Power Kids. We are building a network of Integrated Wellness Practitioners plus funds for kids in and post cancer treatment to get free sessions.
Get the award winning Kid Weather App I made with my oldest son and support our love for science, weather, and technology. Our 3 year anniversary of the release and our contribution to STEM education is this November. It has been downloaded in 60 countries, and works in both temperature scales. With your support we can expand on the fun introduction to science and real weather.