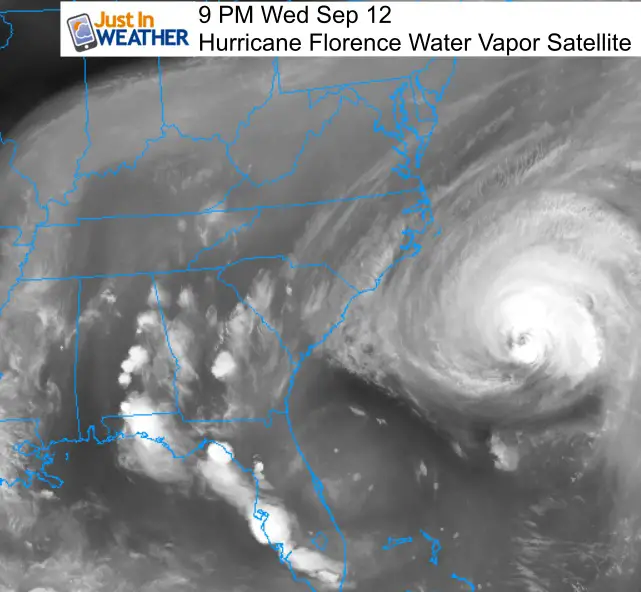 9 PM Wednesday September 12 2018
The satellite image this evening shows Hurricane Florence off of the east coast with the outer band of cirrus clouds pushing across Maryland's Lower Eastern Shore.  The loop of this view is shown belo along with our local look at the storm's impact.  The evening report shows the winds down to 120 mph but the size of the storm has increase. Hurricane force winds reach 70 miles away from the eye, while Tropical Storm force winds (over 39 mph) reach 195 miles away.  This is a larger storm and will push water across much of the east coast.
There has been a lot of confusion with this storm as could be expected. News reports are constant and focus on the map destruction, but near the eye wall and landfall.  I have worked to not overhype or cause local fear since our expectations will not be close to the worst of Florence. Maryland (our local region) is hundreds of miles away and will barely get scraped by the outer edge.  My purpose this evening is to try and simplify what to expect in Maryland.  Note that less will be felt north in Pennsylvania and a little more to the south in Virginia.
This weekend is still expected to bring improvement from north to south. North of Baltimore may be fine all weekend. Some showers may be possible south of Baltimore on Saturday, then we should end up with a nicer Sunday for most of us… With possibly the exception of wind brining steady sea spray to Ocean City and Virginia Beach.
Quick Notes:
Rain:  Yes, some showers will reach Maryland. The best chance will be Friday across southern Maryland and Ocean City/Salisbury. Some showers will push into central Maryland along with the chance of afternoon and evening storms. I have a few models to show below. On Saturday the storm will pull away and lower the threat as dry weather will try to move in from north to south.
Wind: The chance of tropical storm force winds reaching Maryland are low. Ocean City to St. Mary's has a 20% to 30% chance to get into those winds. But we could have rain bands with gusts over 30 mph at times
Storm Surge:  This is NOT Isabel! The storm will stall and crawl down the coast. But a steady east wind will pile up water on the ocean coast and western side of the Bay.  The surge potential directly related to Hurricane Florence reaches Virginia Beach with 2 to 4 Ft. So farther north will be less. I have a graphic below to show that.
High Tides may be important to watch for a few more days. I will post those tomorrow.
Water Vapor Satellite Loop
Watch Hurricane Florence approach the US and see that outer cirrus band reach Maryland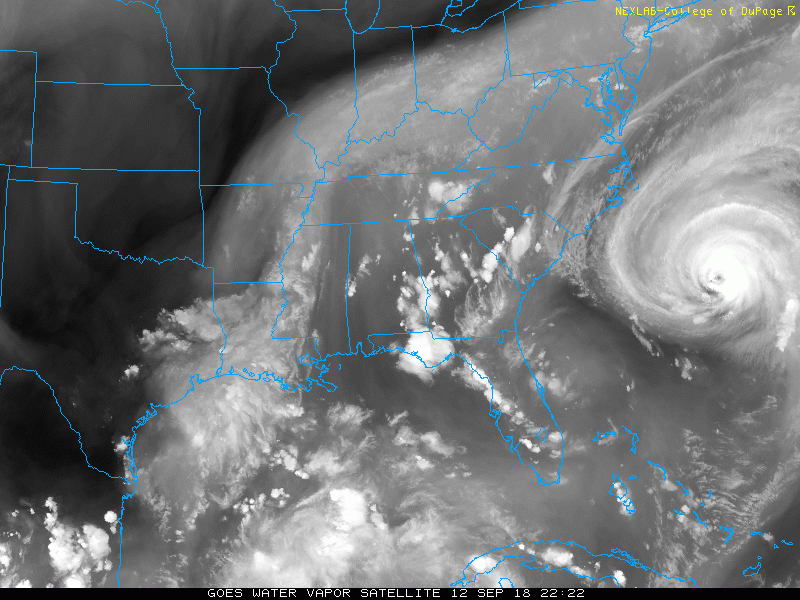 Before we can look locally, I need to show the big picture first
Here is the NHC Forecast Track. You can see more in my afternoon report here.
Rain Totals (5 Days)
There were some storms that popped this afternoon and we could see more tomorrow and Friday.

This shows the bulk of the storm with some rain on the northern edge in Maryland.

Notice the range between Baltimore and Ocean City is 1 to 2 inches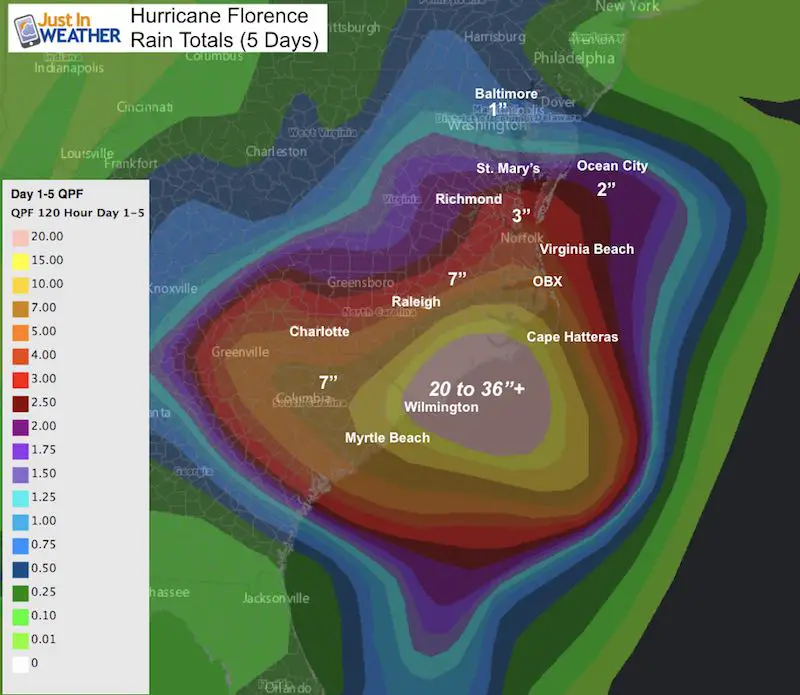 Rainfall From NAM 12Km Model –> slider
Some showers on the northern fringe. The best chance will be Friday
NAM 3 Km (Higher Resolution) 6 PM Friday
This shows one rain band reaching Rt 50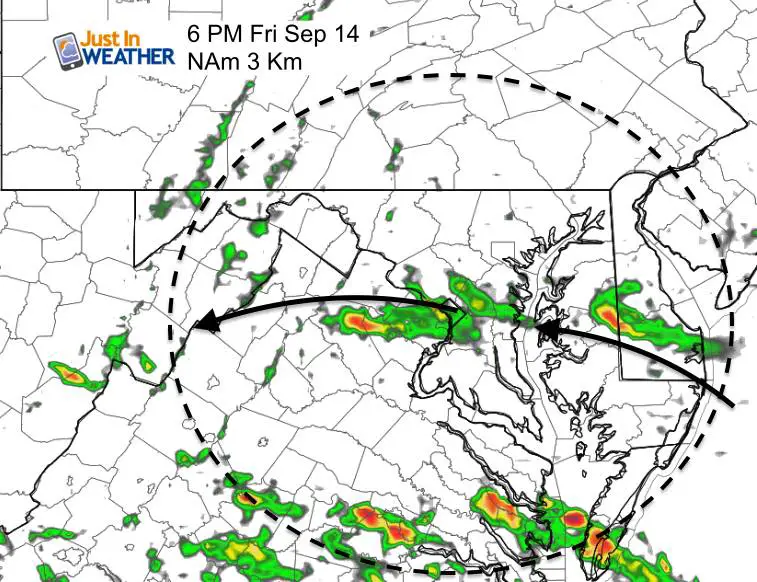 Rainfall From GFS Model (closer view) —> slider
Winds Friday Morning
The closest approach for our region will be Friday morning. The best odds for southern Maryland to get in on the Tropical Storm Force Winds will be about 20%.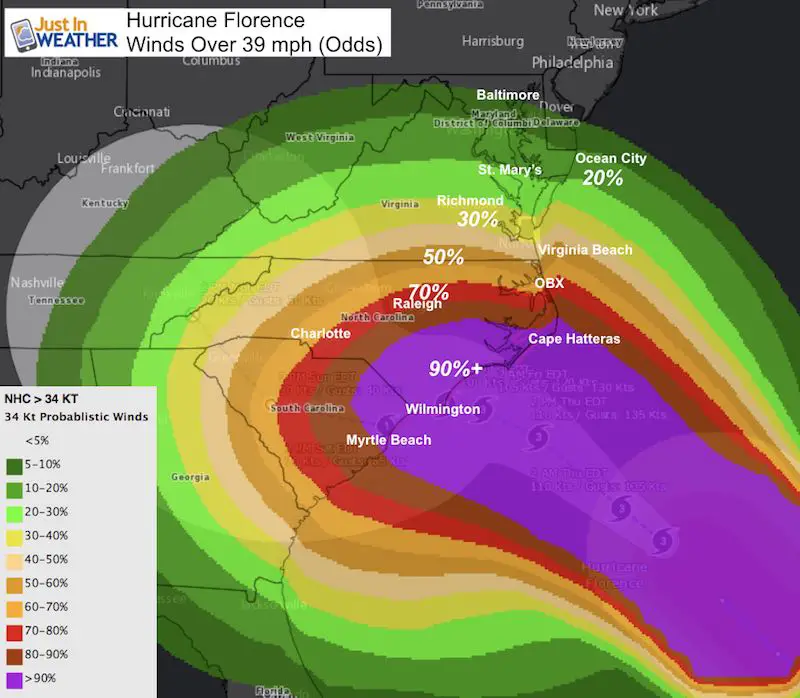 Here is a look at the forecast wind speed (1 minute average) and wind gusts at that time. Notice the top forecast for Ocean City and southern Maryland are between 15 to 35 mph.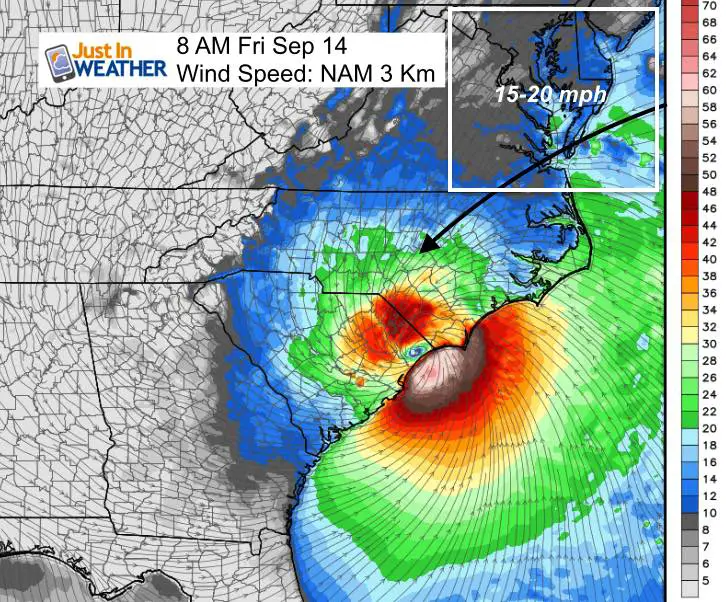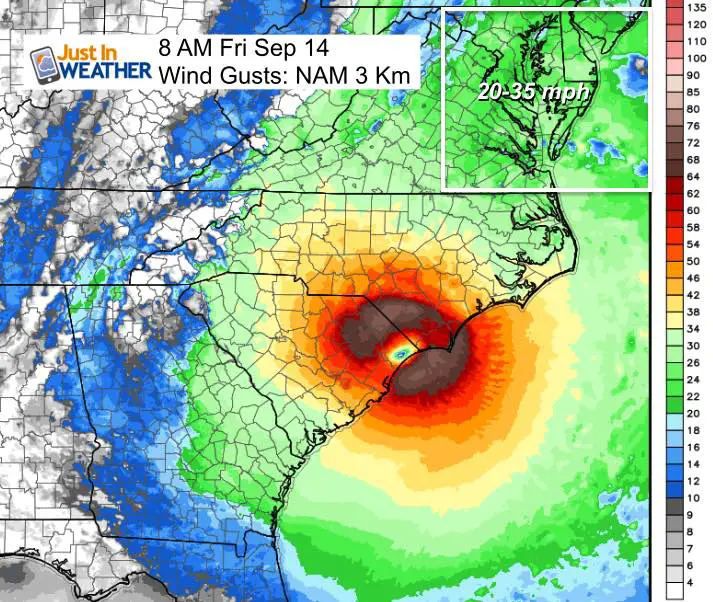 Storm Surge
The push of the wall of water (not included waves) ahead of the storm is one of the most dangerous parts of the storm.  We will have a steady east wind that limits water draining out of the Bay with each high tide, so water has been high all week. However, the surge from Florence will also be limited by the location and the shape of the coastline. Here is where the warnings and watches are now. Notice the closest area of Virginia Beach has a Storm Surge Watch with a potential of 2 to 4 feet of water. That may expect into the lower Chesapeake Bay. Farther north, the water level rise should be comparable to a modest Nor'Easter.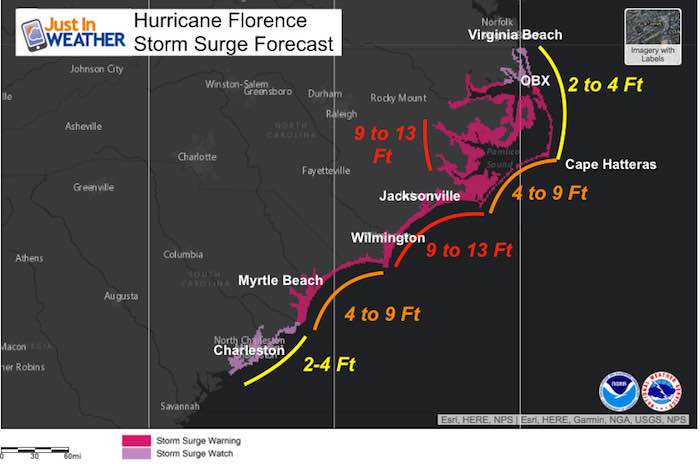 Storm Surge Danger
This is a real threat to life and property in the path of the eye wall. This will be devastating to the Carolina's and live up to the hype. But not what we expect in Maryland.