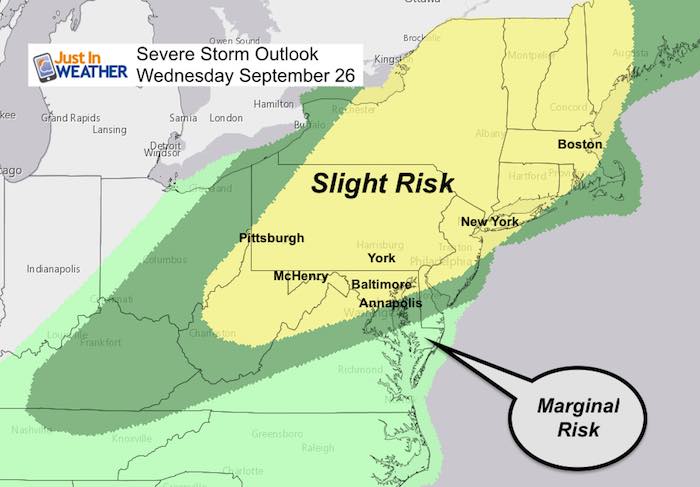 Tuesday September 25 2018 – 9:45 AM
The bulk of today's rain will shift to the north, but there is a good chance a pulse of early afternoon thunderstorms will develop in central Maryland between 1 and 4 PM. There will be a better chance for strong or severe storms Wednesday as a strong cold front arrives late afternoon and evening.
I wrote this post separately for a few reasons. This morning I was in a rush getting my boys ready for school as I slept through my alarm.  I didn't have time to include this in the morning post… But I also wanted to test something. Facebook does not show everyone my posts, and less likely to show a second post to the same people unless they updated their settings to get everything. However my wife has done that multiple times and still does not see all of my posts.
So I asked if you would just post a comment under my post. That should have allowed more people to see it.
As of 9:40 AM
Facebook post = 849 Comments
Twitter post =  93 Comments
I wanted to see if I posted the link to this article in the same comment section, would you be more likely to see it?  So after reading this, please go back to where you found it and let me know. Was it in the same comment section? This applies to my twitter post as well. Or was it a separate post?  One way or another we can figure out how to keep connected while the platforms around us keep changing.   There is alway email updates shown here.  I am looking into the possibility of a text alert option too.
Keep In Touch Every Day
Click here to sign up for email alerts…. Just in case you don't get the post on your social media feed
Latest Radar Loop
7:35 AM to 9:35 AM
Rain Timeline Today–> slider
There has been a consistent suggestion that the front will push north enough to allow to fuel thunderstorms early afternoon. The location between Howard, Baltimore, and Hartford County through 4 PM is worth watching.
[metaslider id=66166]
Storm Outlook Wednesday
The risk of storms will all hinge on the front lifting north and allowing us to get into the warm air. I hesitate on guaranteeing this since autumn can lead to fronts having trouble with their northward movement.
Radar Simulation —> slider
[metaslider id=66151]
—–
Another Look at the Severe Storm Potential
Note that a 'Slight Risk' means any individual cell has a 15% chance or higher to turn severe. We often get storms in the risk area, but not all will be in the path. These storms can contain large 1″+ hail, winds over 58 mph, and or isolated tornadoes.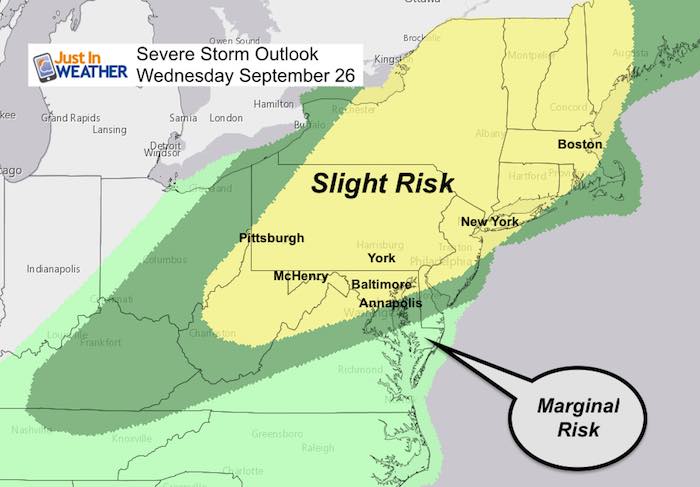 Looking Ahead
The suggestion here is that a cold front will pass south Wednesday, but make a return back north Thursday. This would bring rain south to north in the afternoon. The morning light rain or showers on Friday should move out by afternoon.
This weekend should be partly cloudy and mostly dry! But the lingering set up might try to bring back some clouds and showers Sunday evening.
Animation
Wednesday Afternoon Through: Slowed down so it is easier to read
The idea is based on the timing of the complex front. After the line of storms Wednesday, there will be another wave of rain from the south Thursday. This should move out after Friday morning. The weekend will try to allow High Pressure to move in, but there is a fast upper level flow that will attempt to send a mix of clouds our way. Sunday evening wil hold a small chance for returning showers… After a dry day.
Outlook Snapshot
Tue

Wed

Thu

Fri

Sat

Sun

??

⛅️?

?

?⛅️

⛅️

⛅️

Morning Rain

T'Showers Afternoon

Strong/Severe Storms

After 5 PM

Rain Returns

Afternoon/Evening

Morning Showers

Late Clearing Possible

Partly Cloudy
Partly Cloudy
78
83
72
74
78
68
Reminder:
Please go back to the social media post where you saw the link to this update… I am curious is you got notification from my comment in your comment thread or the new post.  Thanks for playing along and I hope the weather info helps
Keep In Touch Every Day
Click here to sign up for email alerts…. Just in case you don't get the post on your social media feed
Please share your thoughts, best weather pics/video, or just keep in touch via social media
Love Maryland Shirt Designed By Jaiden
This shirt was designed by my 'bonus' daughter Jaiden. All proceeds will go to Just In Power Kids and free holistic therapy for kids in and post cancer treatment.
Show your love for Maryland and make this 14 year old artist extra proud
Partner With Us. My wife Shannon and I started this non profit Just In Power Kids. We are building a network of Integrated Wellness Practitioners plus funds for kids in and post cancer treatment to get free sessions.
Get the award winning Kid Weather App I made with my oldest son and support our love for science, weather, and technology. Our 3 year anniversary of the release and our contribution to STEM education is this November. It has been downloaded in 60 countries, and works in both temperature scales. With your support we can expand on the fun introduction to science and real weather.