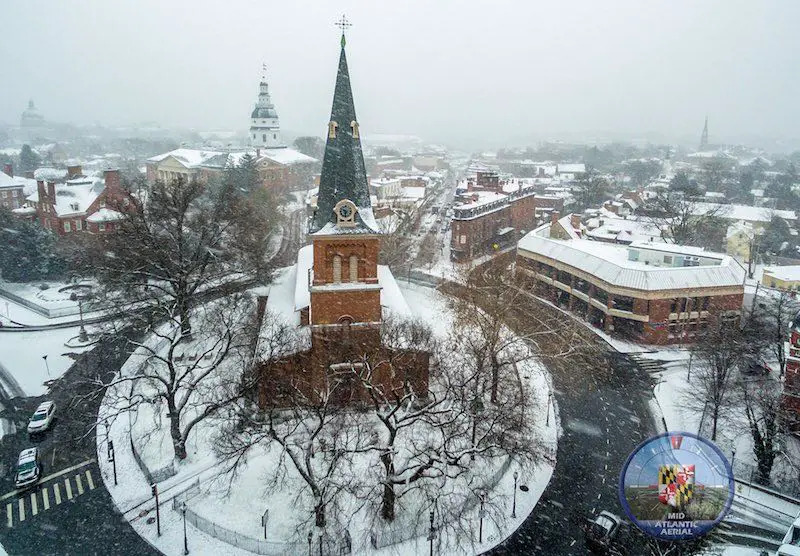 November 7 2018
I have loved snow and the winter season since I was a kid. It is the reason I wanted to study meteorology and why I put a lot of work into my winter outlooks. Winter beings on December 1 for the meteorology community, but on most calendars it is December 21, 2018. We should get snow before that.
I see this season as continuing to be busy, like the pattern we have had since late spring. Temperatures will run extremes on the cold and warm end. That is what happens with an active jet stream, but we will have more cold than warm spells.  We may also have the famed Polar Vortex make itself known a few times as I described in my post about the Solar Minimum.
Baltimore and the Mid Atlantic region is one of the most challenging to forecast. This has a lot to do with the variation of the terrain from the mountains and hills to the eastern shore. But also because the influence of the Chesapeake Bay and Atlantic waters on temperatures keeping many of us on the border of freezing. Often we get storms to split the area with snow, rain, and sometimes ice. But when the ingredients are just right we can get hit hard.
In prior years, I put all of my information in one post. More than 80% of readers will see this on a phone, and I know that is overbearing. That is why I spread out some of my information over the past few weeks. I have links to them below. In this post I want to show you my thoughts with graphics to support them.  You may like my new calendar of notable weather events this year. There is a bit to read here, but I promise it is relative to my outlook
My call for winter snowfall has something new this year:  I also made a regional snow map to expand on my number just for Baltimore.
---
Please Sign Up To Keep In Touch Every Day
Click here to sign up for email alerts…. Just in case you don't get my posts on your social media feed
Early Gift Ideas
FITF Store is Open. On the way…I will be launching a special edition snow kit around Thanksgiving Weekend.
---
My Record: Past 5 Winter Snow Outlooks
Let's start with how I have been doing. Three out of the past five years have resulted in snowfall for Baltimore within or very close to my margin.
There have been two misses: 2014-15 my call was too low, then in 2016-17 it was too high. My bias for snow does not influence how much I predict. Think about it, I would not want to get excited only to be disappointed if I over shoot the mark all the time.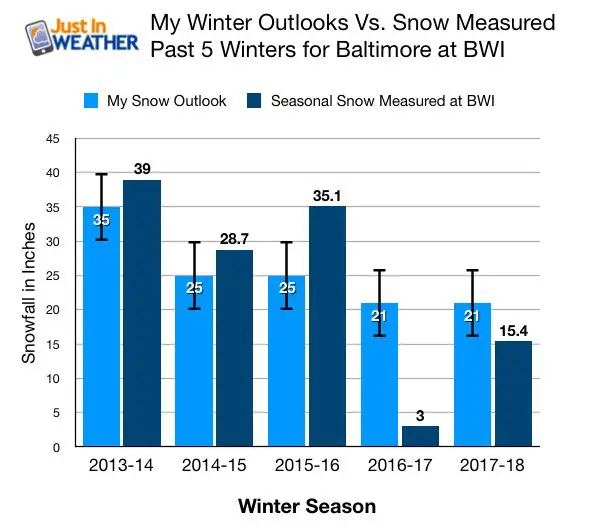 The last really good winter was 2014. Since then we have only had one or two events make most of our totals. In 2016 it was our record 29.2″ snowfall in January. The rest of that winter was a dud.  The following winter is something I want to forget.  Last year, the bulk of our snow came in two storms in March, when it melted quickly.  We are due for it to be spread out more.
Snowfall This Past Decade
Since the decade began, we had our snowiest winter and two seasons in the bottom five on record. Just look at this chart and see how much it has fluctuated. Here are the highlights I want to share:
This decade average is higher than the past 30 year average.
4 out of 9 winters were above average.
March produced the bulk of snowier the season in the past two winters. Each with one or two events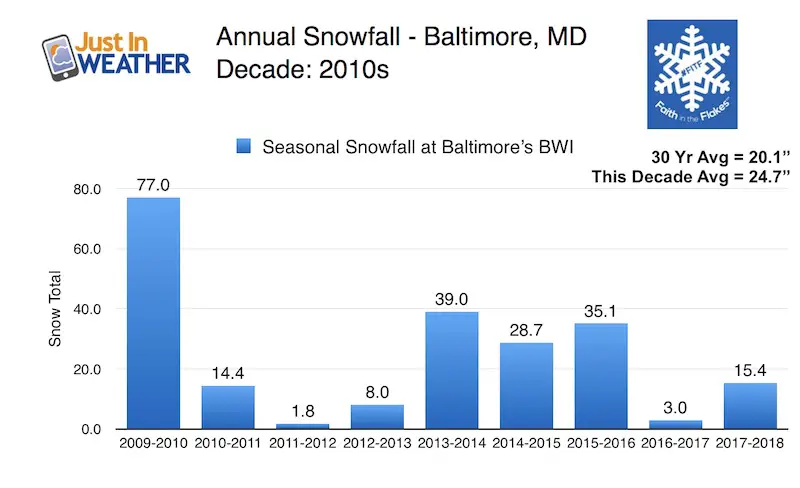 Factors I consider
Many of the elements on this list I have written about in the past few weeks. A link to each article is at the bottom of this post. As illustrated here, many features appear to suggest a strong indication for high snowfall. But not all:
The rainfall article I wrote about connecting our near record wet summer to winter snow had one wrinkle: A wet summer often would be followed by a snowy winter, but NOT if Fall was excessively wet as well. On the date of this post, the 2018 season was ranked 3rd wettest all time. But the active pattern should get us to 2nd, with the top spot within reach.
I think there is overwhelming evidence to shake things up this year and buck the old trend.
Atmospheric Memory
The theory I announced years ago and discuss often online has two parts.
Storms are likely to follow similar paths.

Hurricane Michael has establish a Nor'easter track that was repeated a few times already and I expect more into winter.
I see MULTIPLE Nor'easters. There should be 2 or 3 that may have the potential to produce 10″+ snow amounts 'in the region'. Where it is too early to say now.
Much like the big Nor'easter that came from former Hurricane Willa in the Pacific, We should have some larger coastal storms followed by a clipper within a few days. In winter that could be more snow producers with colder air in place.
October had record rainfall in Arizona. That is a signal of the active moisture flow from the Pacific we would expect in an El Nino year and what will feed into our winter pattern.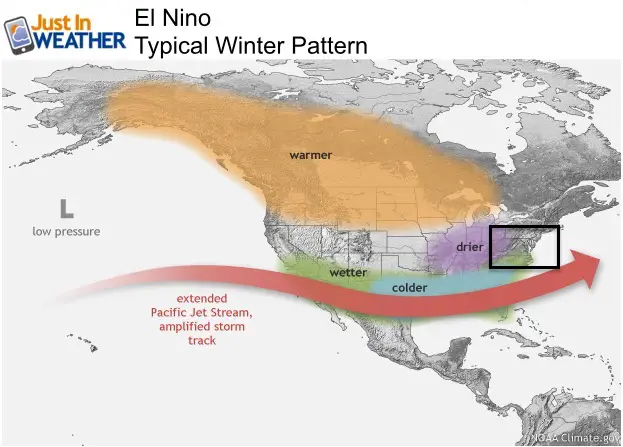 Weather Calendar: Notable Events for 2018 in metro Baltimore
2. Some locations seem to have. bullseye on them.
3. Stormy patterns like to follow patterns on the calendar.
Wet weather tends to group with the patterns that can be plotted on the calendar. The dates in green below are the most notable rain events of the year. I am looking for patterns to try and identify when we may be more likely to get snow events.
Notice the frequency of wet/stormy Fridays we have had in the past month. Watch that day of the week to maybe come back a few times. I've boxed Fri Nov 9 since I expect we will add that to the list after this is published.
Extreme Weather Bullseye (events in red on calendar above):
Ellicott City Flood: May 27th. That was part of a larger flooding pattern.
Tornado in Harford County on Aug 13. That was a very busy and destructive few days in central Maryland.
Microburst in Cecil Co on Sept 17. That was the same day Richmond VA had a large tornado with the remains of Hurricane Florence.
Flooding beyond normalcy especially in Harford County a few times September.
October 11- Remains of Hurricane Michael near Ocean City. This set the storm track I expect to repeat this winter.
Two tornadoes (Mount Airy and Baltimore): Nov 2. This also produced widespread tree damage in Harford County
Siberian/China Early Season Snowpack
What happens on the other side of the Northern Hemisphere can establish the jet stream that will influence us later on.
Snow cover this week: Two regions worth mentioning…
More snow through western China than last year. That is farther south and west.
More snow into the Rockies of Colorado than last year.
The early season snow buildup in these locations are a signal that the polar energy is and will dig farther south this winter.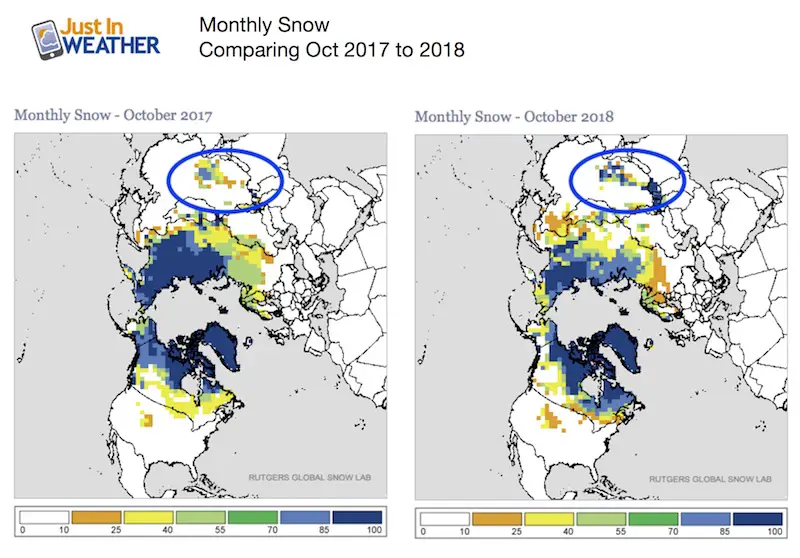 My WINTER SEASON Call for Snowfall
Please compare to the seasonal average snowfall map below
More notes and links to the information I considered is listed below.
Faith in the Flakes
For Baltimore at BWI:
30″ snow or more
That is compared to about 21 inches in an average winter.
Notes:
Most areas = 150% of their normal seasonal snowfall.
Baltimore metro area along I-95 is the hardest to forecast.

I've highlighted them in the white loop. This includes coastal Anne Arundel through Harford and Cecil Counties.
This area can go either way (20″ to 30″+), depending on the snow.

McHenry in western Maryland is home to Wisp, the only ski resort in the state. They average 104 inches of snow per year! I see them along with Snowshoe, Canaan Valley, and Seven Springs with near to above average snowfall in the 100″+ range. If we get Nor'easters to hit the metro areas, it is possible they could be just east enough to give us the cold air and miss the big mountains.
Compare to the amount of snow per region in an Average Winter
Also See:
Maryland Winters: Snowfall By Region and Baltimore Records
Thoughts:
The multiple extreme weather events in central Maryland leads me to think we will have a few winter storms with the peak impact in central Maryland as well.

Many recent storms have been overachievers.

First snow should be within a week of Thanksgiving.

Early winter should be active into December. 

January may begin with a break or thaw, then a resurgence late January into February. 
Faith in the Flakes. We are due for a real winter.
Related Winter Outlooks
Solar Cycle: When Sun Spots Are Low We Get More Snow
El Nino Modoki May Enhance Snow Chances
Sweet Spot: Hitting 70ºF on Halloween is followed by more winter snow
Will A Wet Summer Bring A Snowy Winter?
NOAA Winter 2018-2019 Outlook Explained: This Actually Supports Snow
Winter Outlook From Two Different Farmers Almanacs
Cold Stuff
Normal First Frost/Freeze Dates
FITF and SnowStix Stores are now OPEN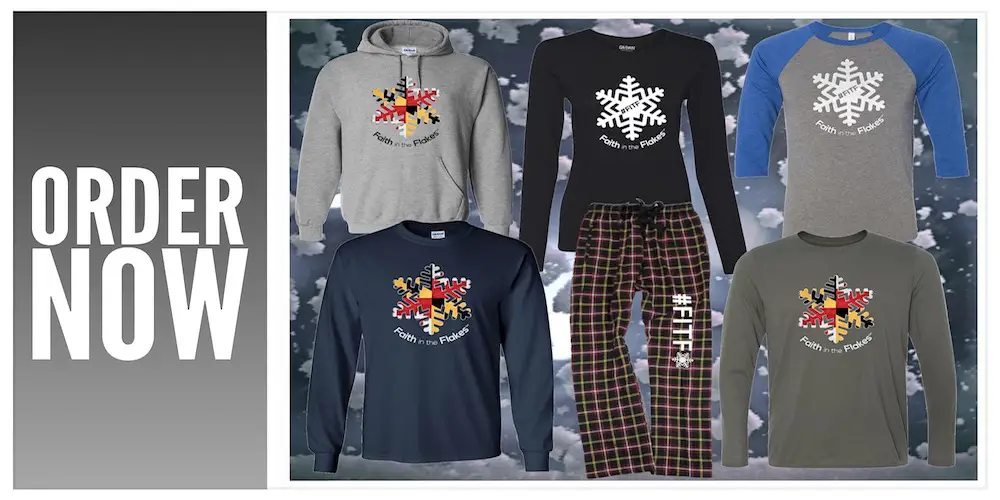 Snowstix- We Need You To Measure Snow Too
We are giving 10% of each sale to Just In Power Kids: Providing FREE holistic care for pediatric oncology patients.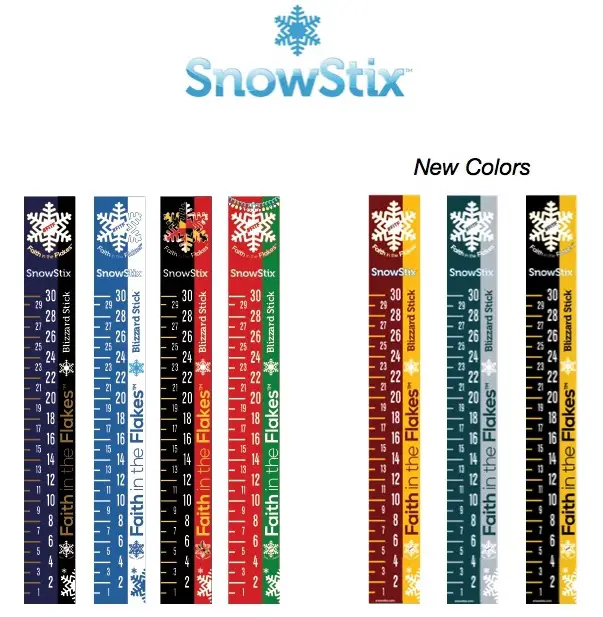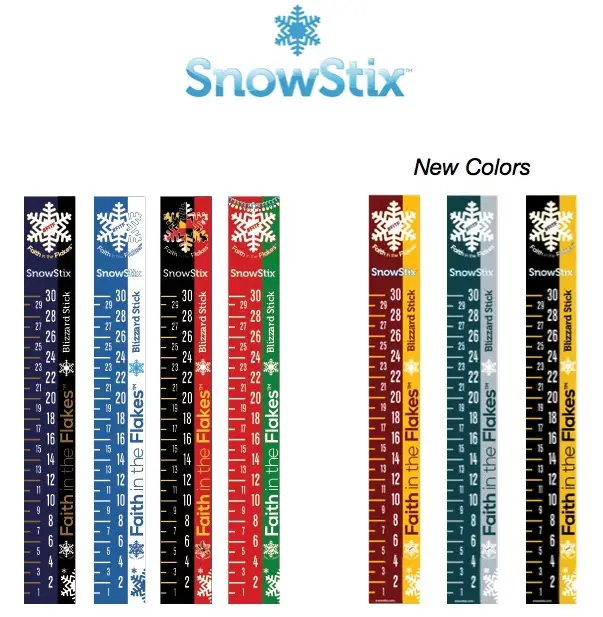 Keep In Touch Every Day
Click here to sign up for email alerts…. Just in case you don't get the post on your social media feed
Please share your thoughts, best weather pics/video, or just keep in touch via social media