Tuesday November 13 2018
2 PM Update
It is going to snow Thursday morning. Well, most of us will see snow or a mix of sleet by daybreak, but the travel impact will not be the same everywhere. The next storm continues to appear to be speeding up and arriving earlier. That allows it to act on the overnight chill to provide wintery precipitation and also makes it tricky to call what impact will be on the roads. Basically, will there be stickage?
At this time I see that many areas will get at least a coating of snow on car tops, landscaping, and on the grass. It is mid November and the ground is warm. But there will be a cold night ahead and near freezing temperatures in place on Thursday morning. So some areas will need to watch this closely as I have informed my clients. There are areas that will need to get salting.  I will not make any call on schools, nor to I like to show snow maps yet. But I have my low confidence call here.
Below is a look at the hourly timeline of temperatures in a slide to compare with three other sliders of different computer model depictions of the snow, ice, and rain. I have also included my first call for snowfall for this event and the season. But, first…. there many other things to keep in mind:
My Weather Notes
If this was December or January, I would tell all of my clients to drop salt. But it is mid November! Even as temperatures drop near freezing, it has been in the 40s and 50s recently. The ground still retains some of that heat.
Normally colder inland areas will have the best chance to hold snowfall longer and get some stickage.
There will be more snow on the grass than the roads!
I DO NOT trust computer model snowfall products this early in the season.  So if you have seen big totals from other sources, I believe it misses the mark of melting and compaction with wet flakes.

Bay Water Temperature = 53ºF at Thomas Pt. Light House –

Most places between I-95 and the water 

should

 be too warm for 

stickage. Any initial snow or sleet should change over quickly.

Daytime Snowfall! The peak of snow in the colder zones will be during the day. That may get some solar warming on pavement.
Sun Angle will be the same as mid January. So moderate to heavy precipitation could overtake any solar heating like mid winter
---
Keep In Touch Every Day
Click here to sign up for email alerts…. Just in case you don't get the post on your social media feed
The FITF Store Is Open With Gear And SnowStix
---
Maps to Compare:
Temperatures Thursday –> slider
Note where the freezing line is located. I've highlighted the areas that are likely to stay near and below freezing from morning to afternoon.
[metaslider id=68294]
Winter Precipitation Timelines:
Note that Computer Models this far out are every 6 hour time frames. Also Some places will get snow to fall with temperatures near or above freezing. That will inhibit stickage.
European Model –> slider 
This model is most aggressive with the snow AND after warming at night, brings the colder air and snow back into central Maryland for the finish Friday morning.
[metaslider id=68276]
GFS Model –> slider 
[metaslider id=68287]
Canadian Model –> slider 
[metaslider id=68269]
My Call For Snowfall (and other stuff)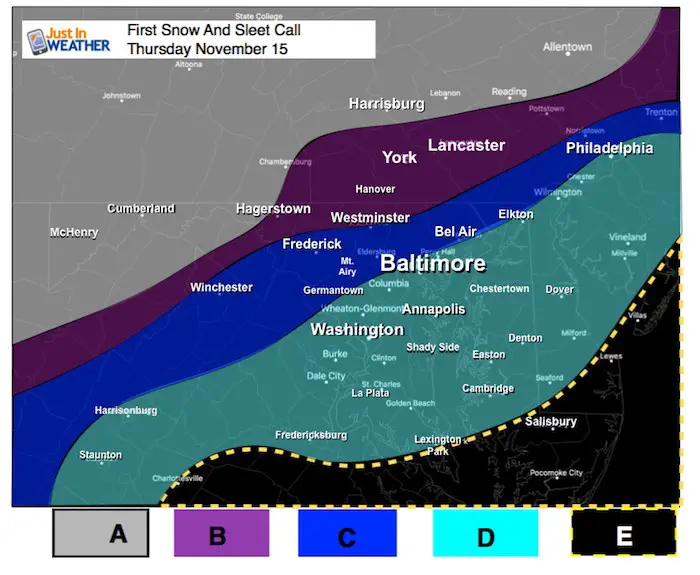 There will be more snow on the grass than pavement. Not all roads will respond the same. The best chance for stickage will be Thursday morning and in shaded areas or north sides of hills.
A

5″+

Mostly Snow. Travel advisories should to be issued.

Highest totals on the elevations over 2,000 Ft.

B

2″ +

And Icy Mix

Roads may get slick in the morning to noon. Slow thaw afternoon and evening. Travel advisories likely to be issued.

C

1″+

And Some Ice

Roads may have tried need for salting early.

Travel advisories 'may' to be issued.

D

Starts As Snow/Sleet.

Quick Change To Rain

Some coating on car tops, landscaping. Roads should stay wet.

E

May be brief start as sleet.

Then Rain

Temperatures are too warm for wintry weather.
Winter Outlook
My Winter Outlook 2018-19: Multiple Nor'Easters and more snow
Related Winter Outlooks
Solar Cycle: When Sun Spots Are Low We Get More Snow
El Nino Modoki May Enhance Snow Chances
Sweet Spot: Hitting 70ºF on Halloween is followed by more winter snow
Will A Wet Summer Bring A Snowy Winter?
NOAA Winter 2018-2019 Outlook Explained: This Actually Supports Snow
Winter Outlook From Two Different Farmers Almanacs
Maryland Winters: Snowfall Maps and Baltimore Snow History 
FITF and SnowStix Stores are now OPEN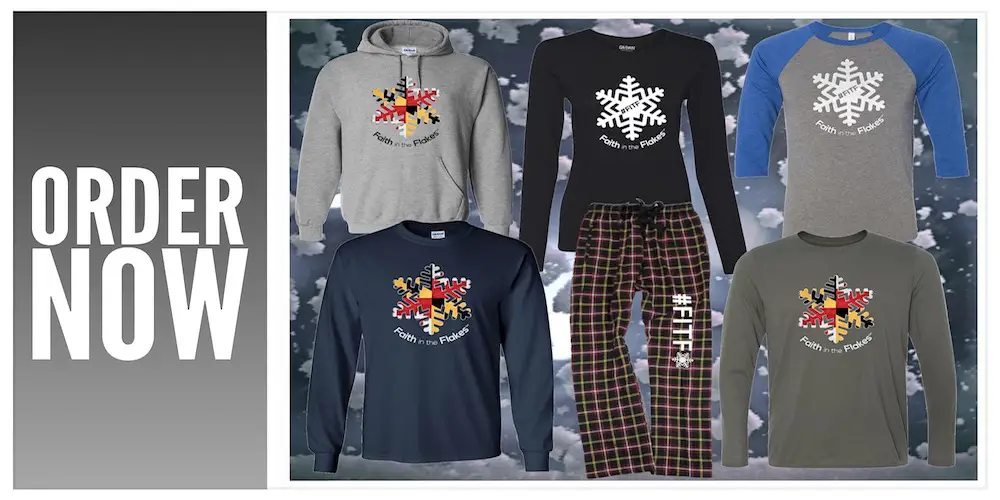 Snowstix- We Need You To Measure Snow Too
We are giving 10% of each sale to Just In Power Kids: Providing FREE holistic care for pediatric oncology patients.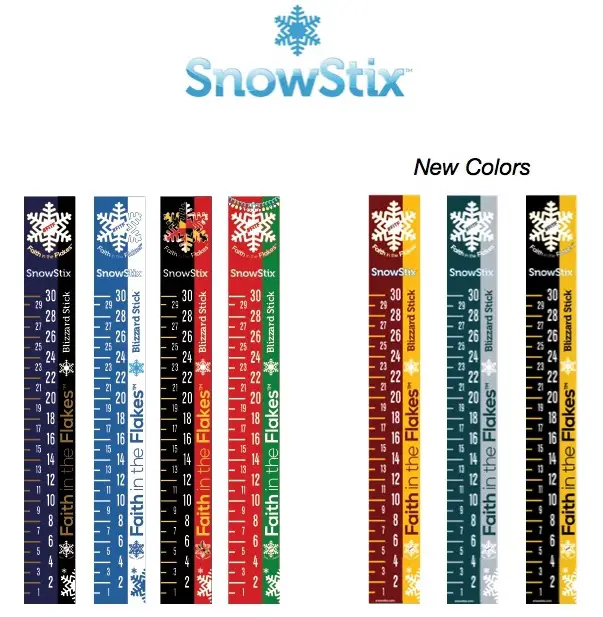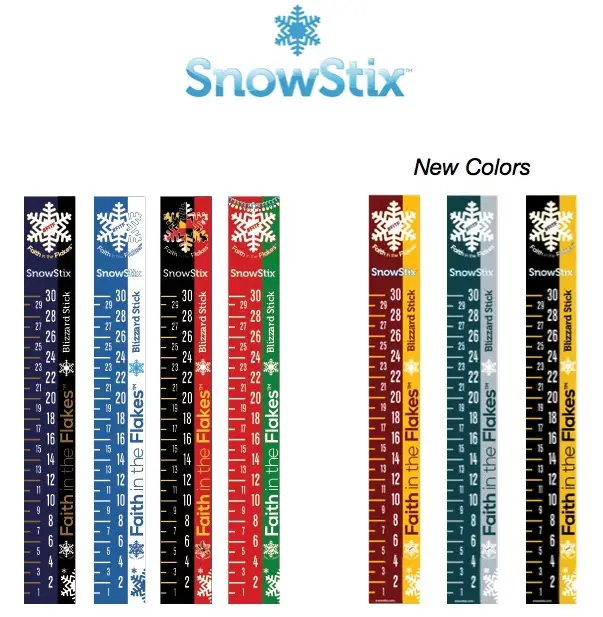 Keep In Touch Every Day
Click here to sign up for email alerts…. Just in case you don't get the post on your social media feed
Please share your thoughts, best weather pics/video, or just keep in touch via social media