November 15 2018
We need to look at the calendar and the date again. It is mid November and here we are in a legitimate winter storm. This definitely overachieved and proves that just a few degrees and a few miles can make a huge difference. The storm produced colder air aloft that allowed the falling snow to quickly cool the warm ground. That was the surprise, and the net result was a little more stickage for some and a lot for others. Some places will double their expected snowfall.
Record Snow for November 15
BWI = 1.7″ of snow
That was the report from Baltimore as of 1 PM.
The breaks the record of 1.2″ set on the date in 1908. That was 110 years years ago!!! That was part of a larger two day storm that brought 4.8″ between Nov 14-15, 1908.
That pales in comparison to the 4 to 6 inch reports that are coming across northern Maryland Counties and into southern PA. There is more on the way. In fact the northern areas will have more snow and ice as the snowpack will help to hold the cold longer. This will add additional problems overnight. Another burst of snow early Friday morning may add to the list of things to clear up and questions about schools for Friday morning.
---
Keep In Touch Every Day
Click here to sign up for email alerts…. Just in case you don't get the post on your social media feed
The FITF Store Is Open With Gear And SnowStix
---
Here's the latest
Winter Weather Advisory and Winter Storm Warnings
Official from the National Weather Service
Winter Storm Warning – Until 4 AM Friday: The general area will get 4 to 6 inches of snow with up to 1/10 inch of ice. York and Lancaster PA until 8 AM with a little more snow. This area may remain near freezing all night AND add additional snow early Friday.
Winter Weather Advisory – Until 4 PM Thursday: General 1 to 3 inches with glaze of ice. This region should be above freezing tonight. 
The Storm Set Up
This is not exactly like the prior coastal storms, but riding up the same track off the coast *Atmospheric Memory
Warmer air will try to move in from south to north. But inland west of I-83 will be delayed with freezing temps longer.
Warm air aloft will produce rain, but the thicker snow pack below will help lead to freezing rain.
Behind the storm, colder air will fill in with a final burst of snow form an upper level system. This may produce additional inch or so in the colder areas.
I don't think the models can handle the freezing line well.. So I will hold off on temperature timeline maps until this evening.
Ending As Snow Friday Morning?
–> slider
Northern areas could pick up another 1-2 inches as this ends before sunrise Friday…
[metaslider id=68505]
My Snow Forecast Increased Again
This is why I usually start with a + sign… The upside potential has won here!
I have increased the snow on the north side to account for what has fallen already.
The northern zones are already near 5 inches as of 3 PM so adding to it in places that turn to sleet later should be easy. Plus there will be another 1 to 2 inches in the morning.
FITF and SnowStix Stores are now OPEN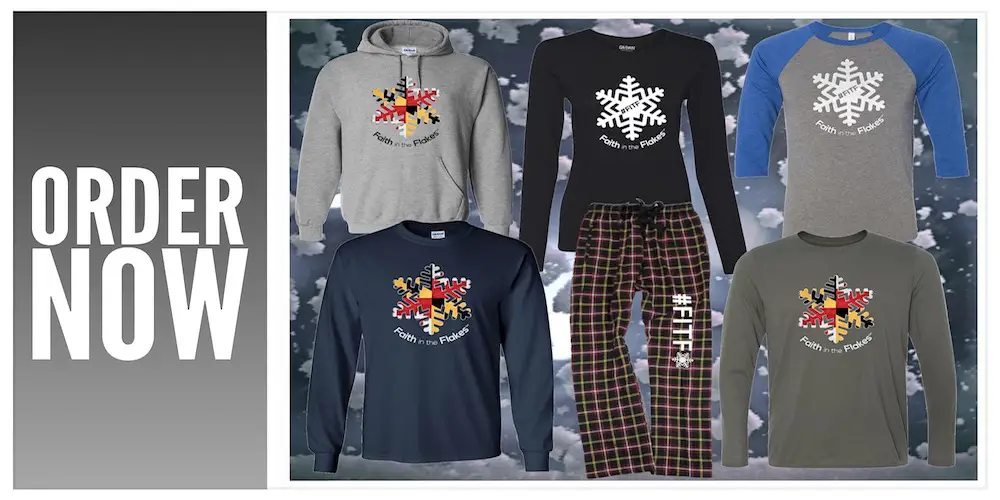 Please share your thoughts, best weather pics/video, or just keep in touch via social media
Keep In Touch Every Day
Click here to sign up for email alerts…. Just in case you don't get the post on your social media feed
Winter Outlook
My Winter Outlook 2018-19: Multiple Nor'Easters and more snow
Related Winter Outlooks
Solar Cycle: When Sun Spots Are Low We Get More Snow
El Nino Modoki May Enhance Snow Chances
Sweet Spot: Hitting 70ºF on Halloween is followed by more winter snow
Will A Wet Summer Bring A Snowy Winter?
NOAA Winter 2018-2019 Outlook Explained: This Actually Supports Snow
Winter Outlook From Two Different Farmers Almanacs
Maryland Winters: Snowfall Maps and Baltimore Snow History 
Snowstix- We Need You To Measure Snow Too
We are giving 10% of each sale to Just In Power Kids: Providing FREE holistic care for pediatric oncology patients.