Monday December 3 2018
The fog was stubborn over the weekend but it is finally fading and falling apart. Even though you may run into some along I-95 in northeastern Maryland early, the winds will guarantee an improvement. Cecil County Public Schools are on a 2 hour delay for the fog.
We have a mild day in store, but the winds will be shifting to a colder direction to bring snow back to western Maryland and set up the pattern change we've talked about for weeks.
Is snow the way?
We could still have flurries or snow showers on Wednesday, and next weekend leaves the door open for a larger storm. Models tend to have trouble but there definitely enough to keep it on the calendar. See more below.
Local Weather
Local Weather Stats For December 3 in Baltimore
Average High:  49ºF
Record High: 72ºF in 1998
Average  Low: 31ºF
Record Low:  11ºF in 1976
                         *Record Snow:  2.0″ in 1907
Sunrise: 7:09 AM
Sunset 4:43 PM 
*Daylight = 1:08 shorter than yesterday 
*Bay Water Temperature = 44ºF at Thomas Pt. Light House 
Record Rain Year Update:
Saturday brought 0.23″ to BWI. The yearly total is now 65.51″
The FITF Store Is Open With Gear And SnowStix
A portion of all proceeds for FITF and SnowStix goes to our nonprofit Just In Power Kids- providing FREE holistic care for kids in and post cancer treatment.
Special New Gift Idea
Before we get started today, I wanted to share something new: There was a lot of activity over the holiday weekend that I wanted offer the most popular combo as a gift idea. These Tees and hats go perfectly together, and grouping then will be discounted:
Morning  SnapShot
Wind Shift Timeline —> slider
Notice the wind shifting to the west and northwest. This will clear out the fog and eventually bring in colder air.
[metaslider id=69159]
Afternoon Highs
This Evening: Snow Showers Return To The Mountains
Mid Week Snow Showers?
I know this looked like a chance of snow that fell apart, but…. There will be a disturbance in the atmosphere that could still provide some flakes on Wednesday December 5th.
December 5th- FITF Day
Gather your friends and co-workers: Wear your #FITF gear to honor and celebrate this unique calendar holiday. This is the date almost every year last decade marked the first snow of each winter season.  I will have the history to show shortly.
Next Weekend Snow?
I was hesitant to show this a few days ago because it was too far out in time, but it was consistent for a few days…
Models have a tendency to lose some storms in the 5 to 7 day time window, then bring it back. It could be what we are seeing here.
Both the European (ECMWF) and GFS models show the system staying south.
However, the GFS has an experimental upgrade. A lot of money has been infused to improve this on the basis of the ECMWF but with an improvement. The vision still has the storm and this will be a good test:
FV3- GFS Upgrade TEST Model
Temperature Outlook
FITF and SnowStix Stores are now OPEN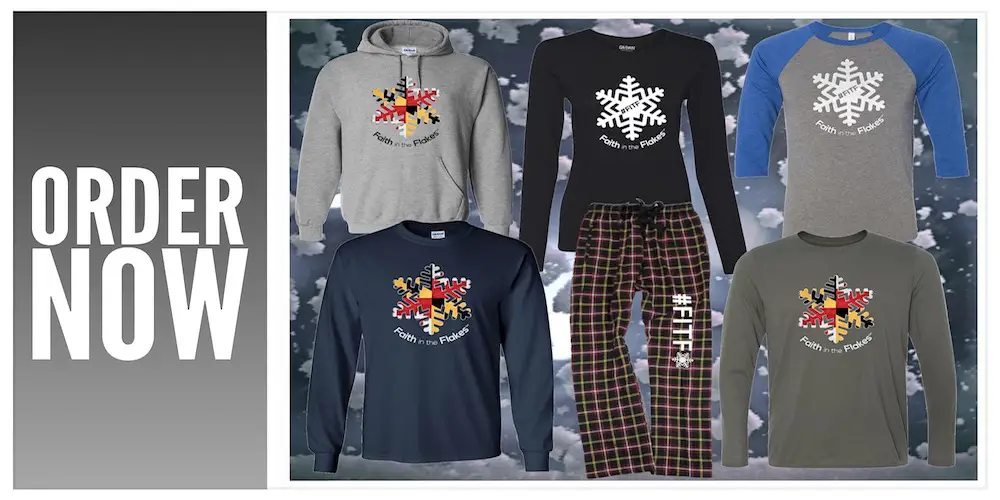 Keep In Touch Every Day
Click here to sign up for email alerts…. Be the first to hear the big news over the weekend
Also- Just in case you don't get the post on your social media feed
Please share your thoughts, best weather pics/video, or just keep in touch via social media
Related Links:
Winter Outlook
My Winter Outlook 2018-19: Multiple Nor'Easters and more snow
Interactive Snow Report
November 15 Snow Reports- Interactive Map Compared To My Forecast
Winter Snow And Top 5 Wet Years 
Snowfall Seasons at Beginning and End of Top 5 Wet Years In Baltimore
Related Winter Outlooks
Solar Cycle: When Sun Spots Are Low We Get More Snow
El Nino Modoki May Enhance Snow Chances
Sweet Spot: Hitting 70ºF on Halloween is followed by more winter snow
Will A Wet Summer Bring A Snowy Winter?
NOAA Winter 2018-2019 Outlook Explained: This Actually Supports Snow
Winter Outlook From Two Different Farmers Almanacs
Maryland Winters: Snowfall Maps and Baltimore Snow History 
Snowstix- We Need You To Measure Snow Too
We are giving 10% of each sale to Just In Power Kids: Providing FREE holistic care for pediatric oncology patients.